Happy Wednesday!! We are half way through the year already, which had me reflecting on my goals for 2014. One such goal is running 2014 miles. Since I am pregnant I am being more lax with this goal, but I am currently at 1273 miles for the year. More than halfway there. I think I still may hit it. Just a quick update on the running since it's been awhile. 😉
I thought I would share some of the herbs and essential oils that I find to be important for use during pregnancy, as well as other nutritional support. It's amazing how much better I feel when I eat healthy and supplement with certain nutritional supplements. It's helped with sleep, nausea, headaches, and soreness, as well as my general health.
If you haven't already I suggest trying essential oils. They are great for most anything. From minor cuts or burns, to bug bites and and bee stings, to sleep aids, pain relief, and cleaning. I always recommend pure, essential oils over any other oils and organic is preferable. This way you are getting oils without any chemicals or toxins from production, instead they are pure and clean of any harmful substances.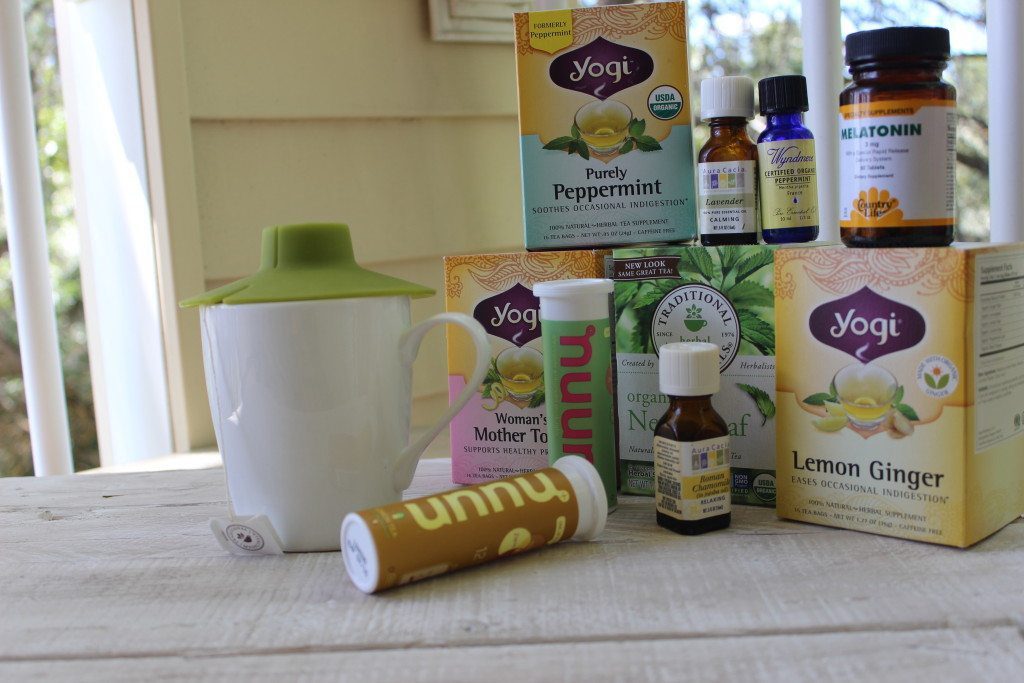 The following is a list of essential oils great for pregnancy and how you can use them during pregnancy: 
Lavender – Is great for relaxation and calming, as well as stretch marks. Add it to baths or put in a spray bottle with some water and spritz in your bedroom or on your pillow before bed. (Also great in a diffuser) It's a natural sleep aid. Also, dilute it with almond oil or jojoba oil (large quarter size of carrier oil, with 3 drops of lavender oil) and apply to stomach to help with stretch marks. Great for massaging sore areas as well. It also helps with inflammation.
Peppermint – Great for relieving headaches, nausea (morning sickness) and for relaxation. Again, you can add this to bath water or a spritzer. Apply it directly to skin to help relieve the pain from headaches and migraines.  Also, great to use for massaging to relieve pain, mixed with a carrier oil.
Grapefruit- Helps relieve anxiety, fatigue and even headaches. It is also great for reducing swelling. It can be applied directly to the skin. Add it to a bath or a bowl of hot water to soak feet in, to help reduce swelling. Add to a diffuser to help with morning sickness.

Chamomile – Helps with relaxation, insomnia and is an anti-inflammatory. It needs to be diluted when applied to skin in 1:1 ratio (with a carrier oil such as almond or jojoba). Can add it to bath water or a spritzer.
Tangerine – Most commonly used for preventing and reducing stretch marks. Needs to be diluted with a carrier oil, then massaged or rubbed over abdomen.
Lemon – Great for energy and assisting the immune system. Also can be used to help reduce swelling mixed with grapefruit oil. Best to be used in a diffuser or diluted before applying directly to skin.
**It is important to note that not all essential oils are safe during pregnancy. Most naturopathic doctors and midwives know which are safe and which are not. Here is one list of oils that are not safe to use throughout one's entire pregnancy. **Do not ingest lavender, chamomile, and peppermint oil during the first trimester, as they may induce menstrual flow, especially if you have a history of miscarriages.
Herbal Teas Great for Use in Pregnancy: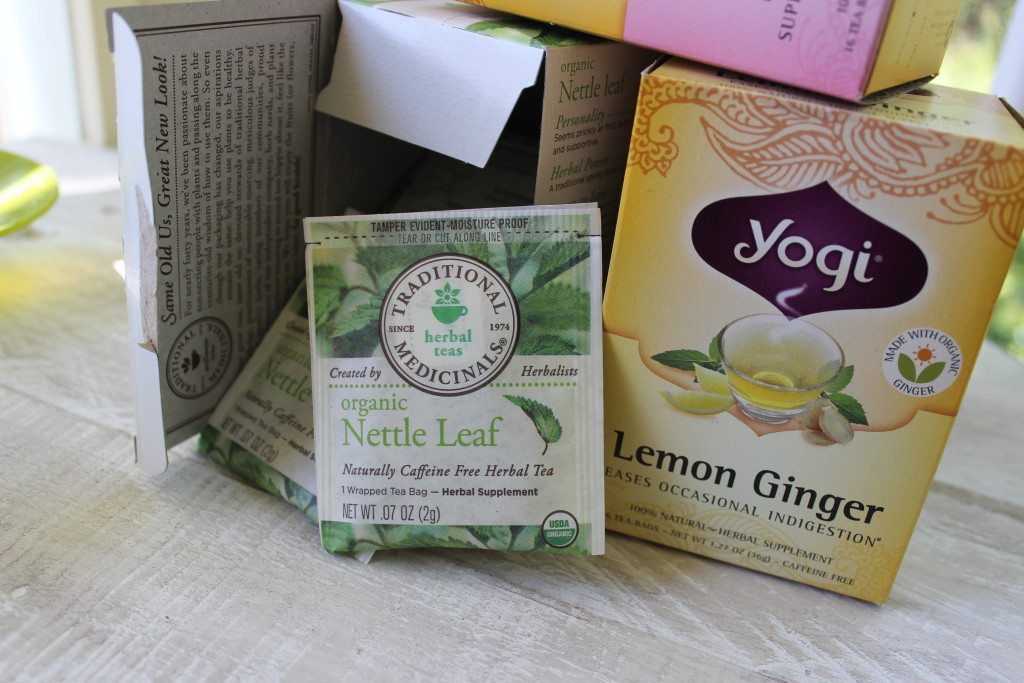 Ginger Tea – Helps with morning sickness and nausea. I used this a lot during my first couple months of pregnancy, as I was plagued with nausea. Ginger chews were also a life saver.
Peppermint Tea – Also helps with morning sickness and great for relaxation.
Nettle Tea – This herb is amazing during pregnancy. Nettle has high vitamin and mineral values, and helps to promote healthy kidney function, strengthens blood vessels, reduces varicosities and decreases the likelihood of hemorrhaging at time of birth. It's effective at nourishing the blood of pregnant women and preventing anemia. Helps with swelling as well.

Mother's To Be Tea – I love this blend from Yogi Tea. It has raspberry leaf in it, which is rich in vitamins and minerals, and helps to tone uterine muscles. It also has high iron content and calcium, and helps to reduce the intensity of leg cramps (soothes nausea as well). Great to be taken regularly during pregnancy. (contains nettle, dandelion root, raspberry leaf, spearmint and peppermint).
Chamomile Tea – It helps to ease digestion and nausea, relieves heartburn, reduces insomnia, and promotes relaxation. It can also be used to reduce cramps, prevent constipation and relieve headaches. *For women with history of miscarriage or within first trimester of pregnancy, do not exceed 1 cup a day. 
Red Raspberry Leaf Tea – *see above comments under "Mother's To Be Tea"
**Again whenever possible, it is encouraged to buy organic herbs, as many inorganic herbs are fumigated with fungicides and insecticides during storage. I suggest buying the tea in bulk form, because it is much stronger, especially nettle and raspberry leaf.
Other Nutritional Support & Tips:
Hot Water and Lemon – Helps to flush out toxins and keep you regular. Constipation is a problem for some during pregnancy and this definitely helps. There's many benefits to lemon and hot water. I do it first thing in the morning after my run. It also helps with swelling, aids skin, and boosts the immune system.
Nuun – This is a life saver throughout pregnancy, as it helps to provide electrolytes. It's great for the first trimester, especially if you are throwing up a lot, because it replenishes our bodies electrolytes. It has also help prevent the cramping in the muscles at night, a common side effect of pregnancy, because of it's potassium and sodium content. It also doesn't have the bad sugar or preservatives like most electrolyte drinks.

Coconut Oil – This is great applied to the skin (and for cooking and baking). It helps keep skin smooth, and prevents the itching common in pregnancy on the abdomen from the growing belly. Great for hydrating the skin.
I have loved all of these essential oils and herbs throughout my pregnancy. They definitely have been helping me immensely. The lemon and hot water helped my sister with her swelling. I haven't experienced any swelling thus far. Hope you can find some use from these tips!!
Disclaimer: I am not a licensed medical professional. These are only my recommendations, based on my experience and knowledge of these herbs and oils. Please consult your physician before beginning any nutritional plan.
Until Next Time Be Whole and Be Fit