It's time for another pregnancy update. It's been a few weeks, and I am really all about the countdown now that we are getting so much closer. 2 months to go folks. I can't believe how fast it has gone. Although, I have to be honest and say these last few weeks have been going so much slower. I find myself saying "I am only…….weeks" now when people ask me.
I think this is because every part of my body is experiencing something new. I honestly forget what it feels like to not be pregnancy. I am getting sort of used to all the different aches and pains. Not enough that I want it to stick around though 😉
I had my doctor's appointment yesterday, and we went over some of what to expect on that day, as well as some of my complaints and concerns. My doctor is great. So blessed to have such great care!!
Here's my update at 32 weeks!!
Bump Alert!!
Little comparison with me at 25 weeks: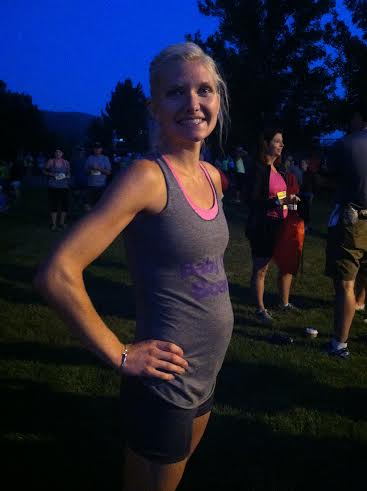 Symptoms: I have horrible back pain, mainly on my right side. I am now having lower left side back pain too that started on Wednesday. Baby likes to sit on the sciatica nerve I guess at times. My doctor said it will probably come and go. Still have the pressure and pain in my pelvis and cervix area, and now I am experiencing stronger round ligament pain.
Baby size:  According to the ultrasound from yesterday bean is now 3 1/2 pounds and growing at the lengths she needs to be. She moves like crazy and the doctors are happy with her growth and health.
Maternity clothes: I haven't bought any maternity clothes nor have I had to wear any yet. We'll see what the next 8 weeks have to offer, especially with cooler temperatures in the future.
Stretch Marks: None so far…fingers crossed
Belly Button: It's pretty much an outie.
Sleep: It's hard to find a comfortable position to sleep, so let's just say I don't sleep soundly. I usually wait for my alarm clock to sound in the morning.
Cravings: I seriously have to have watermelon now all the time and cucumbers with tomatoes and a little bit of salt and pepper. I mostly crave anything that is cold. I was craving cheesecake the other day though.
Food aversions: It's hard for me to eat bigger meals, since there's just not a lot of room in the belly for bigger meals. I also have a very small appetite and find it hard to find foods that sound good.
What I am missing: I miss easy runs and longer runs. Miss my old body too!!
What I am most looking forward to: I can't wait to set up little beans room and get everything settled for her arrival. I am feeling a little under prepared. Also, looking forward to less pain and pressure.
What I'm Loving: To be honest not much of anything. There's not much room for little bean in there, and although I love she is so active, those kicks and punches are getting stronger, and my ribs hurt so bad on my right side.
Workouts: Still running. I do anywhere from 5-12 miles a day and I am still running 5-6 days a week. My runs are definitely getting slower, averaging a 8:30 pace. Running is definitely getting harder, and I think this weekend will be my last long run of 12 miles. We have a 10 miler race next weekend, and a ½ marathon in a couple weeks. My longer runs are slowly getting shorter and shorter. I definitely feel so much more tired throughout the day after longer runs.
Marc and I still need to set up baby girls' nursery, which we plan to do in the beginning of September. My sister is moving into their new house, so we are waiting to move our guest bedroom into her guest bedroom to make room for our precious baby girl.
I will also have one last shower in the next couple of weeks. Then Marc and I can really sit down and assess what all we need. We are still searching for a pediatrician. I am that mom who calls every available pediatrician and asks all the questions trying to assess who is best for our little girl. Maybe I shouldn't take it so seriously, but I do.
Hopefully in the next couple of days we will have more maternity photos to share. We did some more recently and I am loving how they are turning out. We will do one more set at 36 weeks, since some of the photos were harder to do because my bump wasn't quite big enough.
Enjoy your weekend friends!!
Until Next Time Be Whole and Be Fit