In today's culture we are all trying to eat healthier and live healthier. So what do the popular food brands aim to do? Sell products they claim are "healthy" or healthier, when in reality they are not as healthy as they claim to be.
As a nutritionist, I am always reading labels and staying educated on all the new food products, hidden ingredients, the new research etc. I cringe when I hear that someone finds a certain product they love, because it says "No sugar" or it has probiotics in it, it's "low fat" or fortified etc. They fail to read the ingredients. My sister is easily deceived when it comes to food products.
There are foods we may think are healthy, but in reality they are not. In fact, they are just the opposite. They contain hidden ingredients that are harmful to our health, and many contain hidden sugars. Sugar lurks in many different forms in our foods, under different names. I have been a victim of thinking certain foods are healthy, especially those labeled organic, but after stopping to read the ingredients I quickly find they are not. Maybe some of these are already common knowledge for you, while others may have been surprising.
7 Foods You Think are Healthy But Aren't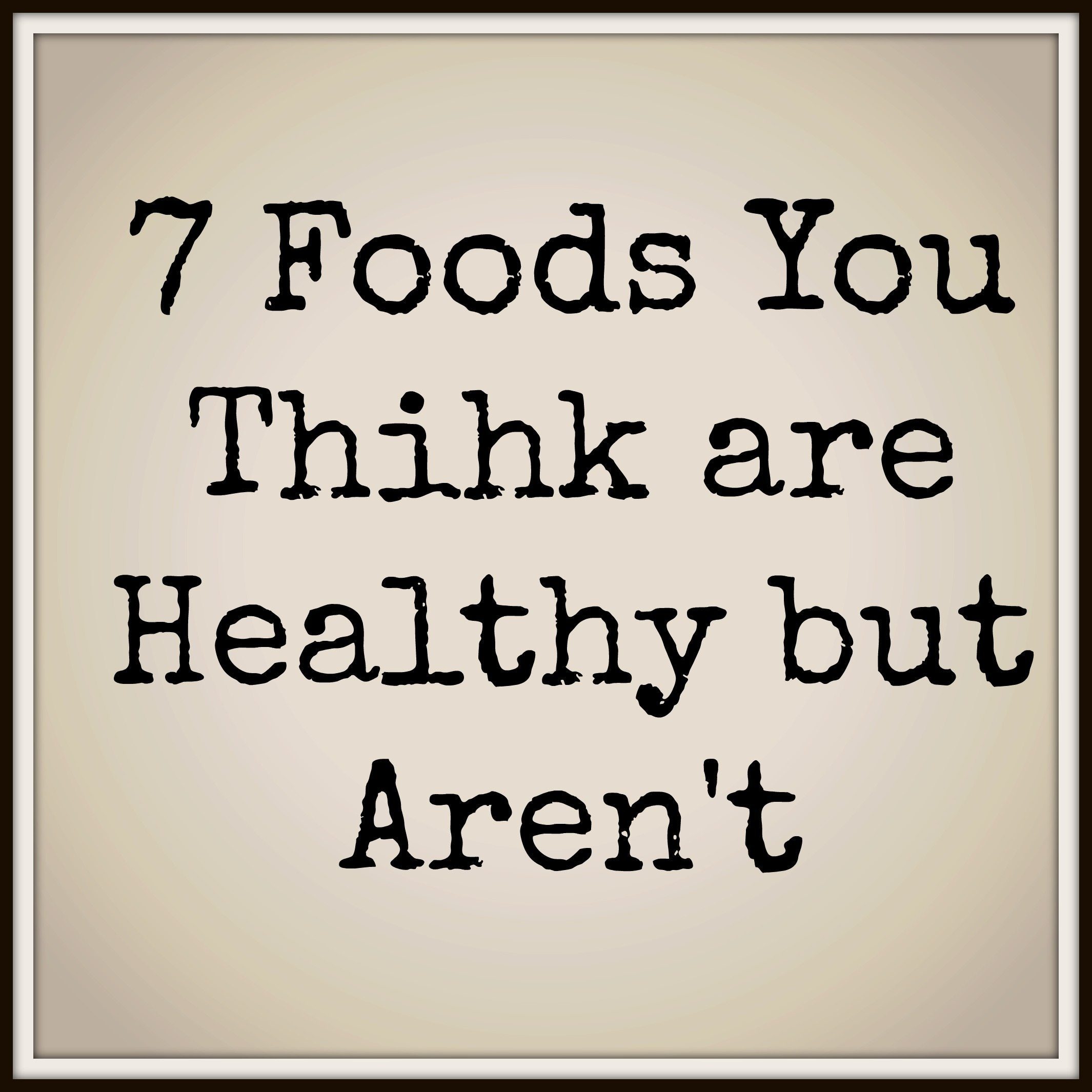 Cereals – Brands such as Kashi, Cascadian Farms, Special K, and others are recommended as safe for a healthy breakfast. In reality, cereals are very high in sugar. One serving is typically anywhere from 9-14 grams, which is over 2-3 teaspoons of sugar. The problem is we don't consume only one serving, typically, it's double that, which doubles the sugar to 18 grams (almost 5 teaspoons or 28 grams). That's a lot of sugar when it's recommended only to consume 25 grams of sugar per day for women (6 teaspoons).
Greek Yogurt – I think Greek yogurt is great for it's healthy fats and probiotics (if you can tolerate dairy), but most Greek yogurts are loaded with sweeteners. Unless you are buying plain Greek yogurt, the sugar content is way too high, even plain yogurt has sugar. Sweeten with berries instead or add a little honey if you can't take it plain. Chobani's plain has 4 grams of sugar, whereas the flavored have 15-20 grams of sugar per serving.
Peanut Butter – Again added sugar, especially in popular brands like Jiff and Skippy. And when ate regularly it causes an unhealthy ratio of omega 6 to omega 3 fatty acids. If it's not organic, hydrogenated oils are typically present and rotten peanuts are used. It's not a choice of "choosy moms" I would know because I am a choosy mom!!

Special K Bars – I don't mean to call out brands, but there's really nothing special about these bars. They claim to be healthy, lower calories, but looking at their ingredients list clearly shows they are anything but healthy. Their cereal bars second ingredient is corn syrup, followed by two other sugars. They have artificial flavors, and soybean and palm oil, which are typically genetically modified. The protein bars contain hydrogenated oils, many different types of corn, which is also typically genetically modified, and corn syrup.
Protein Bars / Granola Bars –  Really protein bars are loaded with more than enough sugar, as well as many additives that are not welcomed in our bodies. Sticking to protein bars with fewer ingredients, and sweetened with things like dates and honey are the way to go. Not all are bad, but it's important to read ingredient labels and check sugar. We go for these because they are convenient.
Granola – We are kind of on a craze with granola, but it's something we should eat sparingly. Again because we typically consume more than a serving, which means we are consuming way to much sugar. Making your own granola is suggested, this way you don't need to add many different types of sugar. Granola is typically ate with yogurt, which only adds to the sugar content. Some contain upwards of 14 grams of sugar per serving.
Salads – Salads are great when they are colorful and aren't saturated with dressing. Most restuarants put way too much dressing on salads, and then add in fried meats. Stick to grilled chicken or salmon, and ask for dressing on the side and less cheese. I think most recognize that dressing is high in fat and calories, and also many contain high fructose corn syrup. Instead use oil and vinegar based dressings. In all honesty I love mine with a little feta and quinoa. I don't even need dressing. Avoid iceberg lettuce as well. It has no nutritional value and is contaminated with insecticides and pesticides.
In short, as consumers we need to start reading ingredient labels more often. I don't think we have to completely swear off these food products, but they shouldn't be ate on a regular basis. The high sugar content, genetically modified ingredients, and other additives are detrimental to our health, especially when ate in abundance.
Until Next Time Be Whole and Be Fit
Do you read ingredient labels?