Peaches, Peaches, Peaches….that's all I have been smelling and seeing lately. We picked boxes upon boxes of them last week and I spent the weekend dehydrating and freezing them, as well as making some great peach pancakes with them and muffins, which I will be sharing the recipe for soon!!
I love having summer produce to eat on during the winter, when local produce isn't in season. We have done raspberries, cherries and apricots too, and next will be apples and applesauce of course. Now I don't have to worry about buying out of season produce, which can be pricey and hard on the environment.
This is another recipe I love to make and it's great all through the winter and fall. I use my frozen peaches and enjoy the the refreshing smoothie. It's a simple smoothie packed with antioxidants and protein and one our family enjoys. R loves smoothies and always hogs mine, so I have gotten better about making enough for her as well, because sometimes Mom just doesn't want to share.
I swear this tastes like ice cream, but without all the added sugar and junk. I am thinking of using basically the same ingredients for making a homemade ice cream. 🙂 Yum and perfect for this unbearable heat at 34+ weeks pregnant.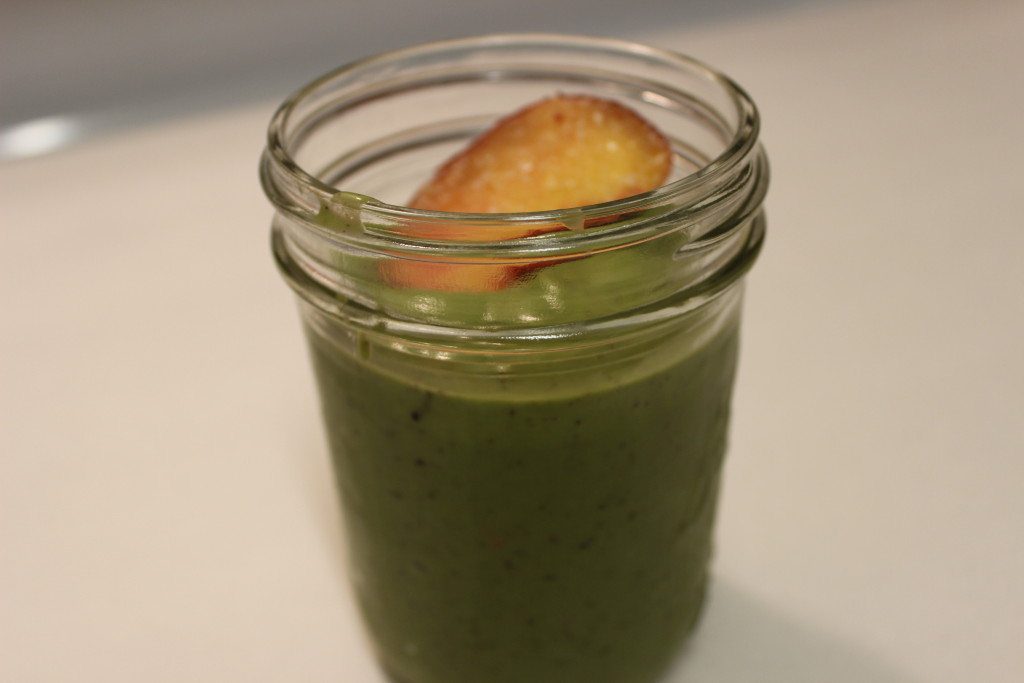 Definitely a new favorite smoothie. (I should really quit saying that, because I say that with every new smoothie I make). I love how you can't taste the spinach or the pea protein, and I have used both types of protein as well (a planted based vanilla variety). Made with a super food, protein, and sweetness!! Win, Win!!

Green Peach Smoothie
Author:
Bryanna @ wholesomelyfit.com
Ingredients
1½ c almond milk (may need more depending on how thick you like your smoothies)
1½-2 c frozen peaches
2 handfuls spinach
1-2 scoops of protein powder (preferrably vanilla flavored or plain)
1 -2 Tbs peanut butter
Instructions
Add all ingredients to a blender and blend until well combined and smooth.
Divide between two glasses and Enjoy after a sweaty strength training workout or run. 😉
Green Peach Smoothie & Roasted Radishes, summer fare all can enjoy
Click To Tweet
Yep it's that simple folks and tastes amazing!! I crave this smoothie frequently throughout the year and ration off my frozen peaches. There's nothing better than a refreshing, cold smoothie on those 90+ degree days which have been the norm here recently.
Roasted Savory Radishes 
I also wanted to share another one of our favorite Summer dishes. Marc and I love Roasted Radishes, not now R can enjoy them. Once, roasted they taste like baby red potatoes. I have used all different types of radishes as well, and all taste great roasted. Why do some foods just taste better roasted?!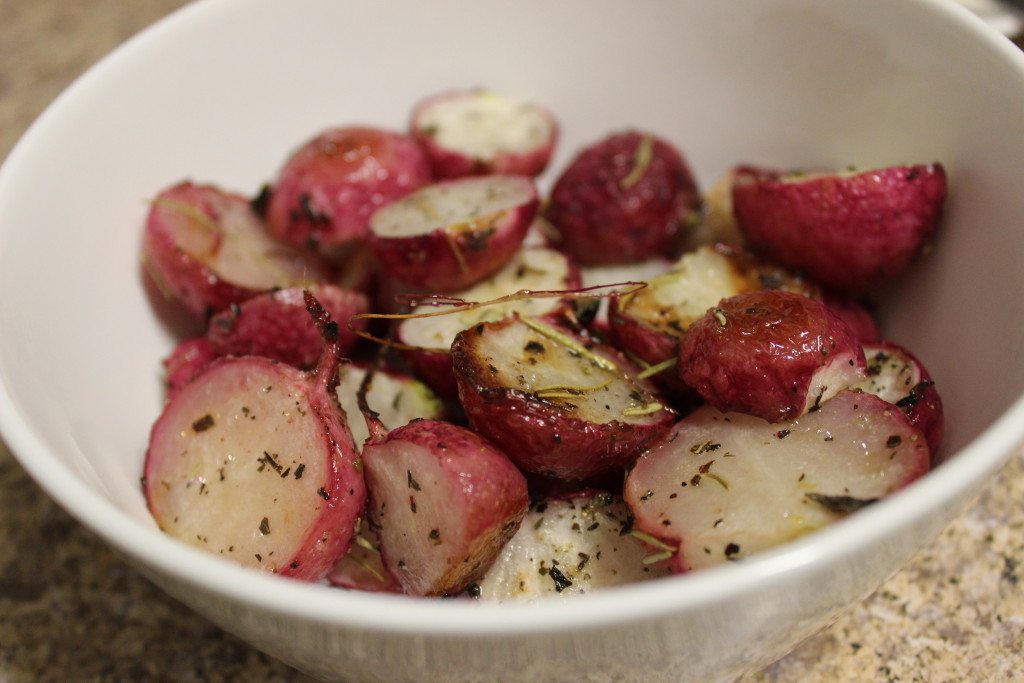 Oven roasted radishes are tasty. My sister thought they were baby red potatoes and loved them. She's not a fan of radishes, but helped devour a bowl of these in less than 5 minutes. Even my picky brother-in-love said they were good.
It's a great addition to your meal, as a side. Pair with some grilled chicken or salmon and a bed of greens and you have a great, healthy and balanced meal. They are simple to make as well. Just 20 minutes in the oven with a little oil and seasoning. Nothing more and nothing less!!
Prep: 5 minutes Bake time: 20-25 minutes
Ingredients:
1 bunch of radishes, washed, and cut lengthwise in half
1 Tbs grapeseed oil or olive oil
Sprinkle with basil (about 1/2-3/4 tsp)
Sprinkle with thyme (about 1/2 tsp)
Sprinkle with rosemary (about 1/2 tsp)
Sprinkle with salt and pepper
Directions: Preheat oven to 375 degrees.1. In small bowl combine radishes and oil, stirring until radishes are coated. 2. Sprinkle radishes with herbs and spices. 3. Place on parchment lined baking sheet and bake for 20-25 minutes or until lightly browned and slightly tender when pierced with fork. Enjoy!!
Roasted Savory Radishes a great addition to your summer fare #summereats
Click To Tweet
Keep cool friends and Until Next Time Be Whole and Be Fit