Summer is almost coming to an end, but that doesn't mean your juices have to. You can juice all throughout the year, I find that juice cleanses are great to do at least once a year. I will be honest, juices are better in the summer when fruit is in season though and produce is cheaper. And let's face it, it's also nice to sip on something refreshing and cool in the hot weather.
I have a many recipes that I find to be even more refreshing in the hot summer months. Anything with cucumber is great, because cucumber is full of water and a refreshing addition to any summer party. From salads to flavoring water.
If you need a nice refreshing juice, try this Slimming Green Cucumber Juice. It hits the spot and has great vitamins and minerals to fuel the body. Cucumbers are 95% water, so they are great for hydrating your body and skin. Cucumbers also help aid in weight loss due to their high water content and fiber. Paired with ginger and kale and you have a powerful juice combo.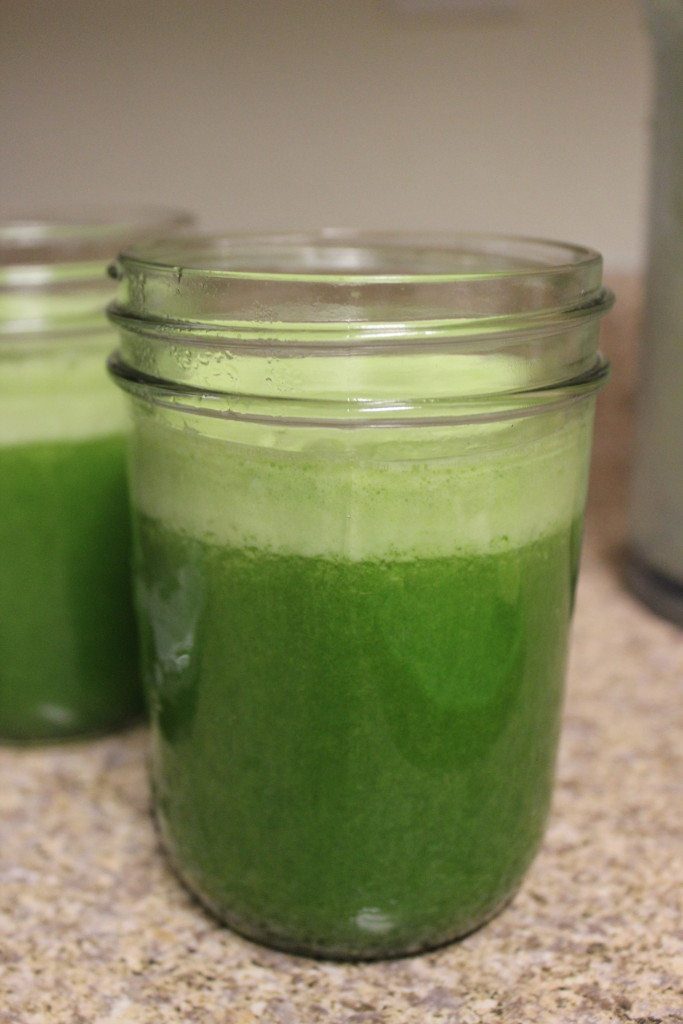 It's also great to have cucumber in the Summer to keep the skin hydrated since it's exposed to the sun more than in other months, and it hydrates the body helping to keep us from getting dehydrated.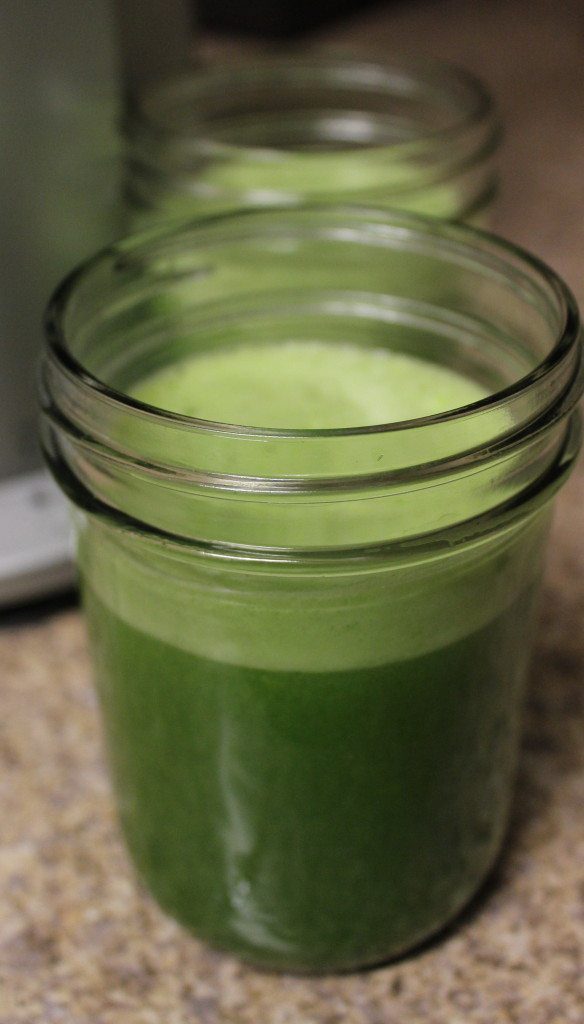 Slimming Green Cucumber Juice
Author:
Bryanna @ wholesomelyfit.com
Refreshing blend of cucumber and ginger, with some greens
Ingredients
½ bunch of kale or 6 ounces of spinach
1-2 Cucumbers
2 Green Apples
1 lemon, peeled
chunk of ginger
Instructions
Process all ingredients through your juicer. (I don't peel my cucumber or core my apple. My juicer can handle the peel and core. You may want to check to make sure your's can as well.)
Divide between two glasses and drink fresh.
If storing juice, store in air tight bottle or jar.
Slimming Green Cucumber Juice, a refreshing juice for the last days of summer #juicing #nutrition
Click To Tweet
Apple Spinach Jolt
Also, try this smoothie in the fall when apple and spinach are abundant, or if you can't wait try it now. Apple is packed with great nutrients and is always best in juices and smoothies to help tone down other harsh or overpowering flavors. Having fruit in a smoothie is a great way to sneak in some extra fiber. Unlike when you juice (which I love to do obviously), the fiber remains intact. Apples are especially great, because they have loads of fiber. I love using green apples because of their tartness and sweetness.  I love it during the fall when apples and spinach (like cooler weather) are fresher and in season.
Green smoothies are nutrient packed and I love to have them after working out to help repair muscles. I'll admit that I enjoy this whenever I need a refresher though. There's just times I can't also go without in season produce.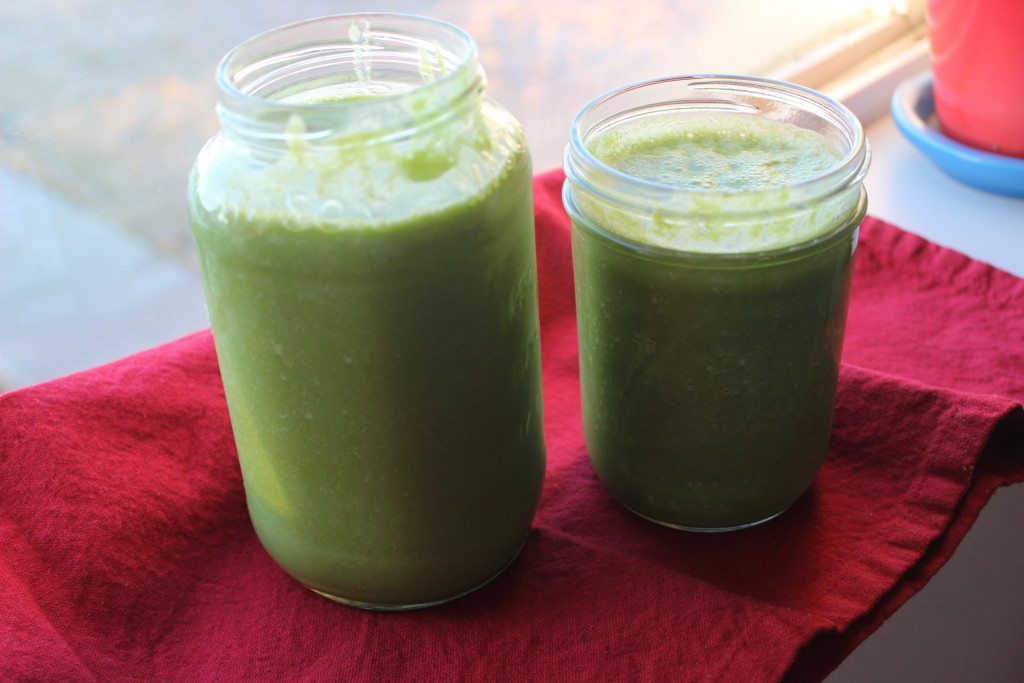 It's the perfect mixture of frothy and refreshing. It just hits the spot when you need it most. I enjoy it all year round, especially when I am in the cold winter and dreaming about warmer weather. This takes me to an island somewhere far away with lots of warmth and sunshine.
Prep time: 5 minutes
Ingredients: 
2 green apples, cored with peels on
2 c coconut water
1 – 2 scoops of protein powder (optional)
1 Tbs almond butter
1/2 lime, squeezed
2 c packed spinach
ice cubes, to thicken
Directions:1. Place all ingredients in a blender, starting with coconut water and protein power, and spinach on top. This is the best way to add ingredients, as I think it blends easier this way. 2. Blend until smooth. 3. Divide between two glasses and Enjoy!!
Servings: 2
Slimming Green Cucumber Juice & Apple Spinach Jolt Smoothie, summer refreshers
Click To Tweet
Have a great weekend folks!! I could be welcoming a baby boy into the world. Who knows. It's crazy to think that it's any time now. Everyday I wake up thinking, "could today be the day?!" I am getting excited to see the new little one!!
Until Next Time Be Whole and Be Fit