Juicing is my new jam folks!! Just kidding, but in all seriousness it's easy to make healthy juices taste great. Even those green drinks [like the ones I am going to share with you today] can be quite tasty. You won't be able to taste the greens and your system will be happy with you.
Certain ingredients used in juices can help you detox and flush toxins out of your system. Just try a juice fast for a few days, and you'll notice body odor and stinky bowel movements. This is because the nutrients in juices are what the body needs and are helping to flush any gunk out of the body. I think of it as spring cleaning. It's much easier to do juice cleanses in the spring or summer time, when temperatures are warmer, and juices are more sought after.
Your body needs a spring cleaning, just as much as your house does. 😉 Both of these juices are my favorite green juices. I love that they taste great and I can even get the kiddo to drink it up. The sweetness from the fruits helps with the bitter greens. You might even think you're at the beach, especially after trying the next juice recipe. 😉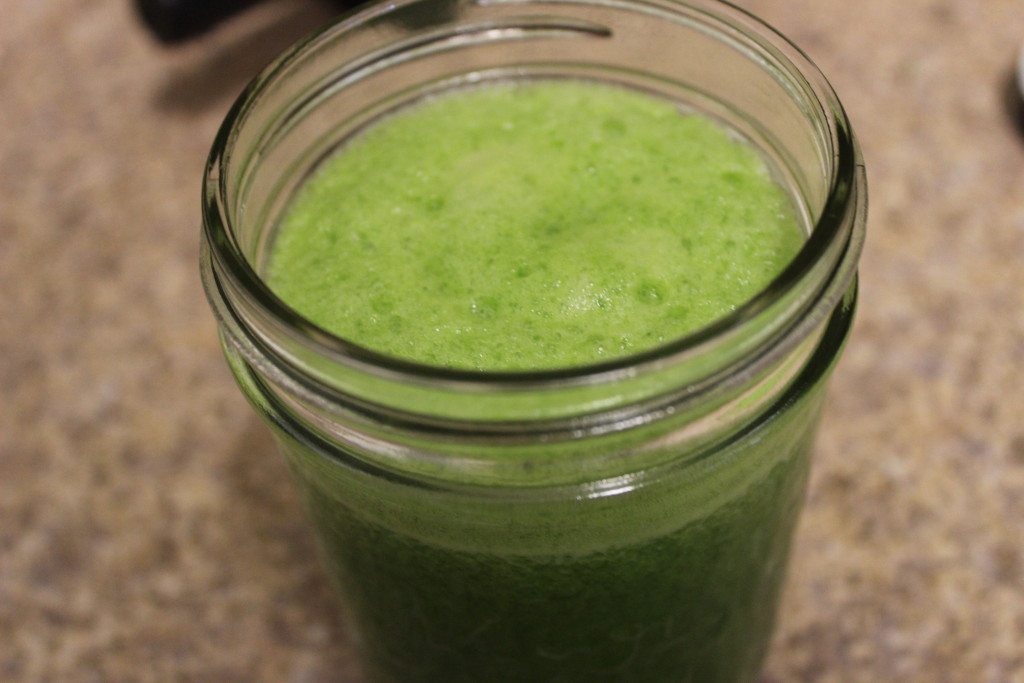 I am beginning to like my creative names for juices too. The Green Royal Flush is a great pick me up. It's sweet and tart, because of the green apple and pear, and has a kick with the ginger, without it being too overpowering with ginger. It will definitely help detox your system and it's a great conversation starter at work. Just walk around with this green juice and I guarantee you'll get stares and questions 😉 .
And you won't have to lie when someone asks if it actually tastes good, because believe me it does. No funny faces and gagging when drinking this juice, and you don't even have to down it, you'll want to savor it.
Drink up those Greens with these juice recipes -Green Royal Flush & Green Coconut Cleanser Juice Click To Tweet

Green Royal Flush Juice
Author:
Bryanna @ wholesomelyfit.com
Serves:
2 (10-12 ounce juices)
An instant green juice to flush toxins
Ingredients
2 green apples
2 pears
half a bunch of kale
1-2 inch chunk of ginger
1 lemon, peeled
Instructions
Make sure to wash all ingredients!!
Add ingredients to juicer and process through. My juicer is a Breville(and I have my sights on another, shh don't tell Marc), so I don't have to core the apples, I just cut in half and process through, along with the pears.
Pour into your favorite glasses and enjoy an instant energy boost 😉 .
My next favorite green juice is the
Green Coconut Cleanser
, because you'll really want a beach vacation after having this juice. Health benefits are numerous as well.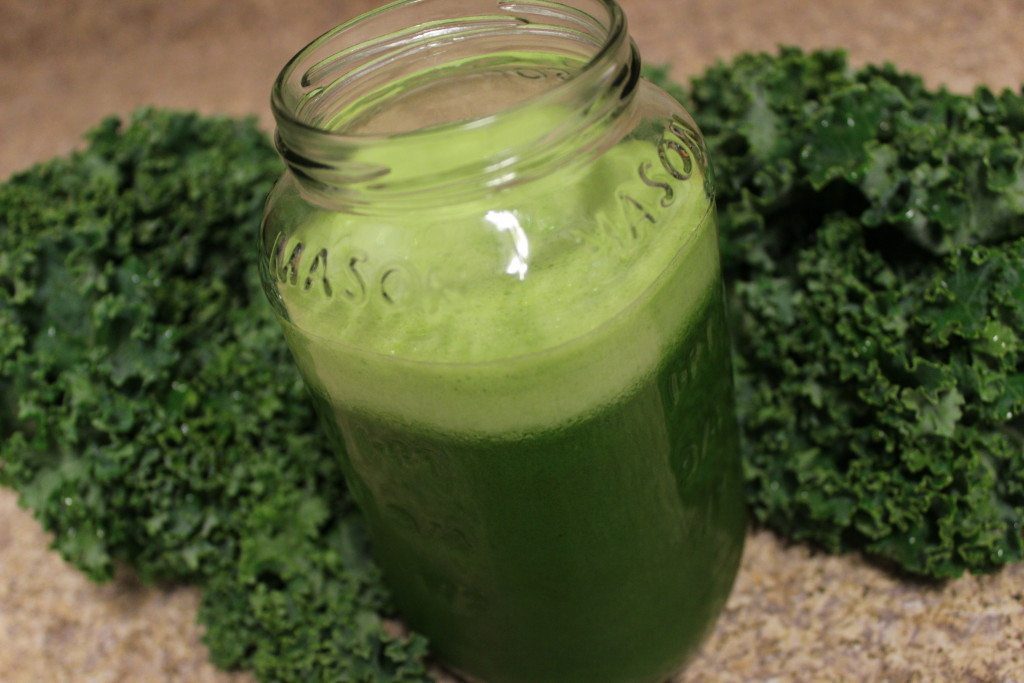 Adding coconut water to your next green juice will not only taste amazing, but does amazing things to your body. Coconut water is full of potassium and other electrolytes that every runner needs. It's not just great for runners, but coconut water is great for everyone. It's a good source of B-complex vitamins and contains active enzymes (needed to aid digestion and break down our food). The cytokinin's in coconut water have anti-aging and anti-cancer properties. Honey to our bodies.
I topped this green juice with coconut water. It replaces the sweetness of fruit, because as you'll see there's no fruit in this drink besides lemon. Instead lots of green!! But don't let that scare you away. It's a great, healthy start to your day.
Green Coconut Cleanser
Prep time: 5 minutes     Servings: 2
Ingredients:
1/2 bunch of kale
handful or 2 of spinach
10 celery stalks
1 lemon, peeled
1 – 2 c coconut water
Directions: 1. Process all veggies and lemon through juicer.
2. Stir in the coconut water after all veggies have been processed.
3. Divide between two glasses.
Green juices you don't have to gag on Green Royal Flush & Green Coconut Cleanser
Click To Tweet
You'll begin to appreciate juicing in the spring and summer when fresh produce is abundant and there's times you'll need to use it up before it goes bad. I know for me it's a great way to make sure my garden's bounty doesn't get ditched. I can use the plenty of my garden in juicing if there's just too much to consume in a week. I don't like wasting anything, and food waste is my least favorite.
It makes me sick to throw out food, so juicing, canning, and freezing are my go to's. Make sure to check out my tips on making clean up and juicing easier too.
Hope you all have a fantastic weekend!!
Until Next Time Be Whole and Be Fit……and Happy Juicing!!
What's your favorite green juice combo?