Happy FriYAY!!
It's not really "friyay" with moms, but I thought I would jump in with everyone else. In the Inland Northwest, we had a brutal winter. It was one of the coldest on record and the cold harsh weather was damaging to my skin. We aren't out of the water yet either. March doesn't always mean spring weather in the Northern climates.
I was tired of buying expensive hand creams and lotions to beat the dry skin, which was made worse with all my time outdoors running. I stick to coconut oil and a good night cream for my face, but didn't want to invest money in body cream, and I don't like toxins. Toxin free lotions can be pricey.
I decided I wanted to make my own lotion. My mom's friend was always gifting her a peppermint lotion. Some batches were great, others to watered down. I loved my cooling peppermint lotion in the summer while I was pregnant, and I wanted to perfect a recipe as well.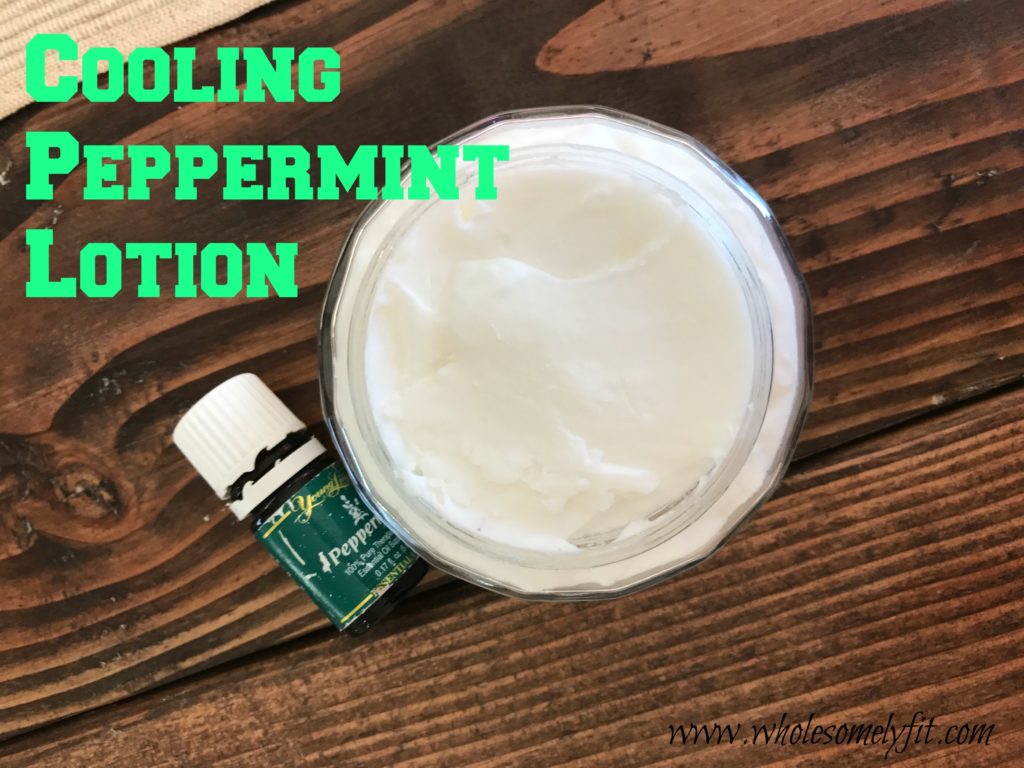 I teamed up with my mom's friend and gave it a whirl. I think the type of aloe vera used was the ticket to a great lotion, that's creamy enough, without feeling to greasy. It rubs on nicely and it's perfect for any type of year. For winter I added some almond oil to add more protection for my skin. I love the way my skin feels after using it, and I love the cooling effect it has. I recommend organic, toxin free ingredients and pure essential oil. It may be a bit pricier, but you are making enough lotion to last awhile and in the long run it's cheaper than buying pre-made lotions.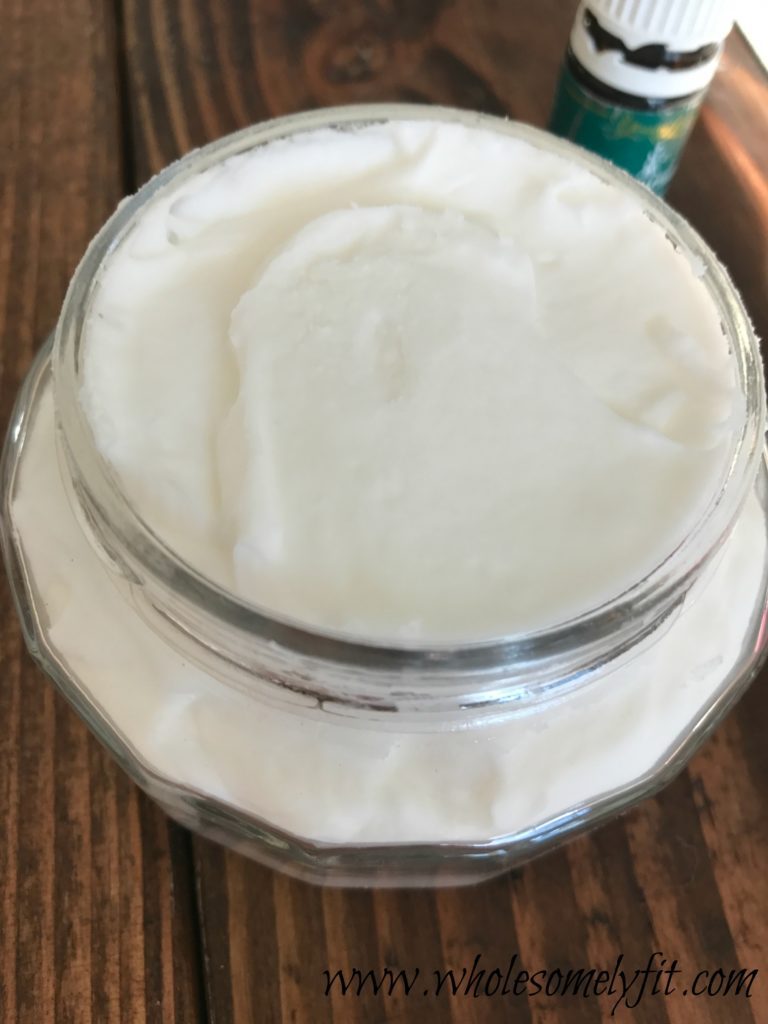 It's been great for sore muscles and everyday lotion. I love the smoothness of my skin after using it and the scent is heavenly. It's relaxing, while refreshing. Rubbed on the neck it helps with headaches and tension, and helps me relax. I lather up with it daily, and love that it leaves a less greasy feel than straight coconut oil, which has been my go to lotion for years. I am a minimalist when it comes to skin care. I'd rather create my own, because it's relatively easy and cheap.
The only skincare I invest in is a nice night cream, anti-wrinkle, because I am always so tense and wrinkle my forehead a lot. You can find my favorite beauty items here. I compiled a whole list of my favorite body care items, even those I make and added this amazing Cooling Peppermint Lotion, with aloe vera. It's 4 simple ingredients, 5 if you count the almond oil or vitamin E oil. It doesn't take long to prepare, and I make large batches to get me through months and months and to give to friends and family. Everyone loves it and it was requested to share my recipe on the blog.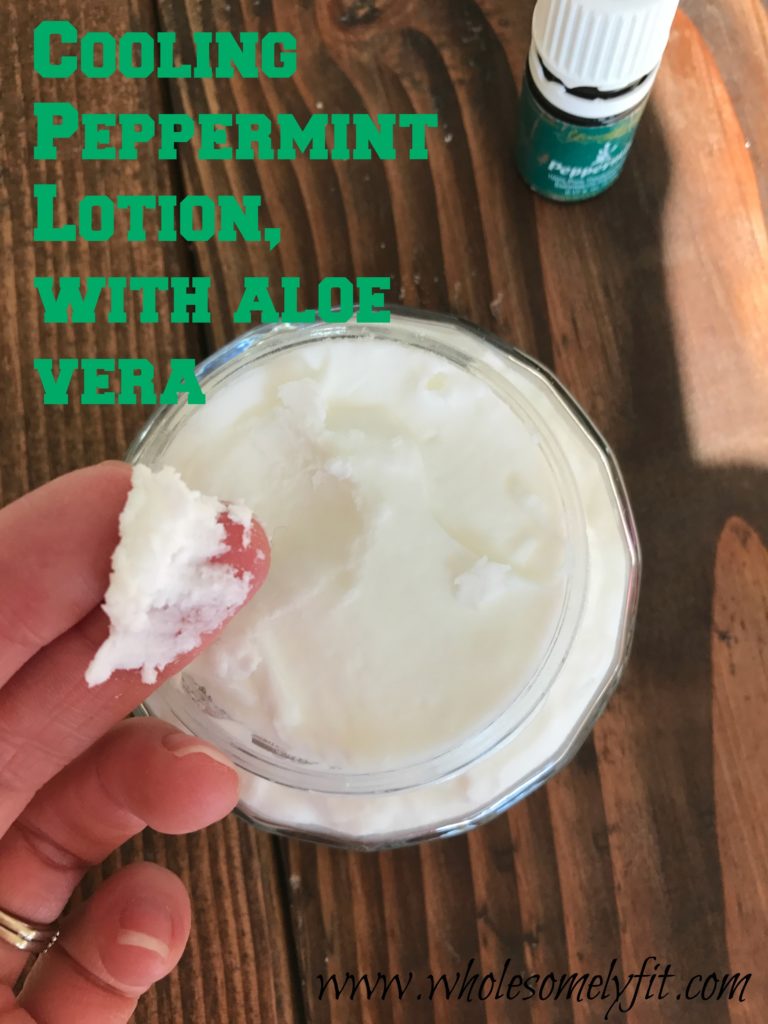 DIY Cooling Peppermint Lotion, toxin free, non-greasy & creamy #toxinfree #skincare
Click To Tweet
Cooling Peppermint Lotion
Time: 1-2 hours total (with cooling & mixing)
Ingredients: 
1/2 c beeswax pellets
1 c organic unrefined extra virgin coconut oil
1 c aloe vera gel (pure & toxin free)
20-30 drops pure peppermint essential oil (or try another essential oil)
2-3 tsp almond oil (optional)
Directions: 1. Place beeswax in a small sauce pan. Create a double boiler by placing water in another pan (medium or large sized) and bringing to a boil, than a simmer. 2. Place pan with beeswax in the boiling water. While water is simmering, melt the beeswax. 3. Add coconut oil to the nearly melted beeswax, melting the coconut oil & beeswax completely. 4. Remove from heat and allow to cool (placing in the fridge speeds up the cooling process). You want mixture to firm up. I like a softer firm, because it's easier to blend or process.
5. Add mixture to a food processor or blender, add in the aloe vera, essential peppermint oil and almond oil. Process or blend until whipped like and thoroughly combined. Drop into jars, I prefer glass.
*Takes about an hour to cool at room temperature or 15-30 minutes in the fridge.
Servings: about 24 ounces
A #DIY Cooling Peppermint Lotion, creamy, soothing & toxin free #skincare #healthybody
Click To Tweet
You can find all you need at a cheaper price on amazon, as far as ingredients and glass jars. I use 4 ounce and 6 ounce jars. Also, vitacost has great products at a cheaper price. I suggest Lily of the Desert aloe vera gel, it seems to work the best.
Have a wonderful weekend!! I have my first half marathon post baby Saturday. It's both exciting and nerve wracking. This winter made training hard, and with teething children I have been exhausted. Not feeling motivated for racing yet. My body is tired, and mentally I am feeling it as well. Wish me luck.
Until Next Time Be Whole and Be Fit