It's been a muddy mess out here folks, but this means the snow is melting!!  Couldn't be more GRATEFUL…no really I am.
Even though Monday I came back a muddy mess after my 11 miles….: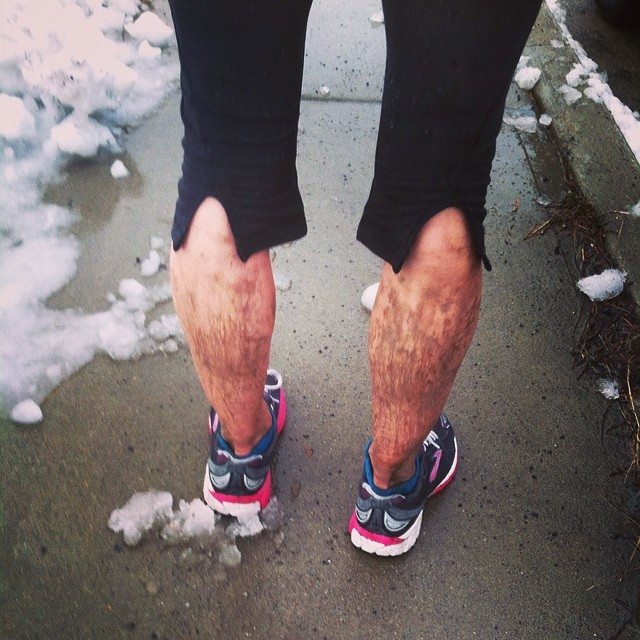 ….it was still a great run and was 40 degrees. I loved getting in some afternoon miles, mud, slush and wet included. Tuesday morning called for an easy 6 miles, which wasn't as easy as I had anticipated. I did my strength training before the run so Marc and I could run in daylight, and this made for some tired, heavy legs.
I added a quick 7 miles in after work, while the hubs hung out downtown. I ran downtown from GU and finished just in time to meet my sister and her husband for an early birthday dinner. Marc and I stole Micah away for the night. It's my sister's birthday today, so her and her hubby had a much needed night away.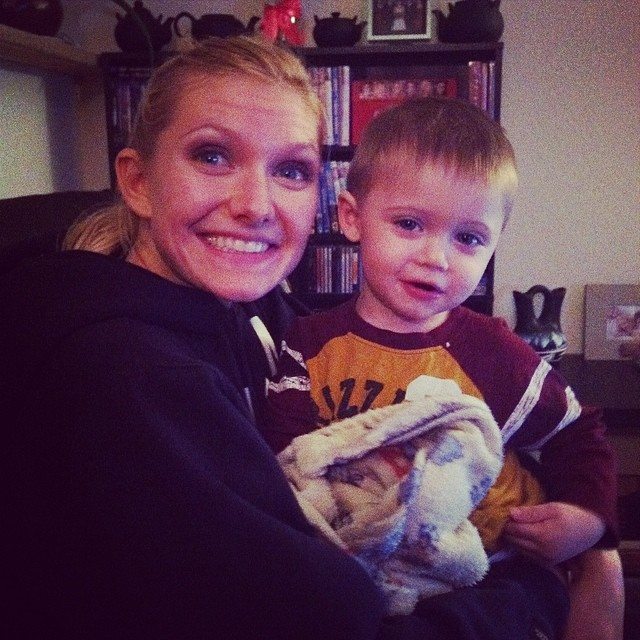 I loved having a sleepover with my little man. A very restless sleepover. Marc and I slept with Micah, because he's not one for sleeping by himself in places that aren't his home. Eventually Marc was kicked out of bed, because Micah had had enough of him. And just so you know, almost 2 year olds can literally take up an entire queen size bed!! I have battle wounds from last night…….Let's just say I am not ready to sacrifice my sleep quite yet for a little one.
GF Chocolate Peanut Butter Pancakes (vegan)
Sunday Marc and I made some great pancakes, and we had enough for leftovers to enjoy on National Pancake Day (yesterday).
The pancakes are both Gluten Free and vegan. They are also very filling, I couldn't finish my stack of 3 pancakes (which weren't very big around). Marc polished them off for me.
I used 1/2 buckwheat and 1/2 brown rice flour, as buckwheat can have a very overpowering taste.
Total time: 15-20 minutes
Ingredients: 
1/2 c buckwheat flour
1/2 c brown rice flour
1 Tbs ground flaxseed
2 Tbs milled chia seed or chia seed
2 Tbs cocoa powder
1 ripe banana
1 c almond milk
1/2 c water
1 Tbs maple syrup or agave (optional, a sweeter note)
1/3 – 1/2 c cacoa nibs or chocolate chips
1/4 – 1/2 c peanut butter (creamy or crunch)
Directions: 1. Add all ingredients except the maple syrup or agave and cacoa nibs/chocolate chips to a blender. 2. Blend until smooth. It's a thicker consistency. If you like your pancakes lighter, add more water to make the consistency less thick. 3. Stir in cacoa nibs/chocolate chips and sweetener. 4. Pour batter onto a greased griddle (325 degrees) or skillet (medium heat). Once batter bubbles on one side (browned on the downside), flip pancake. Heat until lightly browned on bottom side.
5. Place 1 pancake on plate, spread peanut butter on top, and stack another pancake. Repeating the process until you have 3 stacked pancakes, and two peanut butter layers. Pour your favorite topping over the pancakes and enjoy!!
WARNING: These are rich and AMAZING!!
Servings: 10 pancakes
Now for some yummy, easy dinner in less than 30 minutes.
Arugula Hummus Pasta with Veggies (GF & Vegan)
You probably didn't know that hummus is used for more than just a dip for vegetables. It's great as a spread on sandwiches and I just found out it's great in pastas!!
I used organic store bought hummus, but making your own hummus is just as good and more cost efficient. Hummus is simple to make. Try my spicy hummus recipe or avocado hummus. Or make original hummus without the avocado or jalapeno's added.
Add some veggies and if you don't mind dairy, top with Parmesan cheese, and you have a pasta that's rich in nutrients and contains all food groups. Sometimes the easiest dinners to make are the best tasting!!
If you love your meat, add in tuna fish or chicken.
Prep time: 5-10 minutes              Cook time: 20 minutes
Ingredients: 
1 16 ounce bag of GF Penne pasta (if you can have gluten go with Whole Wheat Pasta)
1 red bell pepper, seeded and chopped (or color of your choice)
1 c cherry tomatoes, halved
1/2 c purple onion, chopped
1 c mushrooms, sliced (optional)
3-4 c arugula, packed
4 Tbs original hummus, homemade or store bought
1/2 tsp cayenne pepper (optional, you know how I love spice)
Salt and Pepper to taste
2 Tbs + more for topping, Parmesan cheese (optional)
Directions: Cook noodles according to package directions. While noodles are cooking, I prepare my vegetables. 1. Once noodles are done, drained and rinsed, return to pan and add the vegetables, over low heat. 2. Mix in the hummus and add salt, pepper, and cayenne pepper. Stir until well combined. 3. Stir in the Parmesan cheese (if you aren't vegan) and arugula. Enjoy warm or cold (great for leftovers).
I also top with some extra arugula before serving as well, b/c I love the taste of Arugula and Marc likes to add some extra Parmesan.
Servings: 6
Hope you have a great Wednesday friends!! I will be going to bed early tonight after last night's fun night.
Until next time Be Whole and Be Fit.