I get to celebrate my birthday this weekend and I am blessed to share my first birthday as a new momma with family. It's weird to think I am another year older, and have a child already. A lot can happen in a year.
With that being said I thought I would share 25 life lessons, along with a great sugar free recipe for a breakfast cookie. And of course I added Matcha green tea powder to them. So I have been going a little crazy with the matcha lately, but it's great to add into things because it's the good stuff ;). And everyone should have cookies on their birthday.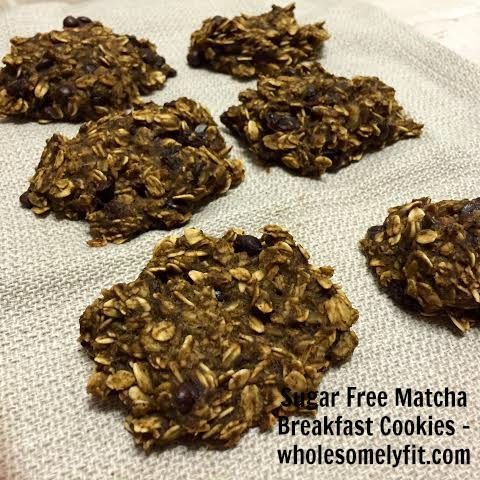 25 Life Lessons I have Learned Before my Birthday (and sorry for the randomness of them):
Don't sweat the small stuff.…seriously don't even waste your time.
Sometimes life doesn't always go as planned……and that's okay!! (if you've been reading my blog for the past year, you'll understand where this is coming from….my first baby )
Learn to laugh, especially when you'd rather not. 
God is so much bigger than any challenge we face. 
Don't compare yourself to others, it only robs you of happiness and makes you forget what amazing talents you already have. 
Marriage takes time, sacrifice and a servants heart to really make it thrive. 
With that being said…..Marriage is hard!!
Learn to be generous, of not only your money but of your time. 
Sometimes a good'ole cry fest is needed and perfectly acceptable. 
Sometimes the greatest gifts/blessings are those that were unexpected and not planned for. – i.e. my first child!!
In life there are going to be difficult people who test us and we have to learn to interact with and show kindness to them.
You have a plan and purpose for your life, but only you can find what it is. 
Long distance friendships are some of the greatest friendships you can have. – Even with miles and miles between us, I have some of the best friends who I know I can count on to be a listening ear.
Don't stop believing in yourself – You can do so much if you simply and truly believe you can.
Silence the negative thinking in your head – Sometimes we are our worst enemies.
Being a parent is both challenging and rewarding – I am new to this and this became very true, very fast.
Sleep should not be taken for granted….get it while you can!! – Pregnancy taught me this, as well as the first month of having a new born.
Skinny does not necessarily mean healthy…..just because someone is skinny doesn't mean they are eating and living a healthy lifestyle.
We only have one body, so learn to nourish it with what it needs most: a healthy, whole diet and lifestyle. 
Food can be both the cure for many ailments and the culprit. – Choose wisely.
Life's challenges and seasons of grief and pain, only strengthen us when we chose to persevere through them. – There's a light at the end of the tunnel, as cliche as it sounds.
Running can be a means for escape….escaping the chaos of our homes (if only for a couple of minutes), chaos of our minds, chaos of our families, jobs….
Every decision we make can either be used to help or hurt us - Even those small decisions can lead to amazing opportunities and new friendships.
Our thoughts and words are powerful – "What a man thinketh in his heart, so he is." (Proverbs 23:7) "Life and death are in the power of the tongue." (Proverbs 18:21) – We can change the atmosphere with just our words.
Children are a true miracle and pure joy (sometimes….hahahaha)!! – If you ever stop to think about how a child is made it's pretty amazing in my opinion. To think I carred one for 9 months is incredible!!
Sugar Free Matcha Breakfast Cookies
Cookies for breakfast?! Yes you heard me. Don't worry they are sugar free and they don't have any flour. These took me 10 minutes to prep and only 15 minutes to bake, and only 1 minute to devour. Just kidding, I didn't eat them all, but I wanted too. The simplest cookies I have ever made.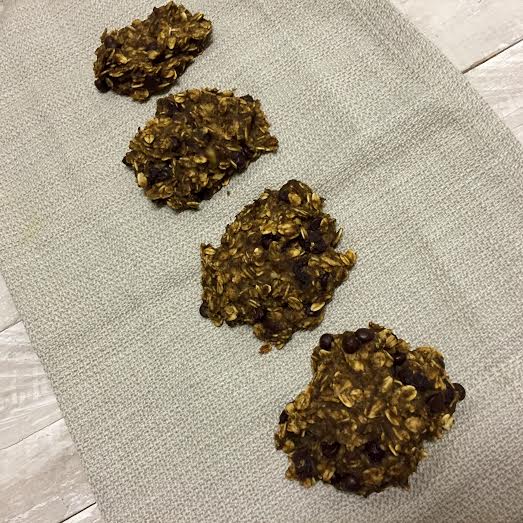 I added some of my plant based protein powder to them (it is sweetened with a little stevia) and the matcha powder. The protein makes them great for a recovery snack after a run, and the matcha is great for providing the body with some extra energy. The protein powder is optional, it just boosts the protein power.
The mini chocolate chips are optional. I used dairy, nut and soy free mini chocolate chips, the Enjoy Life brand. You can use carob chips to keep the cookies completely sugar free, besides the natural sugars found in the other ingredients.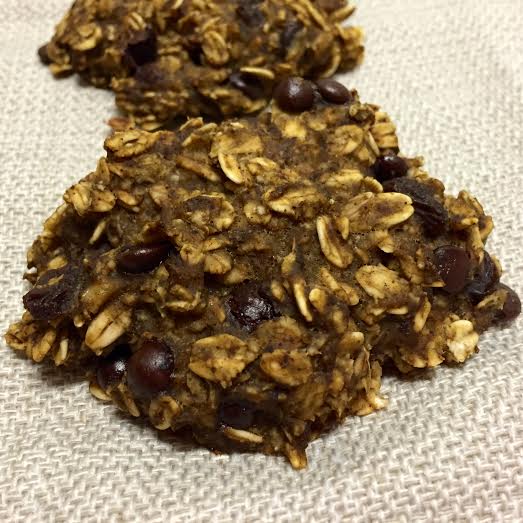 Wondering what makes them even taste good without all the added sugar? The ripe bananas give them enough sweetness, along with the raisins and the chocolate or carob chips.
They were hubby approved. And who doesn't like cookies for breakfast? Of course you can eat them whenever

Hope you enjoy!!

Sugar Free Matcha Breakfast Cookies
A healthy no nonsense breakfast cookie, with no added sugar. Protein to help build muscle and matcha to give us endurance.
Author:
Bryanna @ wholesomelyfit.com
Recipe type:
Breakfast; cookies
Ingredients
3 ripe bananas mashed
2 c oats
½ c unsweetened applesauce
¼ c almond milk
2 Tbs protein powder (I used plant based)
1 Tbs matcha green tea powder
¼ c raisins, craisins or dried blueberries (or can use ½ c if you opt out of chocolate chips)
¼ c vegan & GF mini chocolate chips (optional)
1 tsp cinnamon
¼ tsp nutmeg
Instructions
Preheat oven to 350 degrees. Grease or line baking sheet with parchment paper.
Mix all ingredients together with a hand mixer, except for the chocolate chips and raisins, in a medium mixing bowl.
Stir in the raisins and mini chips. Mixture will be runny, more cake like.
Spoon onto prepare baking sheet.
Bake for 15-18 minutes (or until cookies are firm, bottoms lightly browned I did 16 minutes)
Can store in fridge for up to 2 weeks or keep in the freezer for months.
Now I am off to have an amazing mini spa day to begin my birthday celebrations and then some much needed time with family!!
Oh and Congrats to Mary for winning the free Spartan Race Entry. Hope you have your race already planned!! Check your email for the free race code.
Until Next Time Be Whole and Be Fit
What is your greatest life lesson? Any words of wisdom for me as I embark on my next year of life? Do you like cookies for breakfast?