I finally got around to packing a bag for the hospital over the weekend. I figured it would be a good idea to have one ready as the due date draws near.
Besides cleaning and trying to prepare some meals and stock up the cupboards and freezer with food, there's not much left to do before baby arrives. Everyone keeps telling me to sleep, sleep, sleep, but that's not going to happen with all the discomfort. I have never been so exhausted in my life.
So what have I been doing the last couple of weeks to help prepare for baby? Well here's a short list:
Washing all of baby's clothes and bedding, as well as cloth diapers.
Getting the last of the items on the baby registry that will be needed for when baby arrives (other stuff can wait)
Trying to keep the house clean, which can be challenging with all the boxes arriving and all the throwing out of stuff we are doing
Washing baby bottles and breast feeding storage related stuff
Trying to read about different labor techniques – I did sign up for a class but it's not until October 6th (cuts it kind of close, so a little nervous)
Packed baby's bag
Packed my bag
Telling Marc to pack his bag
Stocking up the cupboards with staples and the freezer – This way we have quick, healthy snacks and meals on hand. I haven't been able to prep ahead for meals because of a lack of freezer space, but I'll have my mom in town (thank goodness)
Trying to stay caught up with school and work ahead on my projects when I can
Beginning my shopping for October birthdays in our family (we have so many)
And finally trying to spend as much time with my hubby as I can, because when baby comes it may be awhile before we have a date or night out!!
My Hospital Bag Contents: 
Slippers
Robe
Socks
Undies
Running sweats and T-shirt to wear home
Night gown
Nursing Bra
Sports Bra
Toiletries
Snacks
Book
Birthing Plan
Affirmations
Pillow
Baby Bag Contents:
Baby book
clothes to wear home
blanket
swaddle blanket
diapers
I'll add the cell phone, cell charger and some makeup before we leave.
I never realized how much there is to get ready for a baby!! It's crazy all the prepping that has to happen. I am so thankful I have such a helpful hubby. It's been fun, but also exhausting at the same time. I am kind of getting nervous about D-day!!
Even with all of the errands, Marc and I snuck away on Sunday to pick some apples and squash. We plan on dehydrating some apples and I will make some applesauce. All the squash will be great for chili and meals after baby arrives. Also, have lots of sugar pie pumpkins that I can cook and puree, then freeze for use in breads, cookies and muffins.
I love the Fall season!!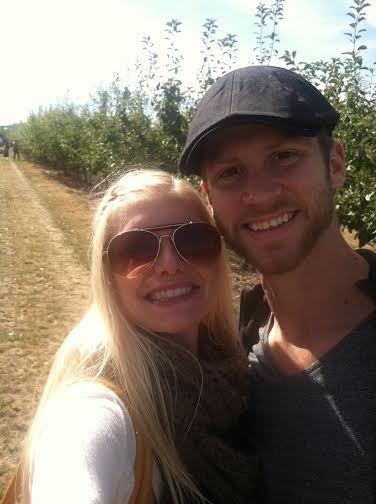 I would really love any tips of opinions on what's needed in my hospital bag or what to have done before baby comes...anything I should be doing before baby arrives that will make the transition easier? Anything I should take with me to the hospital I am missing? Anything on my list that's not necessary?
……and Go……
Oh I hope you all had a great weekend!!