It's safe to say the holiday season has begun. The stores are hustling and bustling, and the egg nog and Candy Cane Joe Joe's have hit the stores. Christmas music is already playing on the radio (I vow not to start singing the tunes until after Thanksgiving….so hard to wait), and some people already have their Christmas lights up and their Christmas tree decorated.
Sadly for some, it's not the "Most Wonderful Time of the Year…." instead it's marked with stress and rushing from holiday party to holiday party, or from store to store trying to keep up with the growing Christmas list. We live in a rushed society, and this makes staying healthy through the Holiday season hard.
My good friend Lisa wrote a great post for healthy eating during the holidays. I encourage you to check it out. She gives a list of great substitutions to the ingredients commonly found in most holiday foods. I wanted to offer some tips that are still crucial to our health, but are a little less related to healthy alternatives to the traditional holiday fare. Stress is in fact half the problem when it comes to our eating habits.
So if you're stressed read til the end for a great healthy recipe using sweet potatoes. 😉
Tips for a Healthier Holiday Season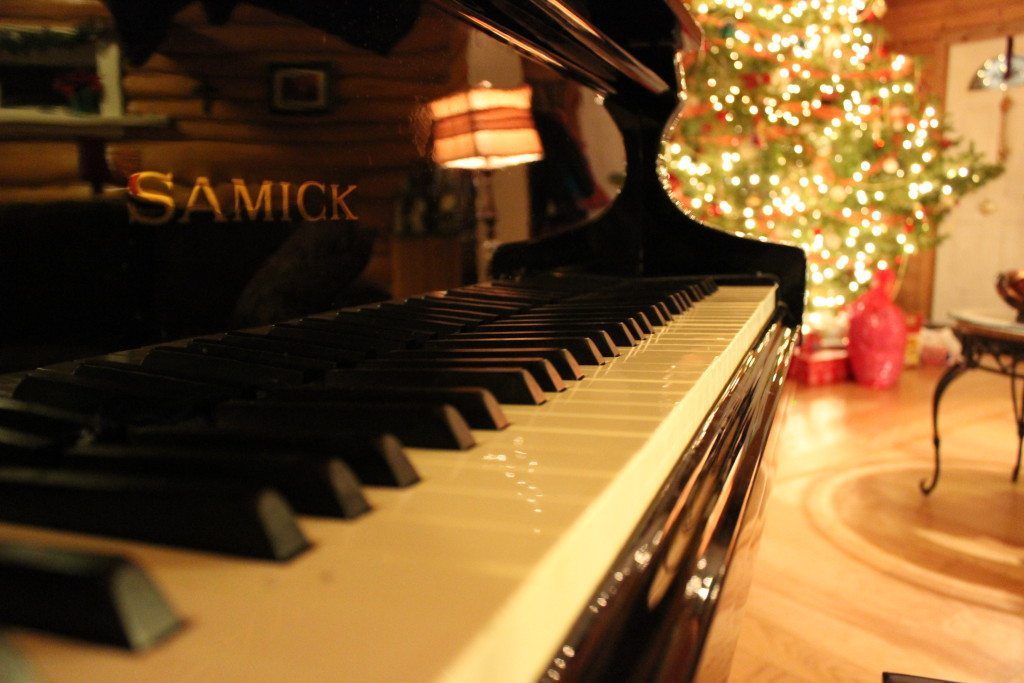 Learn to say NO – When the list of Holiday parties is longer than your grocery list, you know it's going to be a stressful season, but it doesn't have to be. Declining party invites isn't rude and in most cases people understand because we all know how busy the holiday season can be. Only attend those you really want to go to, and politely decline others, especially if they are back to back.
Keep healthy snacks readily available – It's easy to be out shopping and realize you are hungry when you see those holiday treats everywhere. Instead of eating at the mall or feeling up on junk you can bring along healthy snacks, like fruit, nuts, protein bars, and crackers for when hunger strikes (even veggies if you can) to tide you over. This also helps to keep frustration at bay while shopping as you keep your blood sugar levels up. Ask my hubby, I always bring snacks so we have no excuse to get fast food.
Make time for Exercise – To keep holiday stress under control exercise has to be a priority. It's typically the first thing we drop when we are busy, but it's the first activity we should do. Exercise helps ease stress, keeps us energized, and helps keep the holiday weight from adding up.  Even if it's it's just 10 minutes here and there throughout the day it's better than nothing. Believe me when Great Aunt Margie is getting under your skin, you're going to wish you took some time to blow off steam 😉
Offer to bring your own dish or appetizer to a party or dinner – Most foods at holiday parties and dinners are high in fat and calories, so bringing your own ensures there's something lighter for you to eat too. This is especially important if you have sensitivities or allergies. Not that you can't try the other dishes, but at least this way most of your plate can be full with the "good stuff" 😉
Eat a healthy light snack before going to a party – If you know there won't be much for "healthy" foods at your next party, eat a light snack full of protein and fiber so you don't overeat on the junk. Have carrots, peas and hummus, handful of nuts with an apple, protein packed smoothie, tortilla with hummus & avocado, PB&J sandwich, etc.
Keep hydrated – Carry your water everywhere. You'll be less likely to fill up on soda and the holiday drinks. Add some lemon, lime, or mint to spruce it up, or have some carbonated water with Nuun. My personal favorite.
Chose one dessert or treat – I don't think it's fair to totally deprive yourself of holiday treats, but trying a little bit of everything is definitely not the ticket to health. Instead chose one dessert and eat it slowly to really savor it. You'll be less likely to want another piece of dessert if you take the time to actually taste the sweetness 😉
Remember the Reason for the Season – I know cheesy, but it's really important to remember why you enjoy the holiday season. Whether it's religious reasons, family related, or simply because you love the holiday music, don't forget what makes the holidays so fun, You're less likely to feel stressed then. Sometimes simplicity is the best.

Here's a great recipe for an easy Honey Dijon Sweet Potato Salad, fall themed. It has raisins, apple, cashews and pumpkin seeds with a Red Wine Honey Dijon dressing. All the different textures provide a party in the mouth. It's great hot or cold. I got the idea from a recipe in Runners World and I added some other ingredients and changed it up a bit.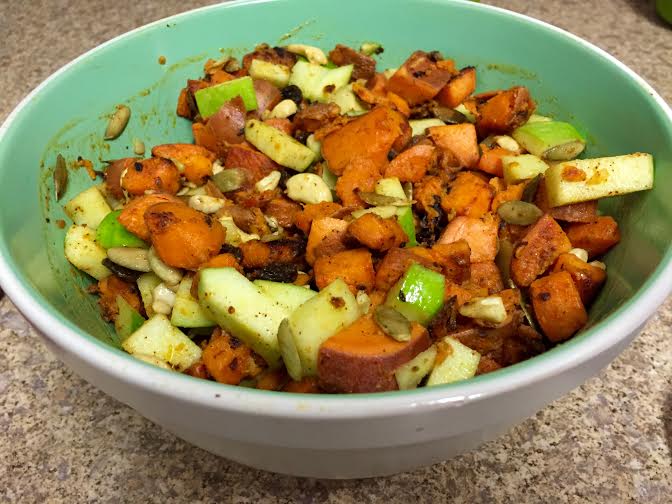 Honey Dijon Sweet Potato Salad
Author:
Bryanna @ wholesomelyfit.com
A savory, simple salad with lots of texture great for fall and winter.
Ingredients
3 sweet potatoes, chopped into bite sized chunks
2 Tbs coconut oil
½ c raw cashew pieces
¼ c pumpkin seeds
¼ c raisins
1 green apple, chopped into chunks
½ - ¾ tsp chili powder
2 Tbs Red Wine Vinegar
1 - 1½ Tbs Dijon Mustard
1 tsp honey
Instructions
Heat oil in a large skillet over medium heat.
Add the sweet potatoes and cook until tender.
Meanwhile prepare the dressing by whisking the red wine vinegar, honey, mustard and chili powder in a small bowl.
Once sweet potatoes are tender & pour into a large mixing bowl. Add the cashews, apple, pumpkin seeds and raisins.
Pour the dressing over the salad and stir until well combined.
Enjoy warm or cold.
Until Next Time Be Whole and Be Fit
How do you stay healthy through the holiday season?