The Holidays are just around the corner. Christmas is only 23 days away….EEK!! This is crazy to me and yet I have ALL my Christmas shopping done. All I have left is my baking for friends and neighbors, which will happen in a few weeks. I don't like to put things off, so I jump on the ball when it comes to gifts. I don't like to be stressed during, what's supposed to be, an enjoyable time. I try to enjoy the Christmas season as much as I can.
The Holidays can be hard for some, especially those trying to live a healthier lifestyle or those who are on a strict diet because of allergies or sensitivities. I get it, and I wanted to offer some tips for keeping the holidays healthy and full of cheer.
Tips for a Healthier Holiday
Keep water on hand – Bring water wherever you go, whether it's out shopping, at the work Christmas party or at home. If you are drinking enough water you tend to say full longer. Sometimes we aren't hungry, rather we are dehydrated and we mistake this for hunger. Also, drinking water before you attend that Holiday party is helpful. Drink 16 ounces before you dive in, you'll see how much fewer calories you consume.
Don't try EVERY dish – I know you will be tempted to do so, but before you know it you have a plate full of high calories. Try dishes you may have never tried before, instead of dishing up salads or appetizers you have had time and time again. After all you want room for dessert don't you?
Eat Healthy The Rest of the Week – If you know you have a holiday party coming up, don't stress about it and eat healthy the rest of the week. Keep up on the veggie intake and whole foods. This way it's easier to have a splurge day. Splurging everyday of the week is a recipe for disaster and will only weaken your energy and immune system.
Don't take home leftovers – I know it's tempting to take the rest of the offered fudge in the break room or those sugar cookies, but resist. Have one at the party, but say no to the requests to take home the rest. You and the family don't need them!! Enjoy the goodies once and be done.
Don't Stress about it!!  – So many times we stress about the holiday parties and trying to eat healthy, but just quit it. There's times to have an extra cookie, just don't make it a habit. Enjoying holiday fare isn't a no-no there's balance and stressing about it only causes more damage.
Make time for sweat sessions – Exercise is important this time of you. You may feel short on time, but even 15 minutes is helpful and helps to boost the immune system, mood and energy. Try TABATA workouts if you are short on time, you only need 20 minutes.
Breathe – Do yoga, prayer and relaxation. We all need this in order to survive!! Make time for YOU!!
Say NO – Sometimes we may have to deny an open invitation to another Christmas party or that office favor. It's okay to say no. Don't feel obligated to do it all.
Enjoy!! – WE sometimes forget to take a deep breathe and enjoy what is all around us. Savor the cookie or pumpkin bread, don't devour it!! ENJOY it all slowly. Enjoy the parties, plays, snow, wrapping of the presents…..
Sleep – Skimping on sleep, skimp on health! Sleep is important for all our body's systems, and the less sleep we get the more susceptible to sickness we are, irritation, over eating, energy depletion….you get the point.
Tips for a Healthy Holiday #healthyholiday #holidaytips
Click To Tweet
Vegan Butternut Squash Chili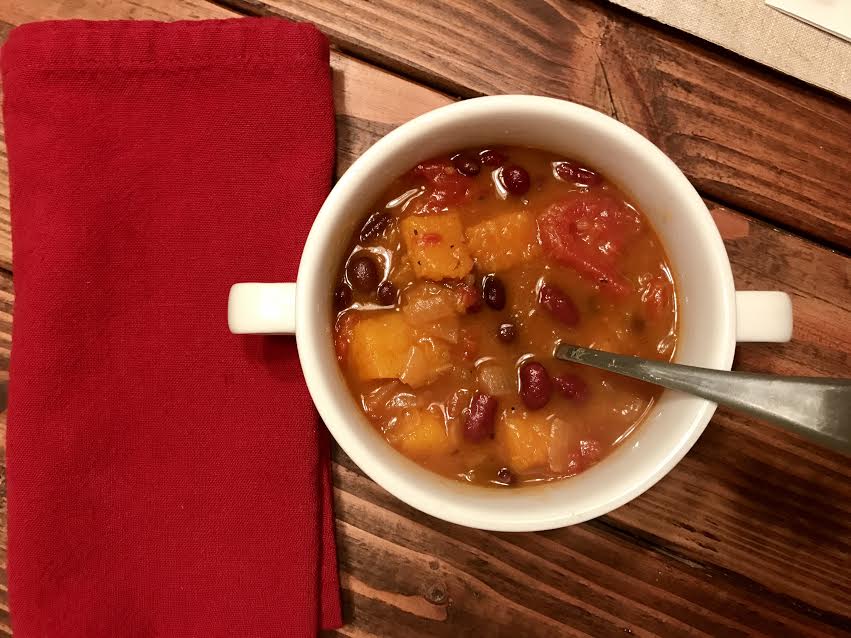 One of my favorite dishes in the cool winter months. Okay so it's a soup. Top it with cheese, tortilla chips or avocado and even stir in some dark chocolate. All of the above is amazing. I love soups this time of year, and my favorite are those with lots of colorful vegetables. Savor soups, are those that are hearty and filling.
Chili is filling and it doesn't have to have meet to make you full. Black beans, kidney beans, and butternut squash are the staples in this chili. I then add some bell pepper and diced tomatoes. Now with kids on board, we don't make it as spicy, but you can always up the kick.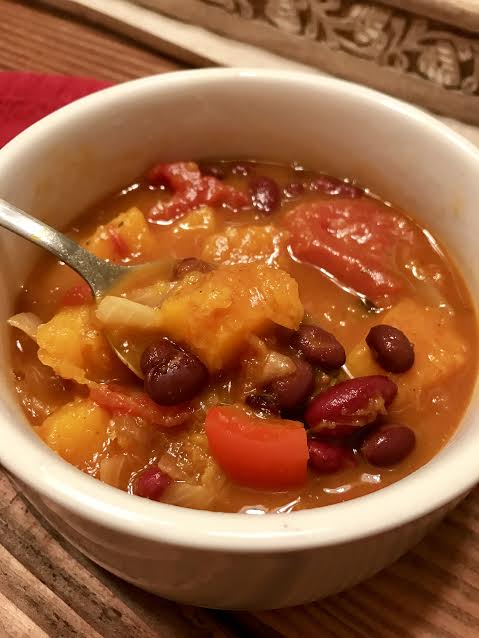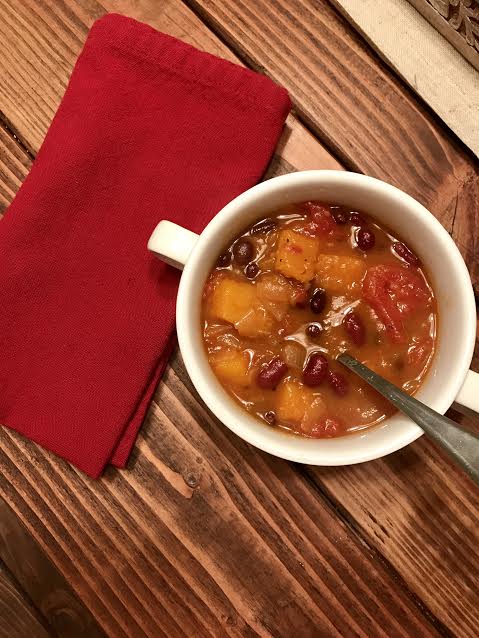 This is an old recipe I redid. I have been doing this alot lately. It's great to revisit old favorites and spruce them up a bit. Vegan's deserve a great chili too, especially around Super Bowl time (it'll be here before we know it). This chili is a hit among my meat loving friends as well, and my meat loving family.

Vegan Butternut Squash Chili
Author:
Bryanna @ wholesomelyfit.com
Ingredients
1 onion, chopped
3 garlic cloves, minced or chopped
2 tablespoons oil (I use grapeseed or coconut oil)
2 sweet bell peppers, chopped (yellow, orange or red)
1 medium butternut squash, chopped and peeled
1 15 ounce cans of black beans, drained and rinsed
1 15 ounce can kidney beans, drained and rinsed (optional)
2 15 ounce can diced tomatoes (or 1 28ounce can)
2-3 cups veggie broth (depending on how thick you like yours)
1½ tbs chili powder
1 tsp cumin
½ tsp cayenne pepper or to taste (I always add more, because I love spice)
salt and pepper to taste
Instructions
In stock pot or large pot, saute onion and garlic in oil for about 5 minutes over medium heat.
Add remaining ingredients, reduce heat, cover and simmer for 15-20 minutes (depending on whether you cooked squash a little before hand).
Enjoy with your favorite toppings!!
TIP:
 You can cook the butternut squash before adding to chili, so it takes less time to soften, and it's easier to chop. I bake mine like a potato on 375 for about 45 minutes (poking holes with a fork), or until soft to touch. Then let cool for about 5 minutes and begin chopping it.
It's also good adding a 1/2 – 1 cup cooked quinoa to chili. It makes chili thicker and added protein, just add at the end or quinoa will soak up all the broth. I add it 15 minutes before serving.
Cuddle up and enjoy this -Vegan Butternut Squash Chili - Protein Packed Chili #vegans can enjoy too!!
Click To Tweet
Have a great weekend!!
Until Next Time Be Whole and Be Fit