I don't know what it is about rain, but it always makes me want to cuddle up with a good book, warm cozy blanket and a hot cup of tea or coco. Other times, I want to snuggle in bed for a bit longer with the husband or kiddos, put on some sweats and just veg all day long, while listening to the sound of rain.
The sound of rain, to me, is soothing, relaxing and therapeutic, because I liken it to His voice and His promises. There's so much the rain can represent and so much it brings. The sound of rain is always exciting for me, because it means I have the opportunity to relax and snuggle, more importantly to enjoy the sound of God's promises. I see His rain as a blessing. It not only water's the world around us and brings forth new life and new beginnings, it waters my soul.
Rain represents a new beginning for myself, I think of rain washing away the hurt, shame or guilt, and then bringing in promises of sunshine and a fresh start. So when I hear rain, I feel this washing. There's beauty in rain, because after the storm there's growth, greener grass, more pungent fragrances and bloomed flowers.
Just as in the storms of life, there's beauty when the storm (challenge) is done. We come out stronger, more mature, and we've learned we do have the power. Instead of feeling weak and beat up, muddied and dark in the storm, we should welcome the storm and enjoy the sound of rain, because we believe in the promises it brings, the strength and beauty it brings, in our hearts, our souls, our live in general.
I have learned to welcome lives storms and to find the good in them. For me that's the sound of rain, God's voice and promises.
I also love good soups when it's rainy. They are warm and hearty. There's something about a nice warm soup to warm the soul during storms. In Fall there's many flavors to enjoy. My favorite is Butternut Squash Soup. There's many flavors just in this one soup. So many varieties to make and mine is vegan, made without heavy cream, lowering the calories as well. It's still creamy and savory. This is an old recipe, one we have enjoyed for years.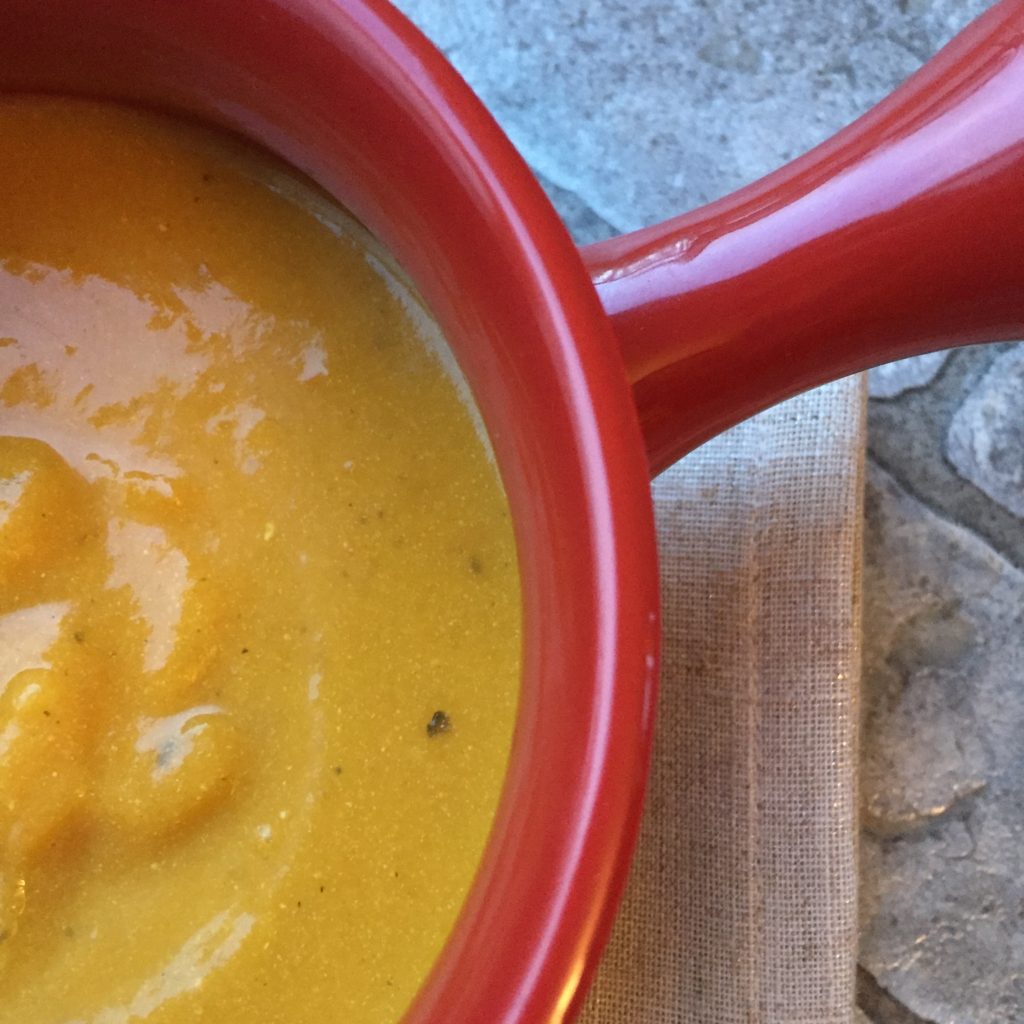 Only a few ingredients can make a great, hearty soulful soup. They are easy to make and great for freezing for later use. In our family we enjoy soups a lot through the Fall and Winter months. I guess it's because it's what I crave during the storms and rainy days. Something warm and hearty. Kind of like God's voice. His voice is also warm and encouraging, and what I crave during my storms in life.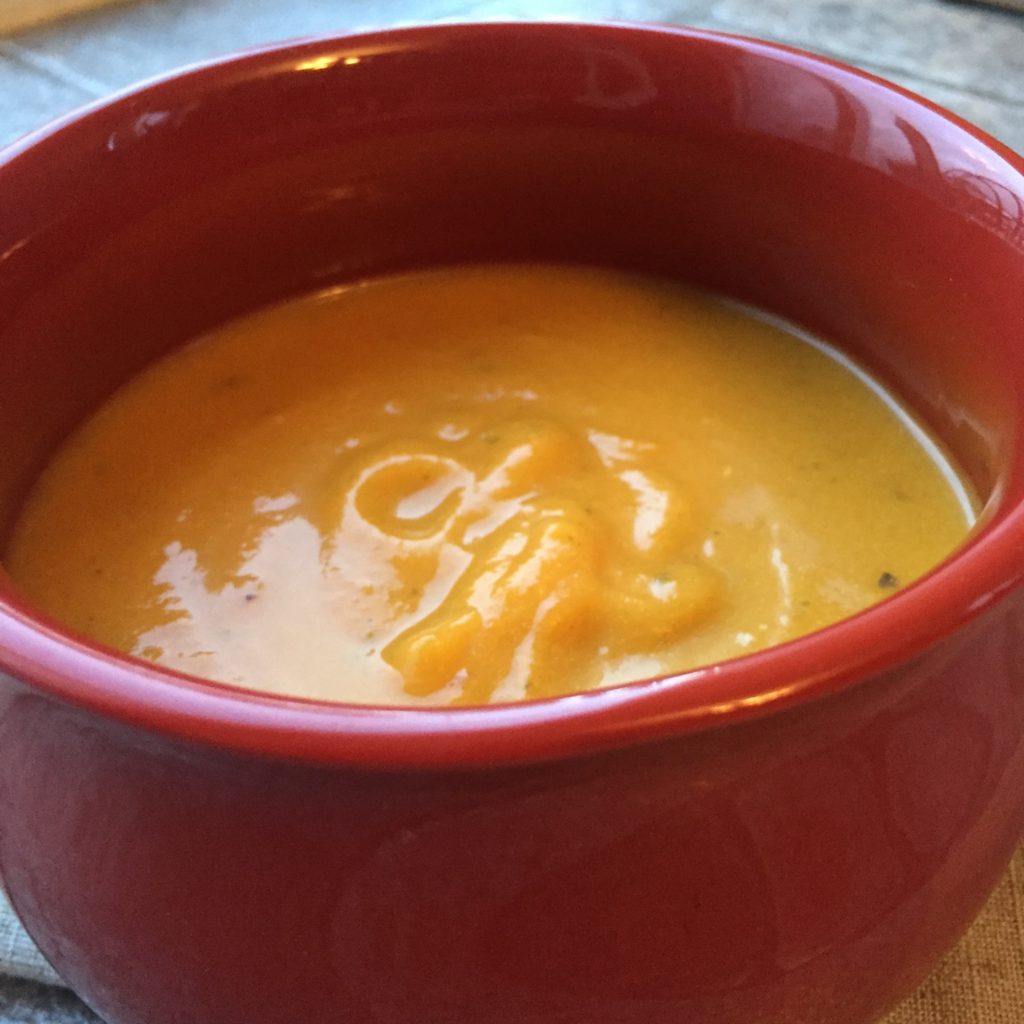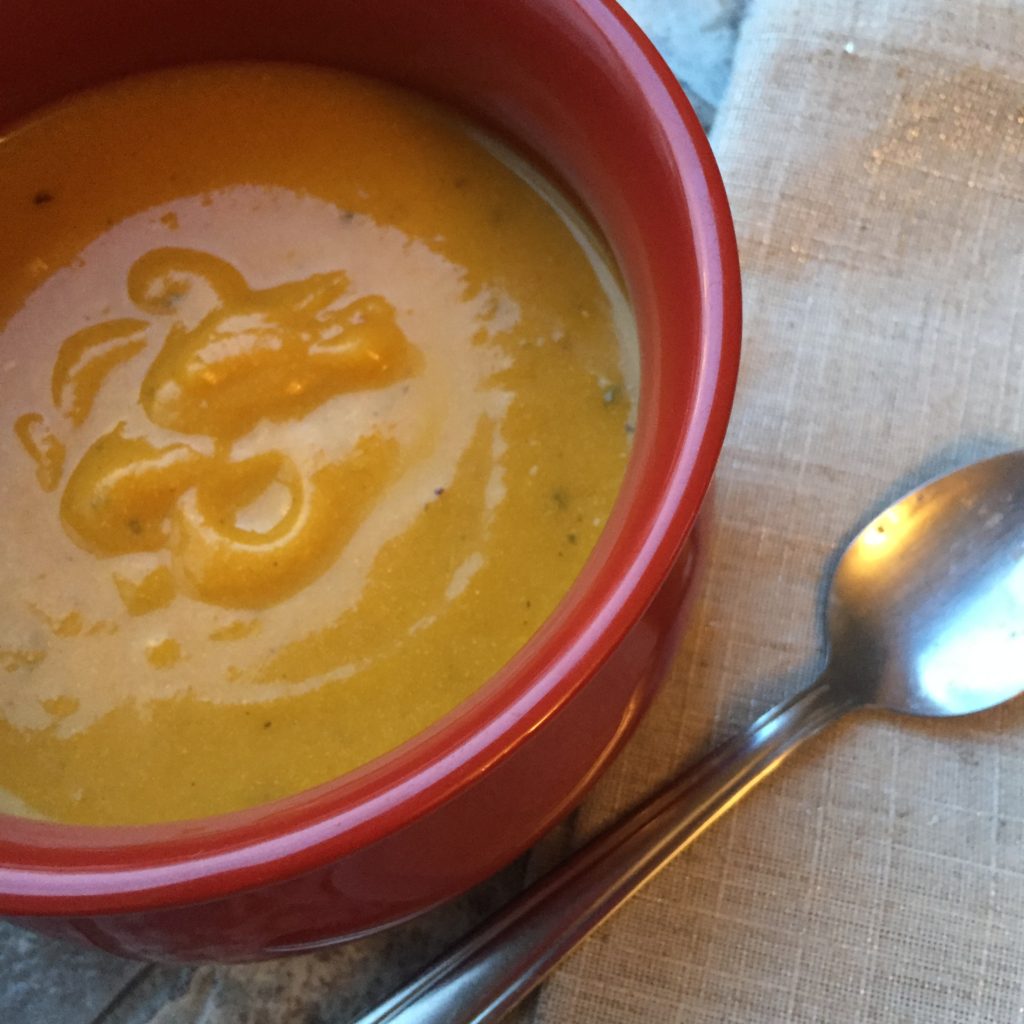 Butternut Squash Soup, a savory and hearty fall favorite #vegan #gf
Click To Tweet
If you are a soup fan, then you'll want to try the many flavors of butternut squash soup. From a curry to an apple infused. Savory or more spicy. Here's one of my favorite recipes for Butter Squash Soup. I hope you'll enjoy it as much as we do during the stormy, cold days. It's almost as good as the sound of rain and God's promises through those storms.

Butternut Squash Soup (vegan & GF)
Author:
Bryanna @ wholesomelyfit.com
Ingredients
2 tbs grapeseed oil (or oil of your source, I like grapeseed because it withstands high heats)
1 onion chopped
3 garlic cloves, chopped or minced
4-6 carrots, chopped
2 medium butternut squashes (approx. 9-10 cups)
6-8 cups veggie broth (depending on how creamy you want it)
1 - 1½ cup almond milk (or milk of your choice)
Salt and pepper to taste
Instructions
Saute onions and garlic with oil for 5 minutes on medium heat in a stock pan.
Add broth, carrots, and squash and bring to boil.
Reduce to simmer and cover. Simmer for 40-50 minutes, or until carrots and squash are tender. Once soft, scoop soup into food processor or blender and process/blend until smooth (will have to do this in batches).
Return mixture to stock pan, add almond milk and salt and pepper to taste. Heat through.
Once it's back at desired temp, serve and enjoy (always better on cold, winter days, but I enjoy this soup year round).
Until Next Time Be Whole and Be Fit
What does the sound of rain represent for you?