The past few weeks have been tough. My life seems to be unraveling. Why are some weeks harder than others? Even months. Even in all the uncertainty of life and my purpose, the uncertainty in plans and dreams, I am learning to find peace and rest in Him.  I say learning, because truly it's something I have to learn everyday. Some days I do better than others, while others I fill voids with the things that never bring true happiness.
In the midst of life's uncertainties, one thing holds true, a good meal brings comfort and warmth (well yes and God). I love good food, good home cooked meals and traditional recipes at times. Sometimes when I am feeling overwhelmed, stressed and having a bad day, I cook. Most of the time I bake something sweet, but occasionally I like to make a meal that brings comfort. A recipe we enjoyed as kids or I remembered bringing warmth and comfort, is something I default to.
Soups do that for me. They always seem to bring comfort and warmth, and curry is a spice that brings warmth. It's a spice that warms up a dish and makes a dish more satiating. Brings a fullness to a dish. I enjoy curries, and like to add curry to sweet potato fries, stir fries, and creamy soups.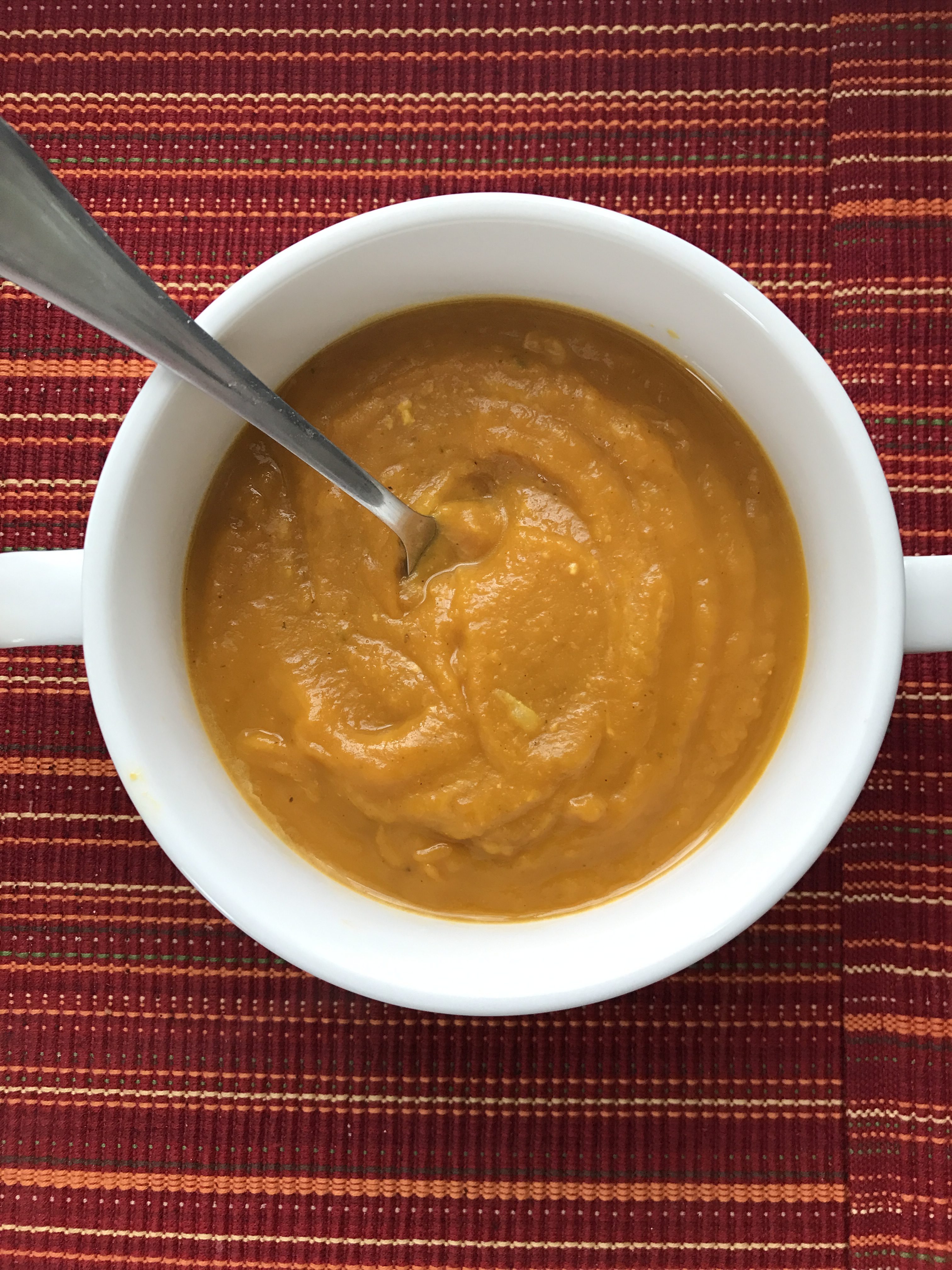 This Curried Butternut Squash Soup is one of my favorite versions of butternut squash soup. It has a warming fullness to, with a hint of sweetness from the cinnamon and if you would like to add, apple. This soup is vegan and gluten free, but still just as creamy as any other butternut squash soup. So if you are vegan you can enjoy this creamy soup as well.
I tried a curried butternut squash soup at a restaurant a few years back and finally got the courage to try to replicate the recipe at home, and making it over and over until the meal was perfected. I would say it's a win and finally decided I would share it for all of you. Turmeric makes an appearance in this dish as well. Turmeric is a anti-inflammatory and antioxidant. Turmeric can be used as a natural pain reliever, lowers risk of cancer, strengthens the immune system, improves cognitive function, lowers risk of heart disease, among other benefits.
Curry can also help with bone health, preventing cancer, lower heart disease risk and ease pain and inflammation as well as acting as an anti-bacterial. Curry powder is a mix of turmeric, cardamom, coriander, cumin, sweet basil and red pepper. It can also have cinnamon, ginger, garlic, fennel seeds,  and mustard seeds, depending on the recipe used. All of these spices have benefits, thus curry powder is a healthful spice.
To say the least this bowl of soup is full of health benefits, while tasting amazing.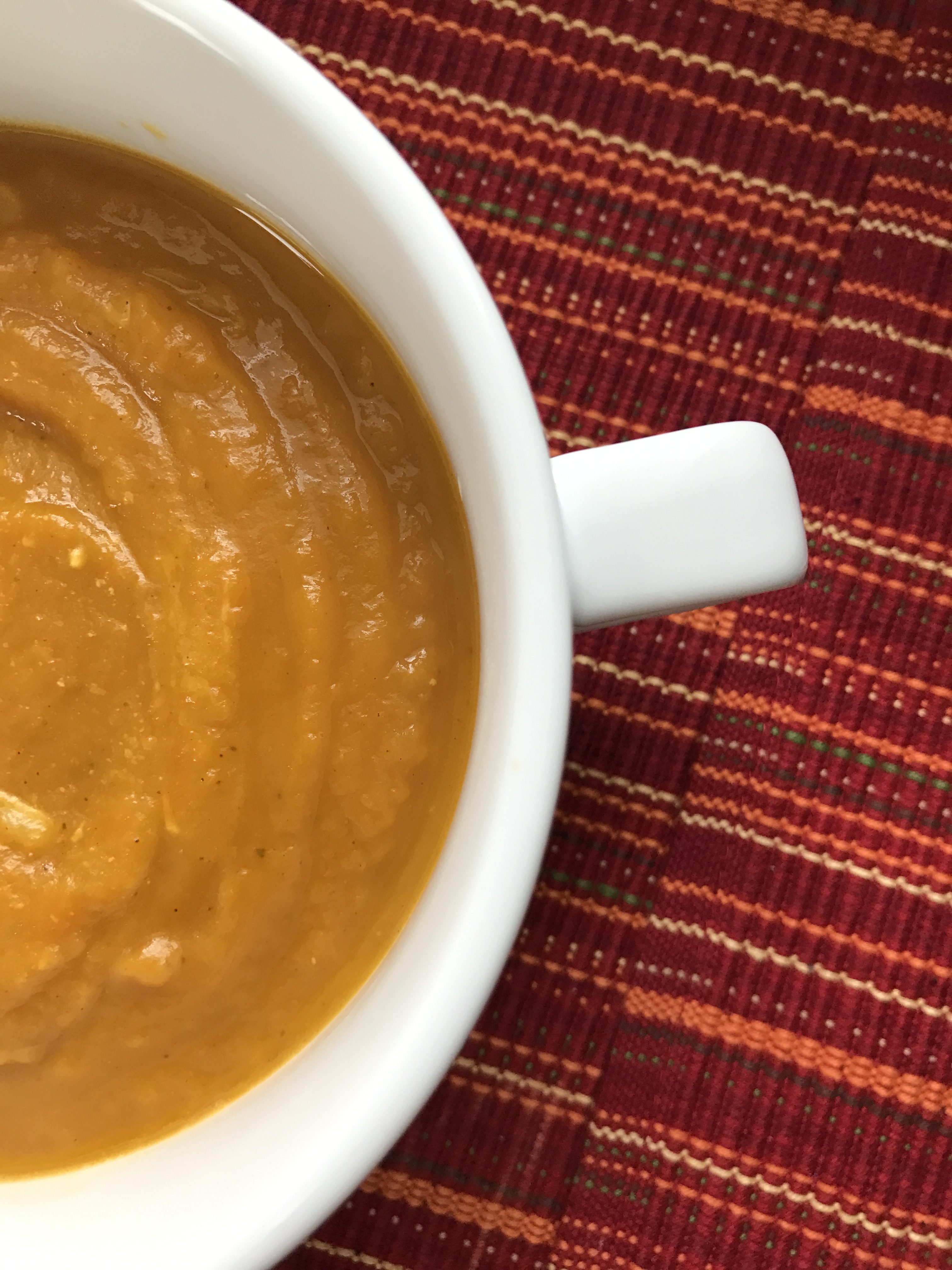 Curried Butternut Squash Soup
Author:
Bryanna @ wholesomelyfit.com
A creamy, warming soup
Ingredients
1-2 Tbs oil
½ yellow onion, chopped
3 cloves garlic, chopped
1 butternut squashed, chopped without skin (about 6 cups)
4 carrots, chopped
2 celery stalks, chopped
4 cups veggie broth
½ tsp cayenne pepper
1 tsp turmeric
1 tsp thyme (optional)
2 tsp curry powder
½-1 tsp cinnamon
1 tsp salt, or to taste
1 tsp pepper, or to taste
½ cup coconut milk (from the can) or can use almond milk
*water if mixture is to thick
Instructions
Heat oil in large saucepan over medium heat. Add onions and garlic and saute until onions are translucent (about 5 minutes).
Add broth, squash, celery, and carrots and all spices. Bring to boil. Reduce heat to low and simmer until squash is tender (about 25-30 minutes).
In batches, puree soup mixture in blender or food processor until smooth. Return to saucepan and add the milk. Stir well. Reheat soup over low heat. Enjoy.
*May need to add some water with the broth if there's not enough juice to cover the veggies.
**Can add an apple or two to the soup as well.
Store any leftovers in the refrigerator for a week or in the freezer for a few months.
Curried Butternut Squash Soup, vegan, creamy & warming #vegan #gf #wholesome
Click To Tweet
I enjoy this soup with sourdough bread "buttered" with coconut oil and baked. R has begun to enjoy soups now more. But at the age of 2 they are messy and she wants to do it "myself."
Until Next Time Be Whole and Be Fit
What is your favorite butternut squash soup?