FALL!!
It's one of my favorite seasons. I think there's something from each season to love, or at least there is for me. Yes, even winter in the Inland Northwest. But Fall, or as my husband likes to call it, Autumn (just because no one calls it that), holds a special place in my heart. I know corny, but there's something about the changing colors the cooler mornings and days, the beauty, the food and the clothes.
Who doesn't love scarves and boots? If you don't, who are you!?! Just kidding. The warm drinks, everything pumpkin spice, apple pies and soups, stews and chili. Okay, so I am a little obsessed. Mmmm and PUMPKIN!!
This is my favorite time to create recipes, because I love using squashes, pumpkin and apples. We go up to some local farms and pick pounds and pounds of apples and squash, freezing and dehydrating. Squash is great because it lasts for months stored in a cool place, like the garage or basement.  Pumpkins as well. We have a few apple trees in our backyard, but this year they had a worm, so most apples were ruined. We moved into our house to late in the summer to protect against the worms, but that won't keep me from making applesauce and dehydrating apples to get me through the cold winter months.
This weeks recipe favorite is a Curried Carrot Ginger Soup and Apple Spinach Grilled Cheese. You can pair them together, or enjoy them separately. Obviously grilled cheese is best with tomato soup, but switching it up a bit is always fun.
Curried Carrot Ginger Soup
I wanted to make this soup a warmer dish, so I added the curry. Curry has a warming taste. This always makes the belly feel more full and satisfied. Warming spices are great. Marc helped with the grunt work in this recipe and let it simmer while I was out at running group. I came home to a great smelling house and some warm soup. I added in more spice and enjoyed a warm bowl of comfort food. So thankful for Marc helping with dinner when I need an extra hand.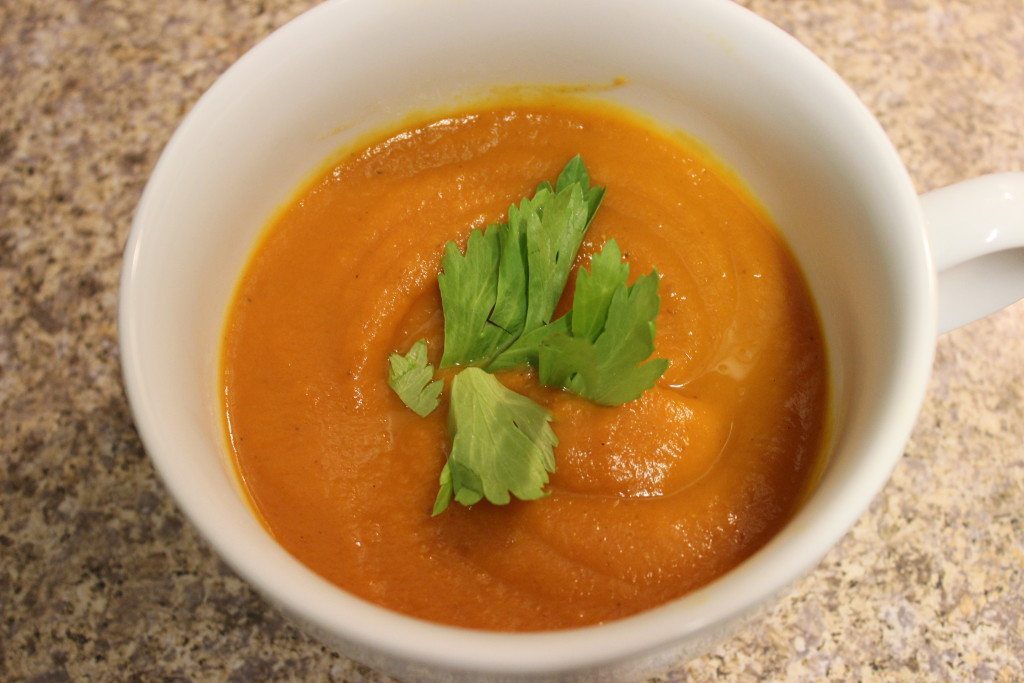 You'll get a great source of beta-carotene from this soup, along with some anti-inflammatory in the ginger. It's also filling, because of the curry. Soups can be a great low-calorie option when they don't have all the cream. This soup is definitely rich and creamy, but without all the added high fat cream.
Curried Carrot Ginger Soup & Apple Spinach Grilled Cheese, heart warming and cheesy!! Click To Tweet

Curried Carrot Ginger Soup
Author:
Bryanna @ wholesomelyfit.com
Ingredients
1 onion, chopped
2 cloves garlic, chopped
1-2 tbsp coconut oil
12 carrots, sliced
2 sweet potatoes, cubed with skins on
8 c vegetable broth
2 Tbsp grated ginger
1½ tsp curry powder
salt and pepper to taste
Instructions
In stockpot saute onion and garlic with oil over medium heat for about 5-10 minutes.
Add in carrots and sweet potatoes, cooking for a few minutes.
Pour in vegetable broth and add grated ginger, stirring well.
Add curry powder, stirring well. Bring to boil and add salt and pepper.
Reduce heat to simmer and cover with lid. Allow to simmer until carrots and potatoes are soft (about 30 minutes).
Once carrots str soft, puree mixture in batches in blender or food processor. Return to stock pot and heat until warm.
*can add milk to make it little thiner.
Enjoy
Apple Spinach Grilled Cheese
When Marc and I were first married we ate grilled cheese on a regular basis. In order to keep it from becoming boring I added in some fruits and veggies. Even some cayenne pepper for a little kick. There's just something about a good grilled cheese, maybe it brings back those great memories as a kid. Sometimes a kid favorite, can be an adult favorite with a few grown-up twists.
It's one of those meals that's great on cold days and when you are pressed for time. Who doesn't like Grilled Cheese?! Even if you are vegan it's easy to sub out dairy cheese for a vegan cheese substitute. Be crazy and try vegan pepperjack cheese it's amazing even if you're not vegan!! Or experiment with different cheeses, from mozzarella to goat cheese.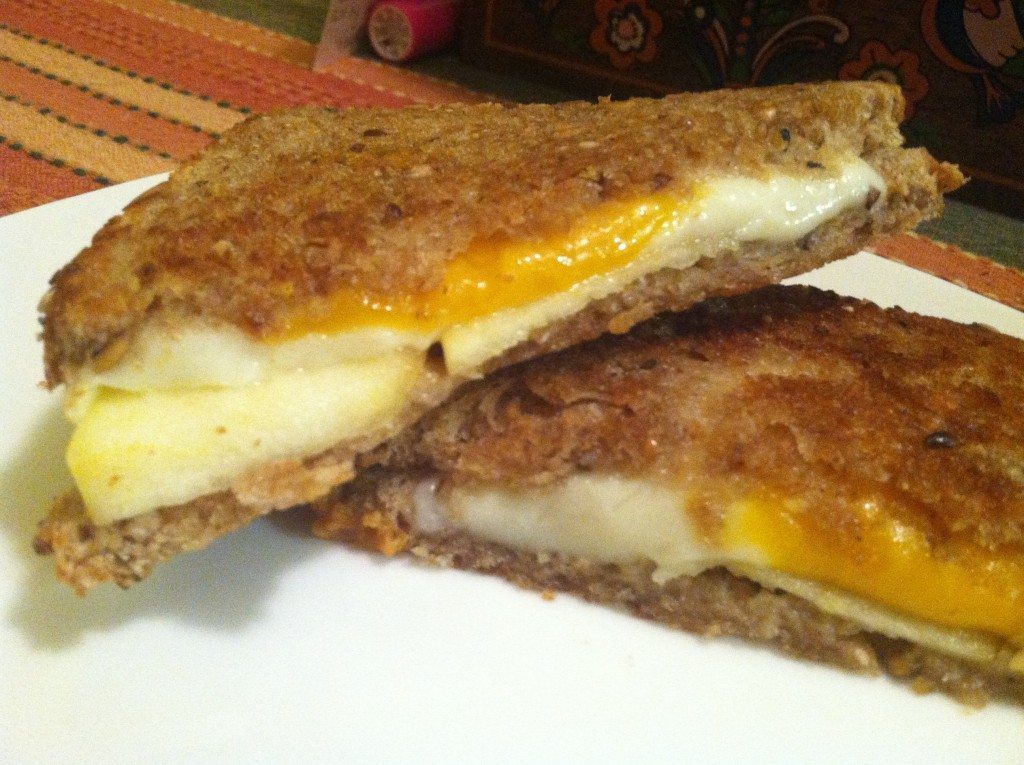 I am glad it's something the whole family can enjoy, and a way to add more greens, and fiber to the diet with the spinach and apple. Maybe you're kids will eat spinach if its smothered in cheese.
Prep time: 5 minutes             Total time: 10-15 minutes
Ingredients: 
6-8 slices of your favorite bread (GF or whole wheat)
coconut oil
Chedder cheese, sliced (substitute vegan)
mozzarella cheese, sliced (substitute vegan)
1 apple, cored and thinly sliced into wedges
spinach
cayenne pepper (optional)
Directions: 1. Use the coconut oil to "butter" one side of each piece of bread. Heat a skillet over medium heat or use a griddle. 2. Grease skillet or lightly grease griddle, and place the "buttered" side of the bread on the griddle. 3. Layer with cheese first (half cheddar and half mozzarella)*, than add a little spinach and 2-3 thinly sliced apple wedges. Sprinkle some cayenne pepper. 4. Top with another piece of bread, "buttered" side facing up. 5. Flip when one side of the bread is lightly browned and cheese has begun to melt. 6. After both sides are browned, cut in half and Enjoy when a bowl of your favorite Tomato soup (buy Organic when available, as most conventional brands use MSG and/or High Fructose Corn Syrup).
*If you don't want to combine cheeses you can use the cheese of your choice. They are great with just cheddar alone or mozzarella alone. Also, great with pears!!
Serves: 3 – 4 sandwiches
These recipes are going to be enjoyed again when the temperatures drop into the high 50s next week, and a low in the 30s. The perfect Fall temperatures really, especially for running. I can handle these temperatures for sure. It helps to prepare me for the cold, dark winter months.
This week though, we are enjoying probably the last hot spell, with lots of sunshine and temperatures in the high 70s and low 80s. I'll take it!!
Until Next Time Be Whole and Be Fit
What's your favorite season? What do you love about Fall?