Happy Friday Folks,
I am excited to celebrate another birthday and another year young this weekend!! We are going to attempt a hockey game with three kids all under the age of 3. It can go one of two ways: a blast, fun time to be had by all or toddlers antsy, who won't sit still, screaming and tired and not wanting to cooperate with stares and glares from other hockey game watchers. Wish us luck. Sometimes the kids surprise us.
We have a tradition in our family to chose our favorite meal for our birthday (in which we don't have to prepare it) and our cake. I always go with my Vegan Carrot Cake, giving the recipe to whoever volunteers to make it. Of course I would incorporate veggies into my cake 😉 But seriously carrot cake is so perfect!! For dinner I haven't really decided. It's so hard for me as I get older, because of think of how long it will take to prepare and what if someone doesn't like it. For some reason I am thinking mashed potatoes with mashed squash too and a white country gravy like my mom used to make. I can't resist mashed potatoes!! Total country girl!!
Or we could just eat these Chocolate Mint Peanut Butter Dough Bites for dinner…..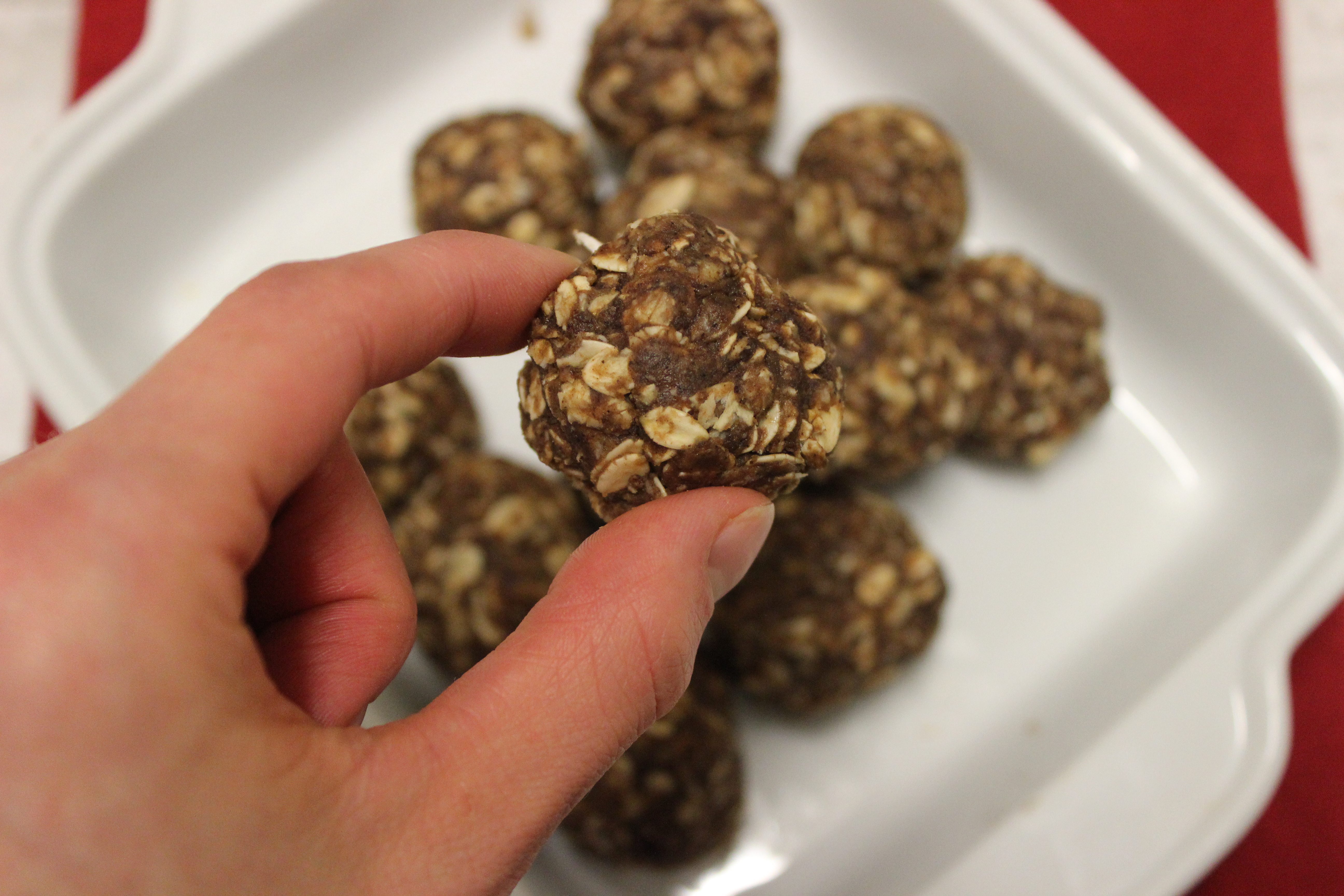 These bites are another recipe loved in the past, and may just be what I need to survive said hockey game. They've been in my recipe mix for healthy/protein bites for over a year now, and I thought I would re-share them and revamp them. I think they are best consumed during the holidays, when all things mint are in and enjoyed. But, also great for a refreshing jolt any time of year.
When I need a chocolate mint fix, I make these quick protein bites. I guarantee these will be a hit among the family. No gluten, no sugar (besides the natural sugar in honey or maple syrup), and no dairy. A few simple ingredients make these easy to make, without having to run to the grocery store:
peanut butter
rolled oats
cocoa powder
protein powder
mint extract
honey or maple syrup
splash of almond or coconut milk
I used hemp protein for these, but you can use any type of protein you prefer. I have also made them with a chocolate Orgain protein or VegaOne protein.  I love them before I run and after. They help to tide me over since I typically have to feed baby R right after I get back from running. These are quick to make, and I am learning to appreciate even more easy to prepare meals and snacks that are still tasty and healthy, packing a protein punch.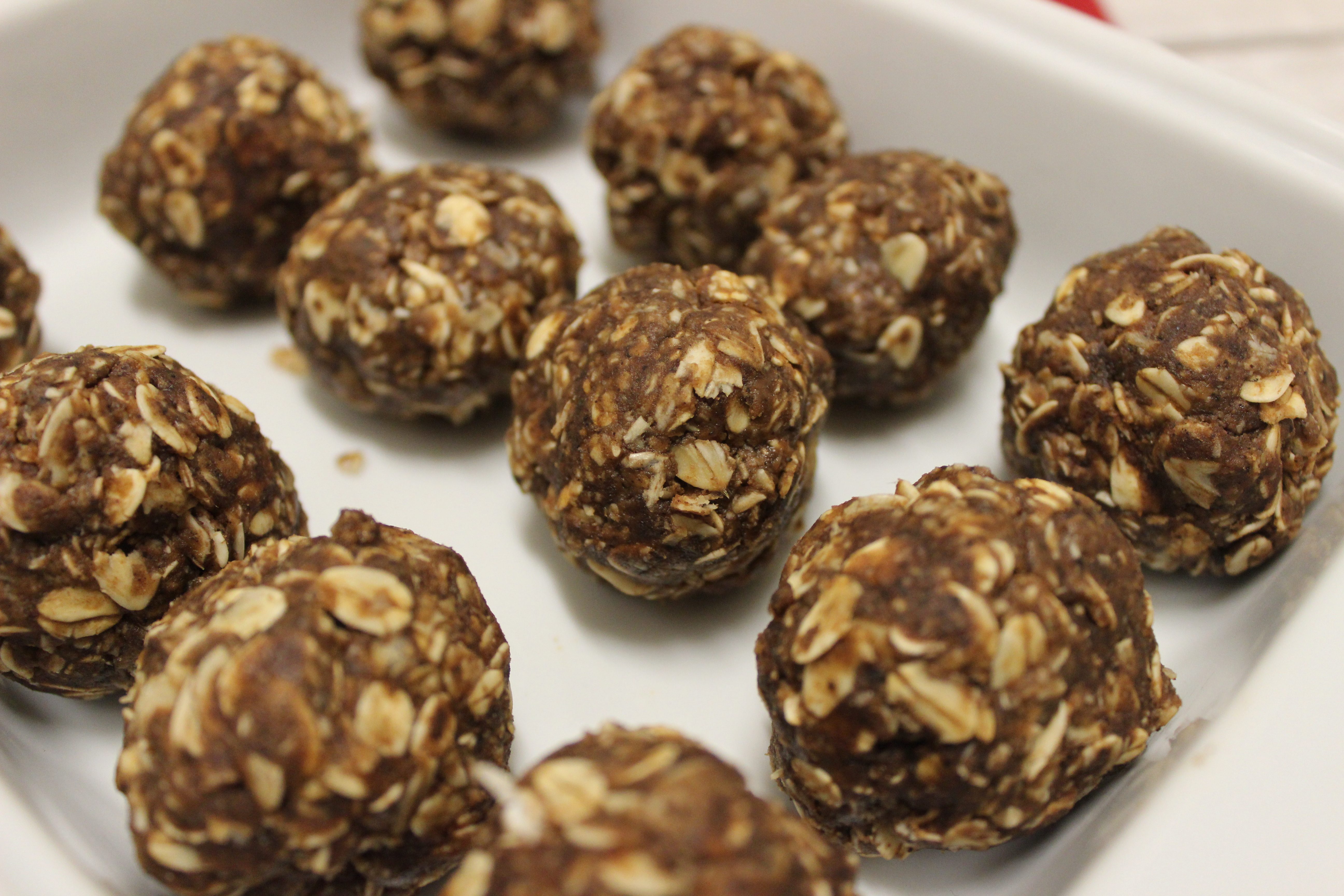 I think they make a great treat, and kids will love them. It's hard for me not to just eat the mixture. I will be honest, I snacked on the mixture well rolling the balls. It may be the reason there wasn't as many little bites. You'll have to get your hands dirty for this one, but it's worth it. It's like a cookie dough you don't have to be worried about getting sick from eating.
For when your RunGry - Chocolate Mint Peanut Butter Dough Bites via @wholesomelybry Click To Tweet

Chocolate Mint Peanut Butter Dough Bites
Author:
Bryanna @ Wholesomelyfit.com
Protein packed bites in an easy and quick snack.
Ingredients
1½ c oats (GF)
¾ c peanut butter
2 Tbs cocoa powder
1-2 scoops protein powder (I used hemp)
2 Tbs honey or maple syrup
½ tsp peppermint extract
Splash of almond or coconut milk
Instructions
Mix all ingredients in medium mixing bowl, stirring to combine well.
May need a little milk to help the mixture stick better for rolling into bites.
Once oats are well coated with peanut butter, cocoa and honey, roll into bites.
Don't be afraid to get your hands dirty 😉
Store in the refrigerator and enjoy whenever you need a chocolate mint fix, or are just RunGry.
Have a great weekend and make a batch of these over the weekend to enjoy throughout the week. They will keep in the fridge for a few weeks.
Until Next Time Be Whole and Be Fit
Any suggestions for birthday dinner?