It's another weekend closer to Boston and it's the last day of March….CRAZY!! My last long, long run before Boston was on Saturday and it was brutal. The last 20 mile run. I am glad it's time for the taper. Well at least for now that's how I am feeling. Usually the taper kills me, because of the lower mileage.
I wasn't feeling well most of the week, and typically when I don't feel well I love to bake. So on Friday I had a very lax Friday doing some food prep for the week and making something sweet. And the best part is no sugar in any of my treats. The pan is nearly gone, but in Marc and I's defense we shared with my sister's in-laws and my friend who were in town.
Oh and check out the beautiful double rainbow we had Saturday night, after some crazy scattered showers.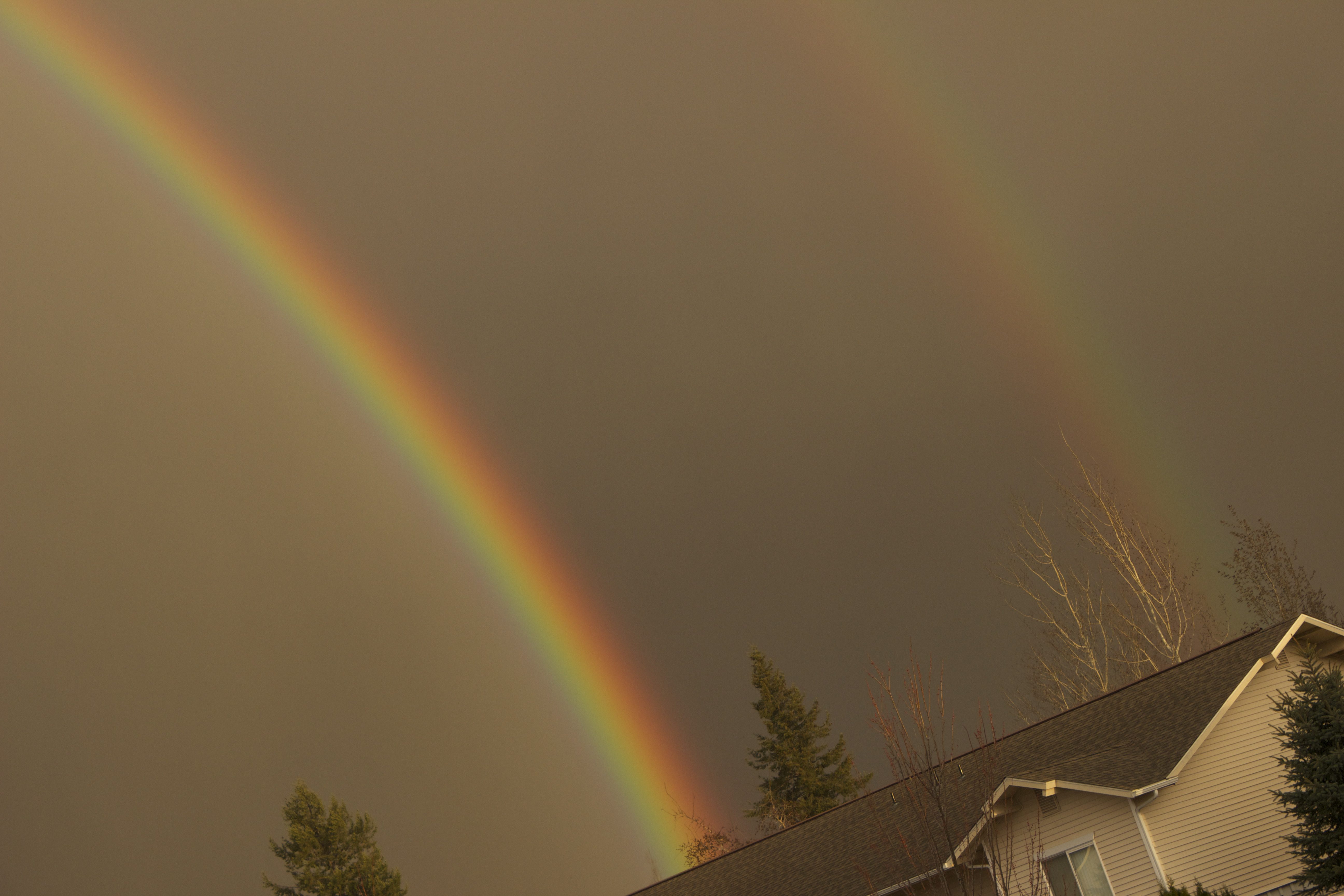 Peanut Butter Rice Krispie Cream Cheese Bars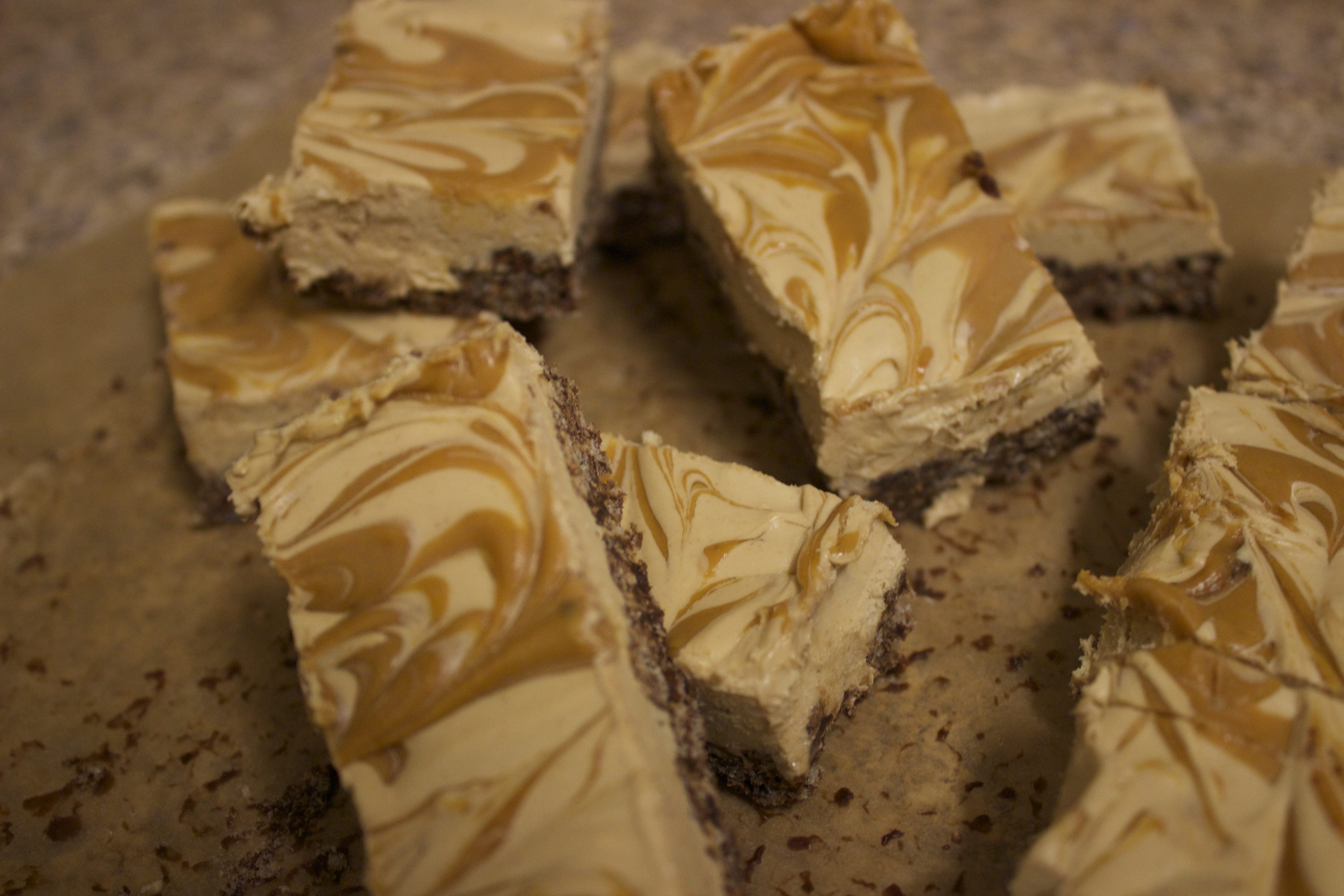 These are like pure heaven and quite a mouth full. Honestly, I only used 1/4 c of coconut sugar and a couple Tbs of honey, and they still taste sweet. No one could believe it. You probably could ditch the honey and they would still be amazing. It's literally layers of heavenlyness (if that were a word).
I can't take the full credit for these amazing treats. I saw a recipe from Udi's they posted on twitter from Food Faith and Fitness. I changed some of the ingredients to make it more appealing to me and to get rid of the sugar. So glad I found this great recipe. Oh and check out her site, she has great recipes!!
It's the perfect mixture of crunchy and smooth, with the different layers.
Prep time: 15 minutes                Freeze time: 3-4 hours
Ingredients: 
Crust
1 c dark chocolate chips
2 Tbsp almond milk
1/3 c peanut butter, crunchy or creamy
2 Tbsp honey (optional)
3 c rice Krispie cereal
Filling:
1 8oz package cream cheese
1/2 – 3/4 c peanut butter (I used 3/4 cup, because I wanted more of a peanut butter taste)
1/4 c coconut sugar
3/4 c whipped coconut milk*
Topping:
*I used canned coconut milk and used my beaters to fluff up the milk. I beat the milk for about 3-5 minutes to make a whipped texture.
Directions: Line a 9 X 13 inch pan with parchment paper or lightly grease.  1. In medium sauce pan melt the dark chocolate chips with the milk. Once the chips are melted, remove from heat and stir in the peanut butter and honey. 2. Stir in the rice Krispies and coat well. 3. Press the Krispie mixture into the bottom of the 9 x 13 inch pan, spreading it around evenly. 4. Next, in a medium bowl cream together cream cheese, peanut butter and whipped coconut milk. Mix in the coconut sugar. 5. Pour this mixture over the Krispie layer, evenly spreading it. 6. Finally, melt the peanut butter, so it is easy to pour over the top layer. Once smooth and creamy, drizzle peanut butter over top layer. 7. Using a toothpick swirl mixture into the top layer. 8. Freeze bars for 3-4 hours before consuming. Cut and Enjoy.
Store in the freezer.
Yields: 20 – 24 bars (depends on how big you cut them)
Apricot Coconut Peanut Butter Bites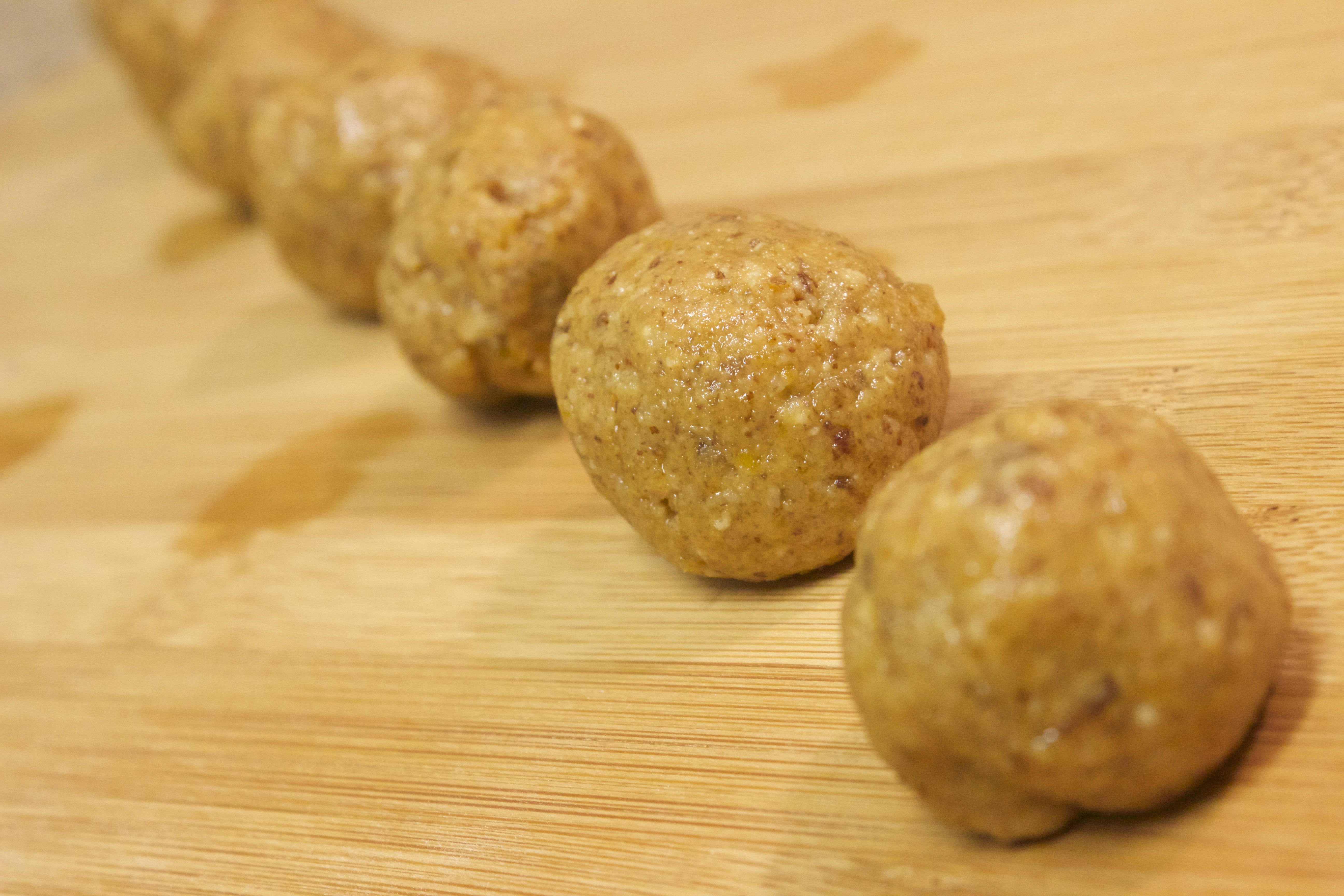 These bites are a great way to fuel before your runs, on your runs, and even after your runs. They are a good source of protein, with the nuts and peanut butter. They also have healthy fats with the coconut and nuts as well. I used dates and apricots to help sweeten.
I made this in 10 minutes tops, and almost ate them just as fast….kidding. They have been great for after runs and right before I leave on my runs. There's something about peanut butter bites. They always hit the spot after sweaty workouts.
Total time: 10 minutes
Ingredients: 
1/2 c walnuts
1/2 c pecans
1/2 – 3/4 c peanut butter
1/4 c shredded coconut
1/2 c dried apricots
1/2 c dates, pitted
1 scoop protein powder (optional)
Directions: Add all ingredients to a food processor. Process until the dates are well processed. I usually have to pulse a couple of times to get the dates well chopped up. If you like your bites a little more crunchy, add the nuts last, so they don't get as processed and are more chunky. Roll dough into bite sized balls and store in an air tight container in the fridge. (you may need to add a little water to make the mixture easier to work with).
Yields: 20 bites
These are a few of my favorite things……Oh sorry I was lost in song.
Hope you have a great Monday and start of the week. If you need some treats to get you through the week, then I hope these recipes are well received.