Happy Fri YAY!!
This may be the first Friday I am actually excited about. As a mom, weekends aren't any different, except for when daddy is home, when we are traveling or we have a race. This particular weekend there's a race to compete in, thus I don't have a long run Saturday, so I can possibly sleep in maybe an extra hour or so and daddy is home. SCORE!!
Also, I am excited because I get to share these yummy bars with you. I'm keeping it both short and SWEET today, literally. 😉 These are both easy and a healthier version to the traditional rice krispie bars. I don't do the marshmallow bars anymore. I can't bring myself to make them for my kids, and honestly they aren't my favorite anyways.  I would rather have chocolate and peanut butter and less sugar in my treats. I don't like the BHT in the rice krispie cereal and all the artificial sweeteners in the marshmallows.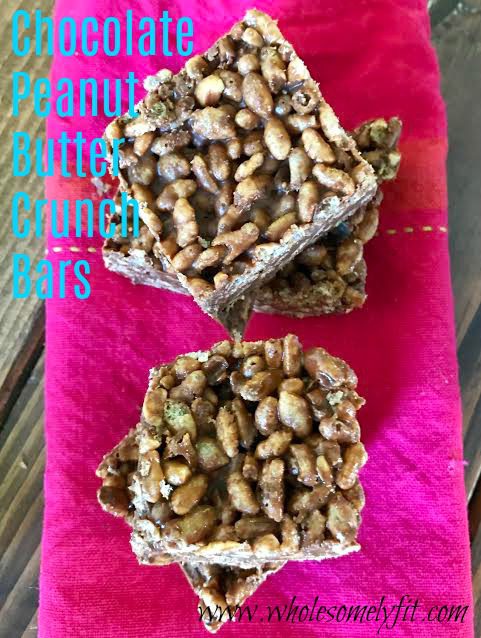 I don't feel as bad sharing with the kids when natural sugars are used, and sugar is kept to a minimal. In the case of these fun bars, we nailed it nutritionally. That's not to say these are considered "healthy" by any means. There is still sugar, I just used maple syrup (or you can use honey) for sweetening them, and of course there's some sugar in my Enjoy Life chocolate chips, but they are gluten free, dairy free, soy and nut free. They are by far my favorite chocolate chips. And I like Barbara's Brown Rice Crisps for the cereal.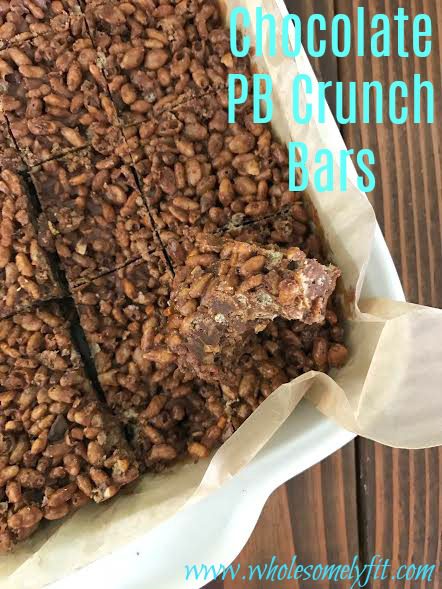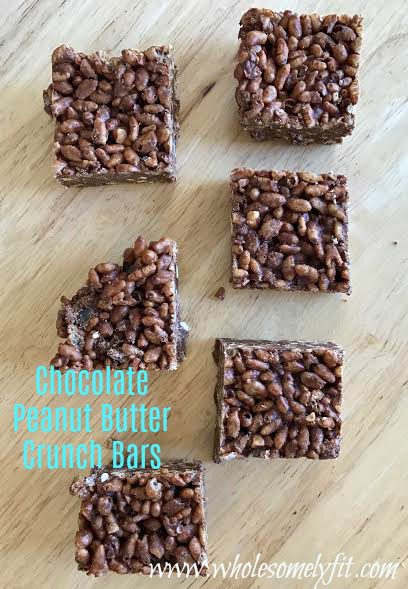 These are no bake, perfect now that the temperatures are rising here in the Inland Northwest, and to be honest I hate turning the oven on when it's above 80 degrees here, because we don't have AC in our house. Yes, how do we survive? Iced tea (and coffee for Marc) and other iced drinks and multiple fans blowing, while enjoying homemade popsicles.
If you have 10 minutes you can make these. Perfect for the kiddos treat after school or dinner, and perfect for the chocolate fix mom, or maybe even dad, may need. Pick me…..I need the chocolate fix. 😉 Oh both vegan and gluten free!! WIN!! And only 5 ingredients, double WAMMY!!

Chocolate Peanut Butter Krispy Bars
Author:
Bryanna @ Wholesomelyfit.com
Kid Test, Chocolate Peanut Butter Crunchy Goodness
Ingredients
4 c Brown Rice Crisp Cereal (GF)
1 c Chocolate Chips (I use EnjoyLife)
¼ c Coconut Oil
1 c Peanut Butter (or other nut butter / seed butter)
¼ c Maple Syrup (or honey)
Instructions
Line 8x8 inch pan with parchment paper or wax paper.
Melt chocolate chips, peanut butter, coconut oil and maple syrup (or honey) over medium-low heat in a small sauce pan. Or melt in the microwave.
Pour mixture over rice cereal and mix well.
Press mixture into prepared pan and refrigerate until firm.
Chocolate Peanut Butter Crunch Bars - no oven needed, 5 ingredients #vegan #gf & kid tested
Click To Tweet
Have a Wonderful Weekend Friends!!
Until Next Time Be Whole and Be Fit
Weekend Plans?