I caught the protein bite bug!! 😉 As an athlete, I try to chose the cleanest ingredients, and I find it's easier to make your own fuel at times to avoid unwanted additives There are great protein and energy bars on the market, that I do enjoy and keep on hand, but sometimes it's fun to have my own fuel and it's cheaper.
You can save money when you make your own fuel, and it's not as hard as you may think. If you have 5 or 10 minutes, you can make enough fuel for a week or more to help power you through your runs or workouts. My favorite fuel is protein bites, you know the little round balls that have become popular among the blogger universe. They provide protein and sustainable energy. Most my protein bites are easy on the stomach and I can eat within 15 minutes of beginning my run without having any GI issues. This recipe combines a great coconut peanut butter from Earth Balance.
I love being able to add in whatever dried fruits or nuts I want, and sometimes use some oats or honey. My favorite add-ins are seeds, such as chia seeds and hemp seeds and protein powder. You can make a great protein bite with only 5 ingredients. Sometimes the more simple the better.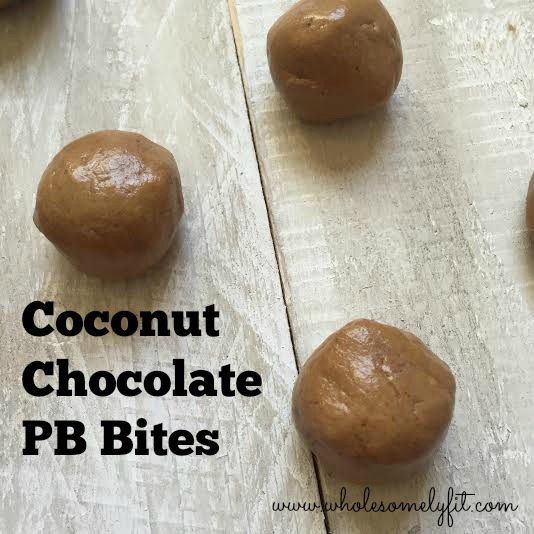 As we pack up more and more items in our house, I have started on the kitchen pantry and cupboards. I have realized there is a lot of nut butters that needed to be used within the next month, and I thought what better time then now, when we're moving. No need to pack up anything additional, so it's been pantry eating the past few weeks. Still have a ways to go!!
I'll admit I kept the pantry stocked with good nuts, seeds and nut butters, but now I don't want to pack it all so I have been doing so many more random meals and snacks. Now I have more to share with you. These Coconut Chocolate PB Bites are made with 5 ingredients including:
Coconut Flour
Shredded Unsweetened Coconut
Chocolate Protein Powder
Mini Chocolate Chips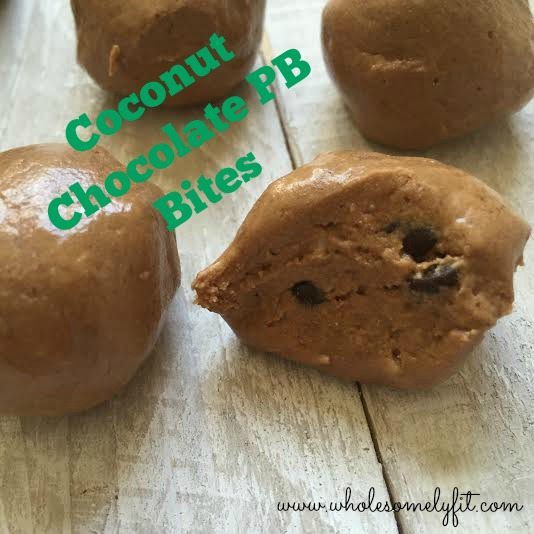 Nothing more and nothing less!! Maybe a little water to help roll the mixture into shape 😉 And they are vegan and gluten free.

Coconut Chocolate PB Bites
Author:
Bryanna @ WholesomelyFit.com
Chocolate Energy Protein Bites
Ingredients
¾ C Coconut Peanut Butter, (Earth Balance)
⅓ C Coconut Flour
2 Scoops Chocolate Protein Powder
¼ C Mini Chocolate Chips (EnjoyLife)
2 Tbs Shredded Unsweetened Coconut
Instructions
In a small or medium mixing bowl, combine all ingredients and stir until well combined.
(May need a little water to help form the mixture into bite size, round balls)
Roll mixture into balls.
Store in an air tight container in the fridge for a few weeks.
Have a great protein packed weekend friends!! I will probably be having a packed packing weekend 😉 Yes, the life of movers. Hopefully we make a little time for fun for the sake of R. She needs a break from the maze of boxes in our house.
Until Next Time Be Whole and Be Fit