I was able to spend the last few days with family and friends in Montana. We arrived home and I went straight back to work, so I decided to allow some time before doing another blog post. I wanted to enjoy family and wanted to stay rested. There was every intention of having this recipe done to share on Monday, but while home I never opened my computer. It didn't even leave my bag. I'd say that's a sign that there was too much fun had.
Most of the weekend was enjoyed seeing the ranch animals, running, helping my mom around the house and R even got to feed the cows with Papa. She enjoyed all the chickens, new baby puppies and goats, and my parents mini donkey had her mini on Saturday morning. R got to meet the mini donkey's baby and of course didn't want to let go.
The other part of the weekend was spent giving my mom a much needed break and doing the cooking. She's always cooking for everyone, so I told her I wanted to cook while we were home. We kept it simple, but we did enjoy this great pasta salad for Easter dinner.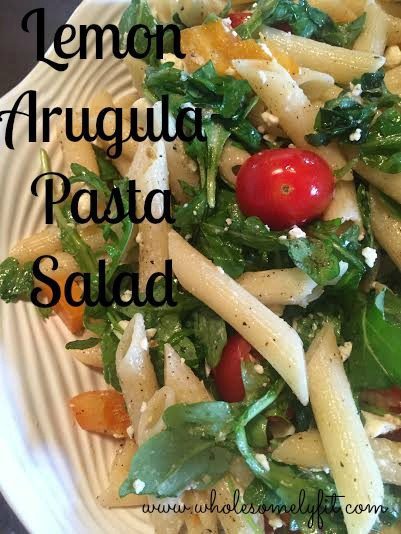 It paired well with the rest of the dinner and was simple to make. I was glad everyone enjoyed it, because it was my first time making it, but for me you just can't go wrong with pasta salads. I love being able to throw whatever vegetable you want in, and then being creative with the dressing.
To keep it light and healthy, the dressing was a lemon and olive oil. Sometimes simplicity is all the taste buds need. Food doesn't have to take hours to prepare, and believe me, this salad didn't. I wanted the sides to be easy and fast to make. It's now a new favorite and many were asking for the recipe, so I thought I would share it. Now that we are heading into Spring, and the snow finally melted away (yes it snowed in Montana while home), it's perfect timing for pasta salads.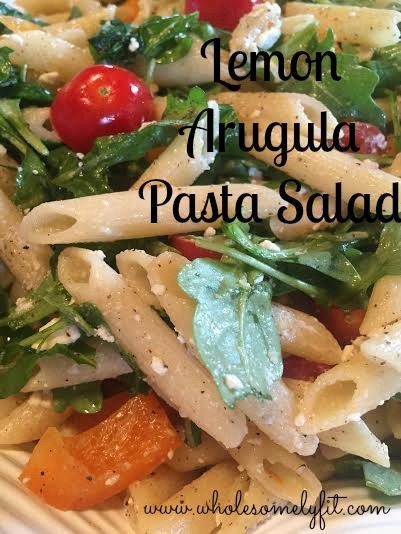 I love pasta salads because they can be ate on for a few days and are light, simple and filling. It seems I can never go wrong with a pasta salad. I love the peppery taste of arugula, which lends a nice green touch, and the lemon dressing is a family favorite. I had only a few moments in the grocery store to decide on a dressing, so I picked up a lemon and told myself I could figure it out. I had a big family to feed and there was leftovers. So if you are feeding 15 people there's more than enough salad, if there's other dishes at the table. If you are eating this alone, I'd say 8 peeps.
Lemon Arugula Pasta Salad 

Lemon Arugula Pasta Salad
Author:
Bryanna @ Wholesomelyfit.com
A light and simple pasta salad with an easy lemon pepper dressing.
Ingredients
1 16 ounce bag Penne Pasta
1 Bell Pepper (red, orange or yellow), sliced into bite size pieces
2-3 cups (packed) Arugula
2 cups cherry or grape tomatoes, halved
¼ - ½ c Feta Cheese
¼ c Olive Oil
½ - 1 fresh lemon, juiced or squeezed for juice
Salt & Pepper to Taste
Instructions
Make Penne noddles according to package directions. Once done add to large mixing bowl.
Add in the bell pepper, arugula and tomato halves.
Dress with the olive oil and fresh squeezed lemon. (I just mixed these two together in a small bowl, adding more lemon for a lemony taste). Mix well.
Season with salt and pepper and top with feta cheese.
Can let stand in fridge for a few hours to let it chill before serving. I find it better chilled.
**for a more lemony taste use the whole lemon, and add the dressing before serving. The lemon absorbs all the ingredients eventually, losing some of it's taste. Stir well before serving.
Lemon Arugula Pasta Salad - a simple, light pasta salad via @wholesomelybry #greens #eatwhole
Click To Tweet
Hope you enjoy this salad as much as we have. I know it will be made throughout the coming months numerous times.
Until Next Time Be Whole and Be Fit
What did you do over Easter? Any family traditions?