One of my favorite parts of summer is all the fresh produce from our own garden and local farmers. It makes for simple, nutritious meals that are colorful, time savers & budget friendly. I can spend less than $20 at the Farmers Market and have a few meals for the week, mixed with my own garden haul.
One of my favorite seasonal vegetables are beets. They are versatile, and can be enjoyed roasted on their own or thrown into different dishes. Beets can be spruced up with a fun salad. This salad has been one of my favorites this summer. Perfect for eating now, as beets are in prime season.
Some quick stats on my friend the beet:
Beets are high in immune-boosting vitamin C
Beets are high in fiber
High in essential minerals like potassium, which is essential for healthy nerve and muscle function, and manganese, which is good for your bones, liver, kidneys, and pancreas. Making them a powerhouse for athletes
Beets also contain B vitamins
They help lower blood pressure, because of the nitrates
The nitrates in beets help boost stamina and endurance. The benefit is related to nitrates turning into nitric oxide, which reduce the oxygen cost of low-intensity exercise while enhancing tolerance to high-intensity exercise.
Beets contain betaine, a nutrient that helps protects cells, proteins, and enzymes from environmental stress and helps to fight inflammation
The phytonutrients in beets ward off cancer
Betaine in beets help with the bodies detoxification systems
Is there any reason not to consume them? They can get a bad rep for their taste, but when you cook them just right and pair them with the right foods, you won't be disappointed with their taste.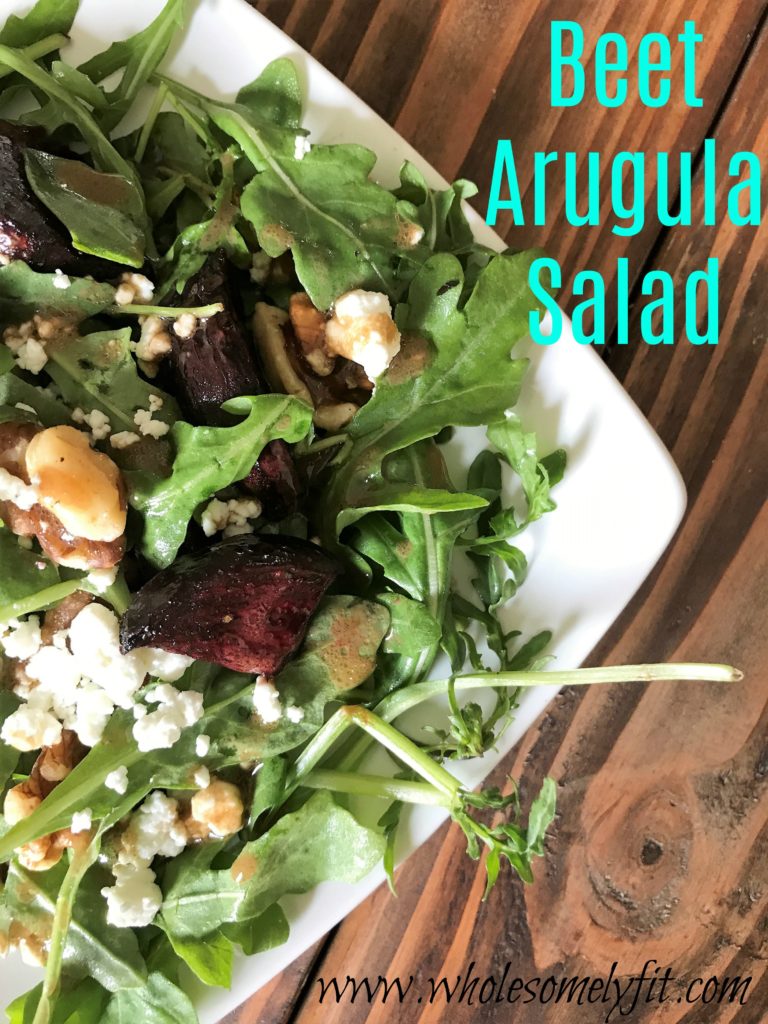 This Beet Arugula Salad is a must try!! Simple, with an easy homemade dressing. It's flavorful, even with the few ingredients it has. The goat cheese and walnuts are a nice touch of flavor and crunch.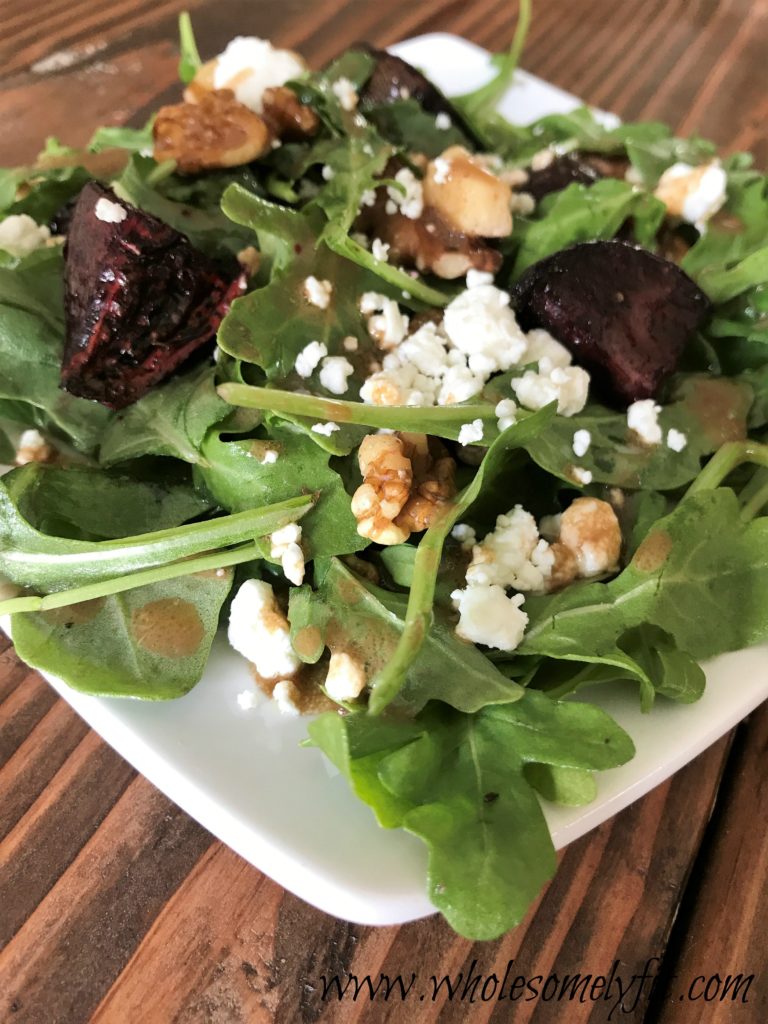 Here's what you'll need:
Beets
Walnuts
Arugula
Goat Cheese
Balsamic Vinegar
Dijon Mustard
Olive oil
Did you think it could be any more simple? Yet, it's bursting with flavor and it's nutritious. Arugula boasts vitamin A, K and C as well as calcium and folate, and it adds a nice peppery taste. There's essential fatty acids found in the walnuts and olive oil, as well as antioxidant properties.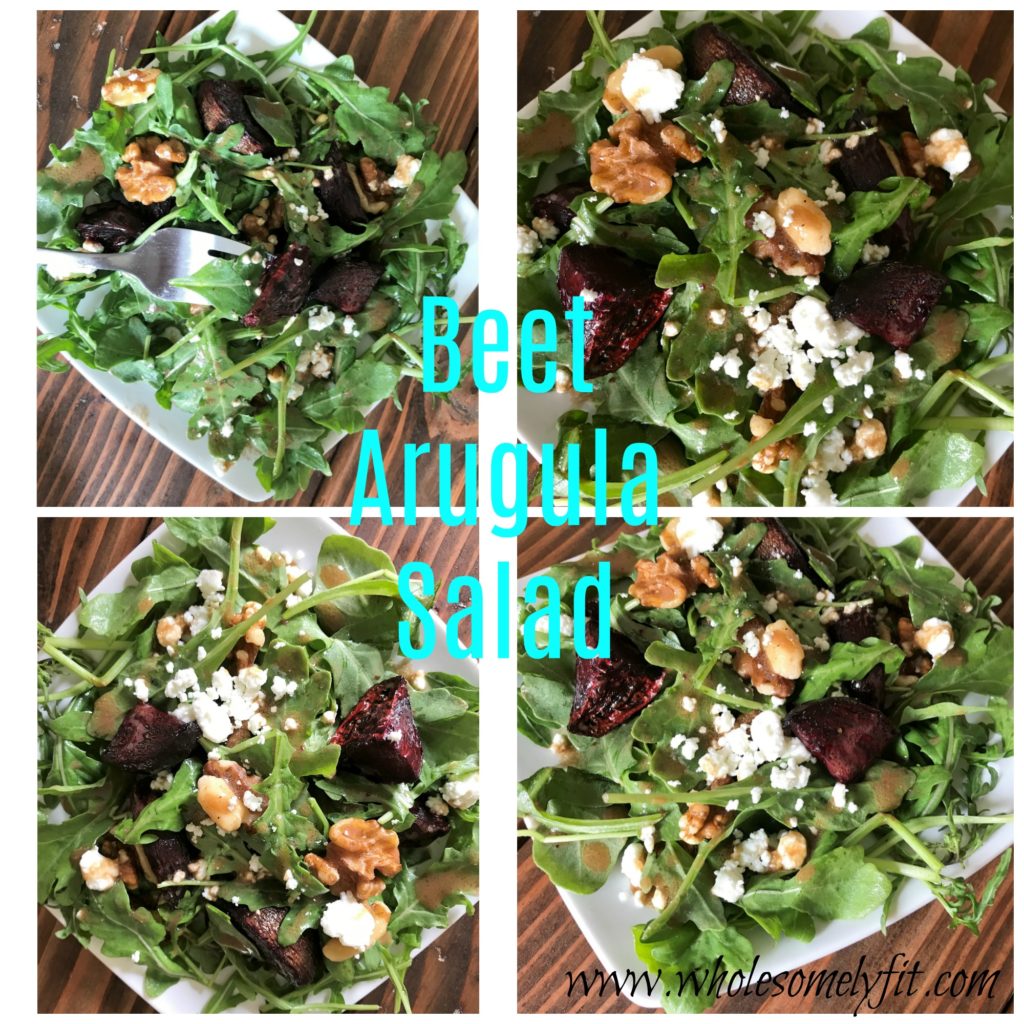 Beet Arugula Salad
Author:
Bryanna @ Wholesemlyfit.com
Bursting with Flavor
Ingredients
5-6 c Arugula
3-4 medium Beets quartered (bite size pieces) & roasted
½ c - ¾ c walnuts
½ c goat cheese crumbles
Dressing
¼ c olive oil
2 Tbs balsamic vinegar
1 tsp Dijon mustard
Instructions
Roast beets on 425 degrees for 20-25 minutes, or until tender when poked with a fork. (Season with salt, pepper and basil and coat in oil before roasting).
In a large bowl, place the arugula. Add the beets once they are done roasting.
Top with walnuts and goat cheese & toss.
To make the dressing: add all ingredients to a small bowl and whisk until well combined.
Toss the salad with the dressing.
* If not eating all the salad at once, I suggest not tossing with all the dressing and just pouring the dressing over individual servings.
Try this simple & nutritious salad that is bursting with flavor Beet Arugula Salad #wholesome #eatclean
Click To Tweet
I hope you all enjoy your weekend!!
Until Next Time Be Whole and Be Fit