Call it what you will, slaw or salad, but this dish is amazing.
Summer is slowly coming to an end and our garden is producing lots of tomatoes, beets and cucumbers at the moment. I'm behind with harvesting it all, and my kale has gone wild. It wasn't my best yield over the years, but I've already done what I needed to do to help feed the soil for next year with some minerals.
I bought a bulk bag of beets at the Farmers Market a week or so ago, because we didn't plant as much, and the bag was only $7 for 5 pounds of beets. Couldn't pass that up. I love to roast the beets, quarter them and throw them into different salads. One of my favorites is the Beet Arugula Salad, but this slaw is great as well. It's definitely a dish I'll be making more and more. Perfect since my abundance of cucumbers is growing.
There's only 3 ingredients needed for the slaw and 4 ingredients needed for the dressing. Letting it sit a few days only makes the flavors that much more bold, and because cucumbers, beets and onions don't get soggy, you still retain the crispness of the vegetables. Sprinkle with feta cheese if you desire, and color your day red!!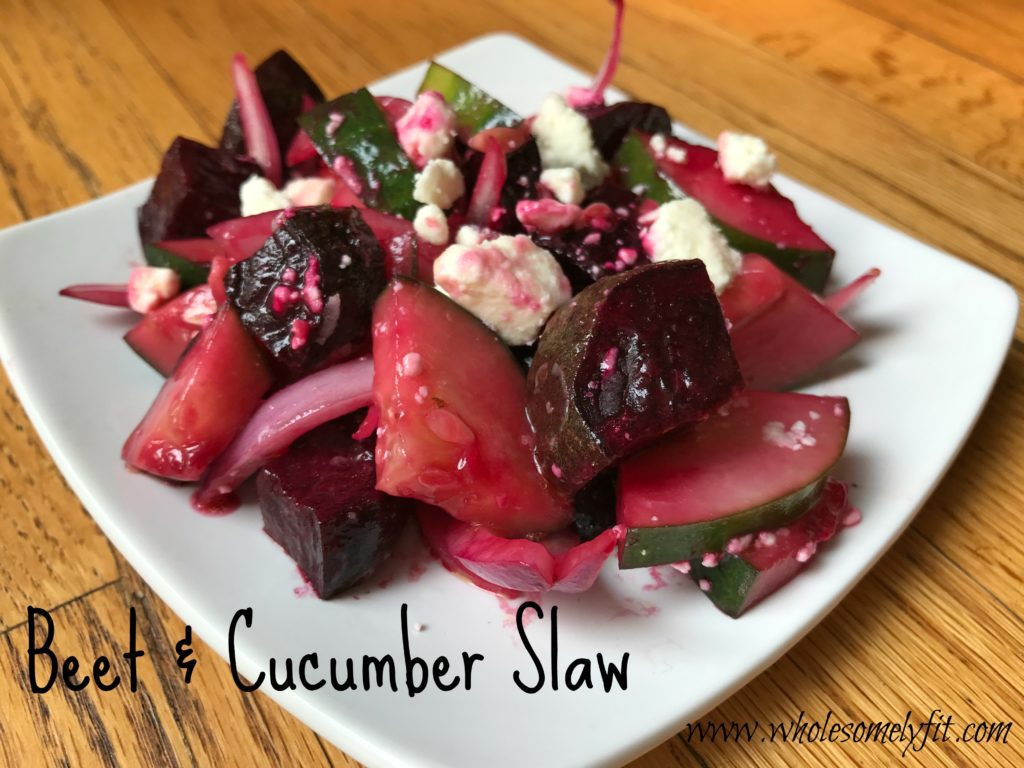 I used Barleans Flax oil for the dressing for added health benefits, mixing in apple cider vinegar, a little honey and Dijon mustard for a honey Dijon dressing. It's great to use in replace of olive oil in homemade dressings or to drizzle over roasted veggies. We did zucchini on the grill and then drizzled with some flax oil and Parmesan the other night for dinner and it hit the spot.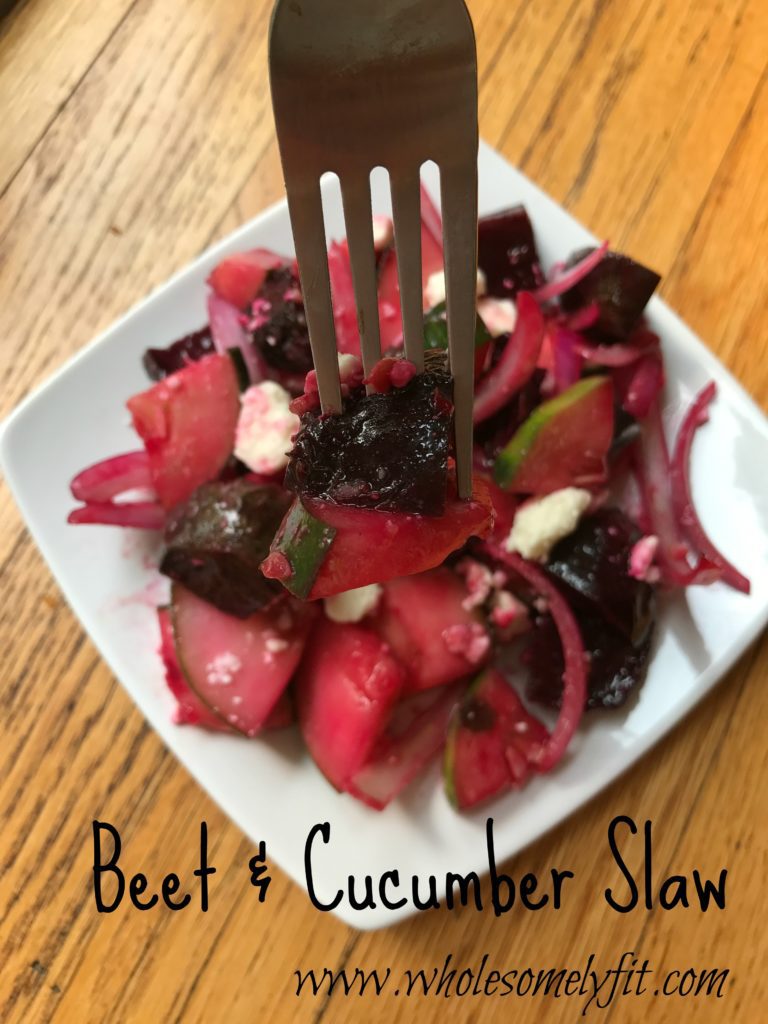 Cucumbers are high in water content, so I love adding them to salads during my marathon training for added hydration. I also love the crispness they lend to salads and dishes and the refreshing taste they give. As a runner I consume beets whenever I can, especially in peak training during their peak season. They help with muscle recovery and aid performance. Beets are definitely a powerhouse in a runners diet.
Flax oil deserves some recognition as part of a healthy runners diet. Flax is the best source of plant based Omega-3s, working as an anti-inflammatory and also contains Omega-6&9. I like Barleans because it is non-GMO, gluten free and sourced in America.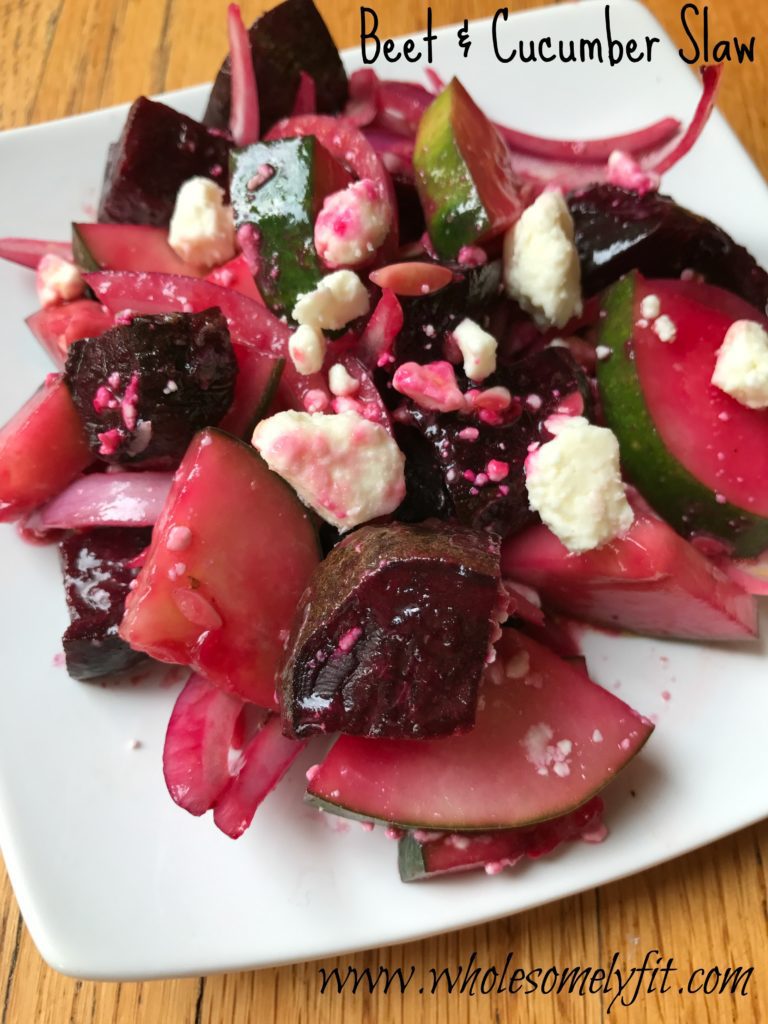 Beet & Cucumber Slaw w/ Honey Dijon Dressing
Author:
Bryanna @ wholesomelyfit.com
A deep red salad/slaw with a honey dijon dressing
Ingredients
4 medium beets, cut into quarters & roasted
1 large cucumber (sliced & quartered)
½ red onion, thinly sliced
⅓ c feta cheese (optional)
For the dressing:
⅓ c flax oil
1½ tsp Dijon Mustard
2 Tbs Apple Cider Vinegar
½-1 Tbs Honey
Instructions
In a medium bowl add beets, cucumbers and red onion.
To make dressing, whisk flax oil, Dijon mustard, apple cider vinegar & honey until well combined.
Drizzle dressing over the salad and toss.
Top with Feta cheese upon serving.
*To roast beets: Roast on 400-425 degrees. Coat beets in coconut oil or grapeseed oil, sprinkle salt, pepper, basil & oregano. Roast until soft (20-30 minutes).
Beet & Cucumber Slaw with Honey Dijon Dressing #vegan #healthyfats #beetit
Click To Tweet
Here's to another week and less then 2 weeks to race day!!
Until Next Time Be Whole and Be Fit