As the temperatures begin to heat up here in the Inland Northwest you can't help but think of summer and summer fare. The fresh produce of spring and summer is my favorite. At least for the season, because I do love the fall harvest as well. It's been a long winter and with warmer temperatures I long for the fresh fruit and vegetables and the cold salads.
I could eat the cold salads and fruits all day throughout the warmer season. It's probably why on our honeymoon in Jamaica I was in love with the mango and fresh greens. The all you could eat buffets were my best friend. Every meal I had some fresh salads and fruits. After this long, dark winter I am ready to come out of hibernation and eat it up. And with the warmer temps, I always eat less I feel. Something about the warmer weather. Colder, smaller portions are all I need.
It was in the high 70's and reached 80 on Friday, so we fired up the barbeque and had veggie burgers and beef patties, with grilled asparagus and a nice kale slaw salad. The kale is growing in the garden already, and I remember a favorite salad of last summer: Apricot & Beet Kale Salad
Apricots are an early season fruit like strawberries. They aren't quite in season yet, but sometimes you just can't wait. You'll love the flavors and texture of this salad. I love the crunch of the kale and the walnuts, and the beets, carrots and apricots give it a nice soft feel with sweetness.
I love all the colors this salad has, it's like eating the rainbow. In the early summer all of these ingredients are from local farmers within 30 minutes of our house, besides the walnuts or from our own garden. I aim to buy locally throughout the year, and in the late spring through fall, it's easy to do here in the Inland Northwest. We hardly visit the grocery store except for a few items every few weeks. Eating local is my mantra during these seasons.
I used the same honey balsamic dressing as I've used in other salads. It pairs well with many different salad combinations and is a simple dressing to whip up. You can make a bigger batch for future salads and keep in a jar with a lid for a few weeks in the fridge.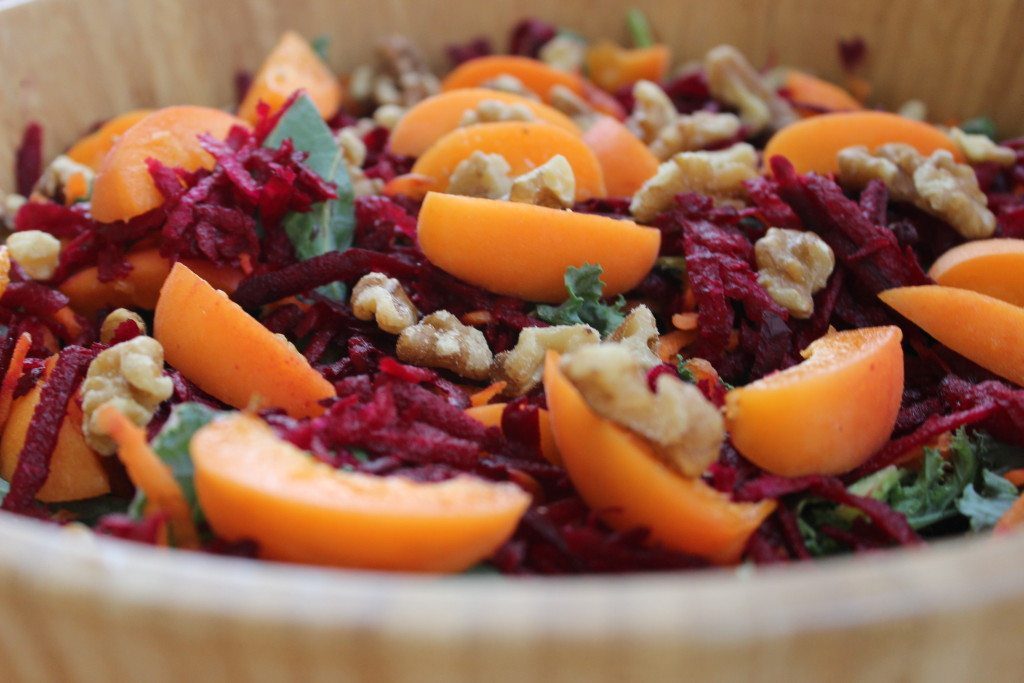 It's great having the bitter taste of the kale with the sweetness of the apricots and the dressing. Seriously summer salads are so great, and there's so much variety for produce. I love it!! You can dress your salads in some many ways and this year since I am feeding one little and a toddler, I want to incorporate more salads, but keep variety. Variety is endless too!! My little girl loves salads and even loves kale. She eats it plain. How'd I get so lucky? 😉
What's even better about salads is they are so easy and quick to make. And if eaten before your meal, help to fill you up so you don't eat as much of the remaining meal items. Salads can actually be filling.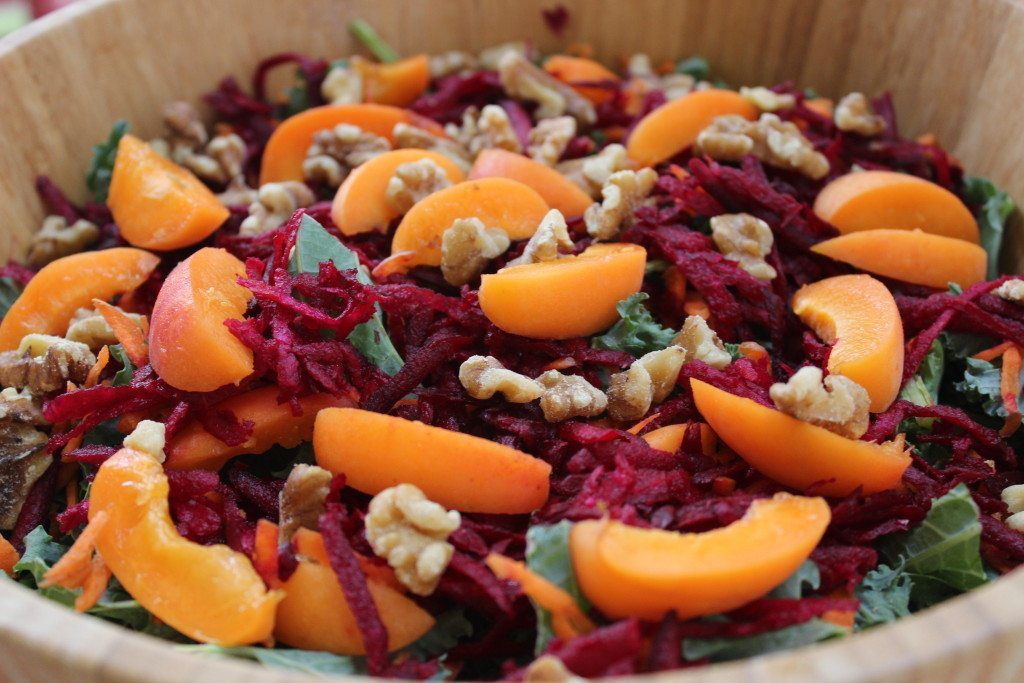 Apricot & Beet Kale Salad
A healthful salad with great flavors and texture.
Ingredients
1 head of Kale, washed and torn into pieces
½ c shredded carrots
¾ - 1 c shredded raw beets
4 apricots, sliced
½ c walnuts
1 - 2 Tbs Balsamic Vinegar
1 tsp honey
Instructions
In a large mixing bowl or salad bowl, throw in the kale.
Top with the carrots and beets and add the apricots and walnuts
In a small bowl whisk the balsamic vinegar and honey together.
Drizzle the dressing over the salad
Enjoy
Here's to a nutritious start of the week!!
Until Next Time Be Whole and Be Fit