I am finally sitting down to whip out my race recap of the Missoula Marathon. We went camping the day after the race and didn't have cell service for nearly 3 days or showers. It was nice to unplug, but camping with kids is a dirty mess. I appreciate the simple life, but also appreciate showers and toilets.
Lets run to it…..
Weeks leading up to this race I was all nerves. All I could think about was the race and my tired self. LJ was in the thick of teething again and being demanding. I just wanted sleep. My sciatic was really started to bother me, and foam rolling and the chiropractor were helping it immensely, but not completely. I don't know if it will every be the same, so I have learned to live with it.
Learning about the elite field and all the fast females had me nervous and excited. I was glad to have some fast females to pace off of and push me. Many of their PR's faster than mine. Then like all good runners going into a race, I started checking the race day forecast weeks in advance. I watched the numbers creep up and up and reach 100 degrees. I wasn't too keen on the idea of running in heat. With race day lows only 65 degrees, I was getting worried. Once that sun crested the mountains it would heat up fast.
The night before the race, lets just say LJ didn't like the hotel and R insisted on sleeping with me. Life of a mom. I didn't even poop before the race. I know!! This has never happened and I felt at such peace, no pre race jitters at all. I tried to make myself go poop, but I couldn't. It was nice having elite bathrooms, so I wouldn't have to worry about standing in line. I rode with a friend from back in WA to the race start so Marc wouldn't have to lug all the kids around so early and I wouldn't have to catch a bus.
I chatted with some of the female elite runners and males. We exchanged jokes, talked about kids (the few that had them) and kept the topic away from the warmer temperatures. I didn't really have layers to shed, since it was already warm. I did a light 5 minute jog to loosen up. Took a gel 20 minutes before start and drank some cherry juice. Made my way over to the start line with the other elite runners said a prayer and toed the line.
We were off, with fireworks (literally). I noticed the first mile split was slow. I was pacing with the lead females and it was 6:37 the first mile. I pushed the pace in the second mile and still seemed to slow (or I thought I did). I thought hmmm….so I broke away at mile 3 feeling good. I knew it was warmer and I may have to alter goals, but I didn't want to. Miles kept running by. I felt like having to pee, but fought the urge.
I enjoyed watching the sun rise, and was thankful for a sliver of clouds over the rising of the sun, more like a haze, to help keep the temperatures down. I was gaining more and more distance on the lead females, but still feeling like the pace was too slow. I thought I would go for a negative split maybe. I kept thinking "Why is the pace so slow, these are 2:45/50 marathoners." I worked my way through a shoulder stinger, thinking "I never get these, what's up." I checked my breathing and began the lonely miles.
Mile 1: 6:37 Mile 2: 6:35 Mile 3: 6:31 Mile 4:6:24 Mile 5: 6:18 Mile 6: 6:19 Mile 7: 6:23 Mile 8: 6:22 Mile 9: 6:25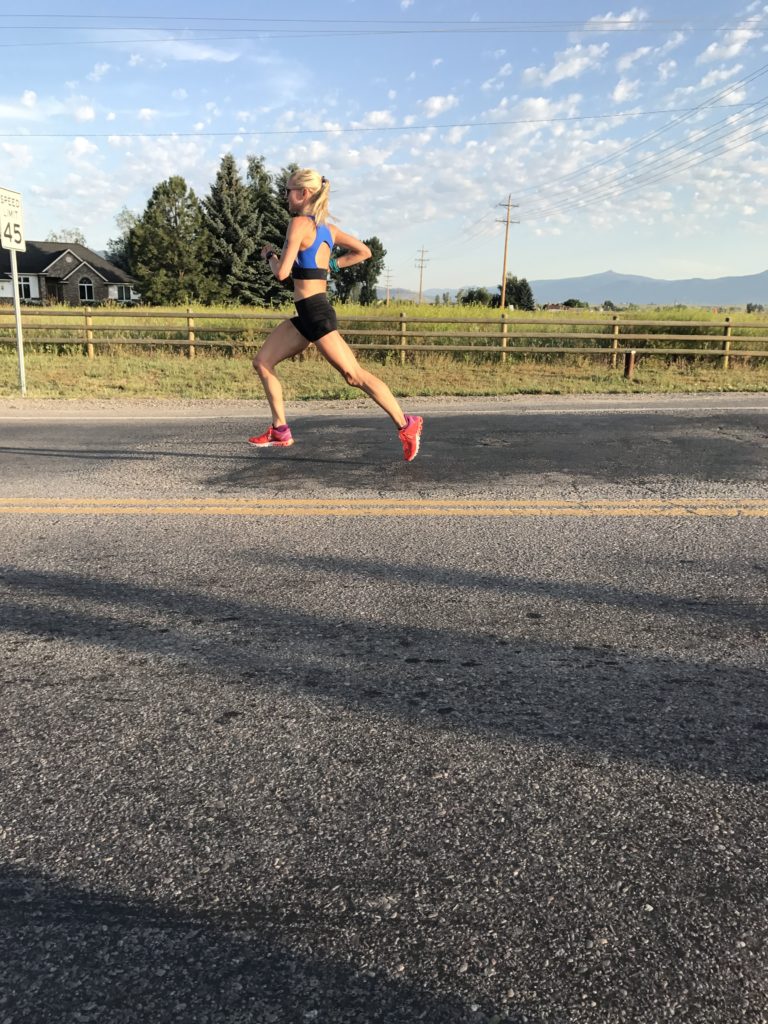 Right before mile 10, I spotted my little cheersquad and was elated. I started chews shortly after mile 4 and then again before mile 10. R and LJ were smiling and cheering. It was a nice boost seeing them. My bike companion Athel, was amazingly sweet and kept taking videos and photos of me running. She kept telling me "You are the most beautiful runner. Your form is just beautiful. Such a pretty runner" and on and on. It was a great to have a companion since there was no other runners around. I felt like a celebrity with her as she told every passerby I was the first place female "Her name is Bryanna." She told me I was going to crush the course record.
I soon realized that unless I really stepped it up, that course record wasn't happening nor was my 2:45 goal. I hit the half way point and realized I wasn't doing so hot. This was my third or fourth time glancing at my watch and it was a 1:24. I knew the hill was coming, I was feeling defeated because I was off pace, but also hopeful I could still break 2:50. So I kept my drive but for some reason my pace never really quickened. I get into this easy pace feel, and with no one around it was hard to push it.
Ran my way through another shoulder stinger and checked my breathing again.
Mile 10: 6:27 Mile 11: 6:27 Mile 12: 6:26 Mile 13: 6:27 Mile 14: 6:48 Mile 15: 6:30 Mile 16: 6:22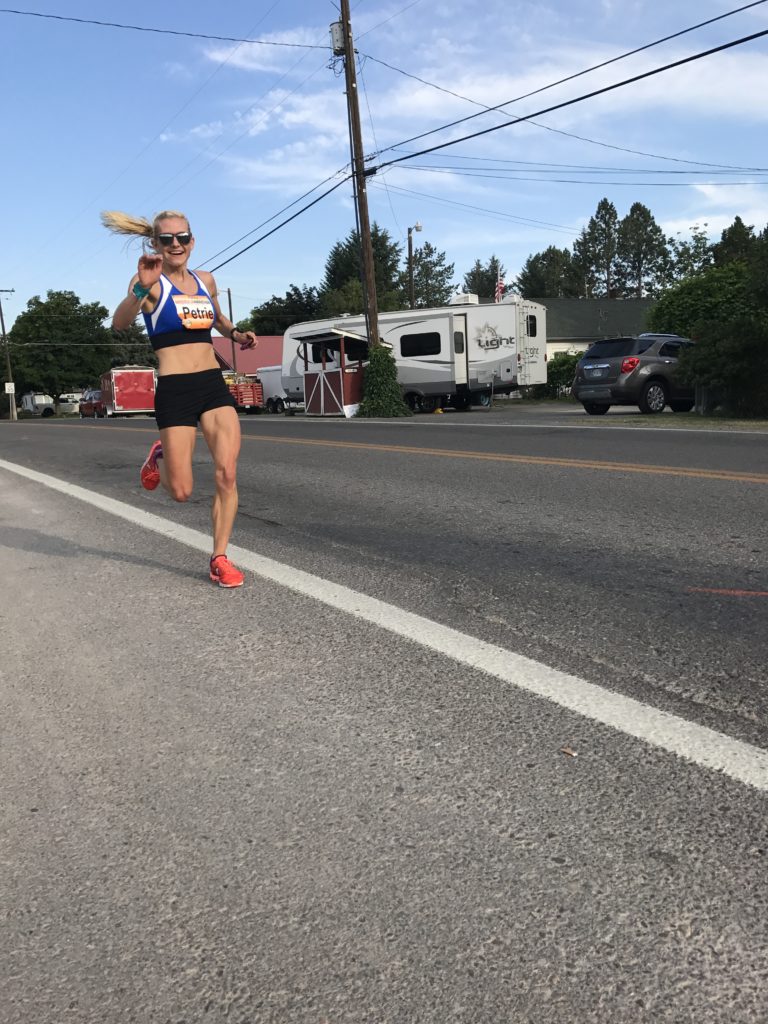 The hill seemed a lot bigger this year, but I didn't lose steam. I reached the top and took in the views of the valley. At mile 15 my right leg started to go completely numb. I couldn't feel it, but it felt like 100 pounds. I kept faltering, as I couldn't feel my foot strike. I am sure I looked stupid. It remained numb for 5 miles. I knew my sciatic was flaring up again, but I tried not to let it get to my head.
I wanted to quit. My legs felt heavy and I couldn't imagine going 11 more miles like this. I was already preparing for telling Marc to wait for a phone call from a stranger to come pick me up, because I wasn't going to make it. I thought I would see him after mile 16, but it was at mile 18 I saw him. I came down the hill, enjoying the downhill, and peed in the bushes shortly after mile 16. I looked and there wasn't a soul behind me. I thought, "Wow I really have a lead." This sort of gave me confidence.
I had been running by myself, besides Athel, for 13 miles and it was getting lonely. Miles were slowly running by now. I saw Marc and the Kids right before mile 18 and I had a huge surge of energy and joy!! I forgot to tell Marc to wait for a phone call. I waved to R who was filming on the GO-Pro, watched LJ clap and I said "Hey Guys…….." and a few other hellos, before making a turn and running away. It wasn't until mile 20 that I realized I forgot to tell Marc, I was thinking "Dang!! Now I have to finish this thing. I guess I should, because my mom drove 3 hours to watch me win, I can't quit now. Just keep moving forward."
(one of my favorite photos because of the wave of emotions felt upon seeing my family)
Mile 17: 6:39 Mile 18: 6:39 Mile 19: 6:36 Mile 20: 6:39
I finally regained feeling in my right leg, but it was met with sharp shooting pain down to my calf at my 20. I could feel my calf muscle cramping, which never happens. It was tightening up, but I kept pushing through. I was meeting up with the half marathoners, and they were cheering me on and giving me the boost I needed. The crowd was amazed at my feat and the volunteers great!! Athel still announcing me at every turn and aid station, through all the neighborhoods.
The miles were dragging on and I felt like I was going so slow. I didn't even want to know how much I had slowed down. I kept taking water and electrolytes at the aid stations, alternating between the two. It was feeling warm, and had been for a while now. I had ran through countless sprinklers and hoses along the way, and was thankful for those spectators who shared the water.
I had to weave through some half marathon racers, but Athel did her best to get them to keep right (the streets were divided left for marathoners, right for half marathoners). I didn't think I was going to make it, my legs felt so heavy. I felt like my lungs could go forever, but my legs were another story. I tried pumping my arms faster and this helped for a bit.
Mile 21: 6:31 Mile 22: 6:40 Mile 23: 6:47 Mile 24: 6:44
Soon I was at a 5k left and was hearing people cheering for me by name. There were actually many points on the course individuals were cheering by name, and I didn't know who they were. Later I would find out a lot of Instagram friends and fans were out cheering and running. This was so uplifting and motivating. I kept thinking of my family waiting for me, my mom and aunt who had traveled 3 hours to come watch, and my other failed attempts at winning this race in the past.
I said "This is my year. I am going to win this thing." At one point, probably around mile 21 I heard someone say something about the second female, and I thought she was close behind. I thought "Go ahead, I'm done. I can't do this anymore, so just take it." Little did I know she was more than half a mile behind me. At mile 23 I was ready to win this thing and all confident (the mind and thoughts during a marathon ha!!).
At mile 25.5 I asked Athel "How far ahead am I?" She replied, "Only three-quarters of a mile left. Do you think you aren't going to make it? You got this, your almost there." I was thinking "Okay if she says I can, I can, but that's not what I meant, and I really don't have energy to explain." I replied "No, I mean how far behind is second place?" Athel, "Um…..she a ways behind, you have it." This didn't seem too promising and for a moment I was scared. I thought "Keep moving forward, one foot in front of the other. Don't stop now. You got this, you got this! Half a mile Bry, don't give up. Keep moving forward."
I looked down at my watch and it read 2:45 at around 25 miles I didn't know where this put me for time, and I couldn't do the math, but deep down I knew I didn't break 2:50. I didn't let it get to me and I kept going. I should probably be better about checking my watch during the race.
Mile 25: 6:42 Mile 26: 6:39 last .29 1:45 = 2:52:07 (somewhere I have to add 10 seconds for when I stopped to pee and my watched paused)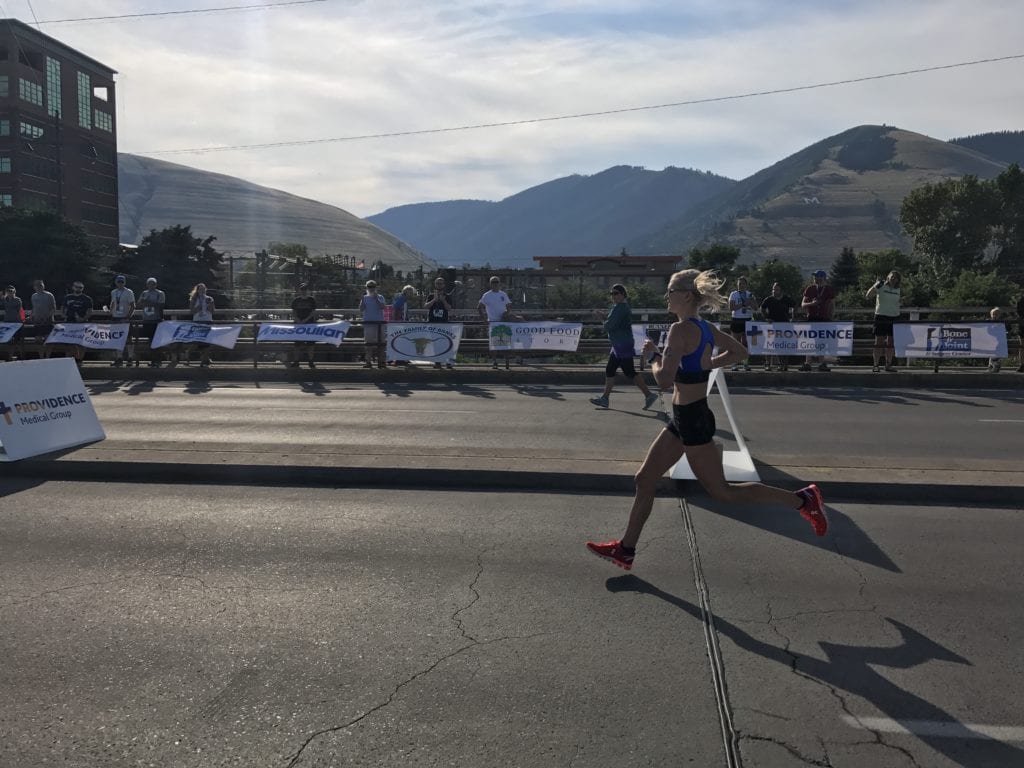 The finish line was so close I could taste it. I realized on the second to last turn that I would win, that Missoula was finally mine. I turned onto the Higgins Street Bridge, and made it up the little incline to see the finish and the crowd. I heard so many cheering me on by name and I could hear my mom and aunt as I got closer to the finish line. I was feeling so many emotions. I had won, finally WON the Missoula Marathon!! I couldn't believe it, but I was also so happy to be done. I finished strong, felt awkward, did a few fist pumps to thank the crowd, and felt like Ricky Bobby "I don't know what to do with my hands." 😉
The cats in the bag!!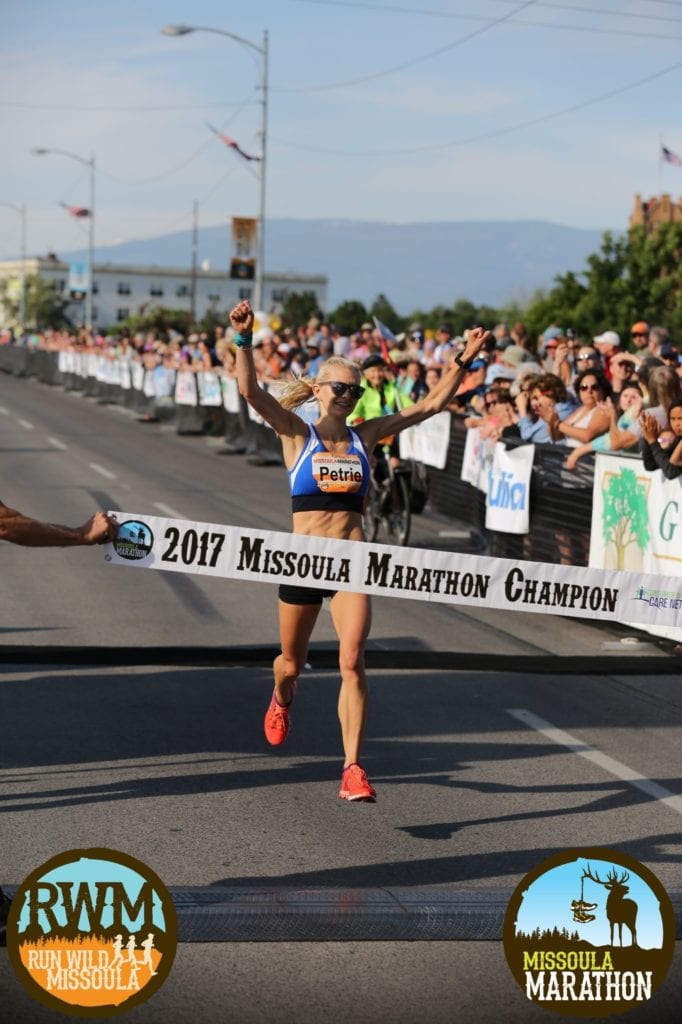 I broke the tape, which is more like a banner, and is now ready for my trophy room. I finally broke the tape at 2:52:07. I would be lying to say I was excited, because part of me was very disappointed. I didn't meet my time goal. I saw that clock while on the bridge and was so mentally broke I wanted to cry. It wasn't my B goal of 2:45 nor my C goal of 2:50, but some how my A goal of winning!! It was bittersweet. I won, but yet I lost. I was victorious, yet defeated. How do you meet an A goal, but not B or C? It was backwards. I smiled for the crowd, but inside I wasn't smiling.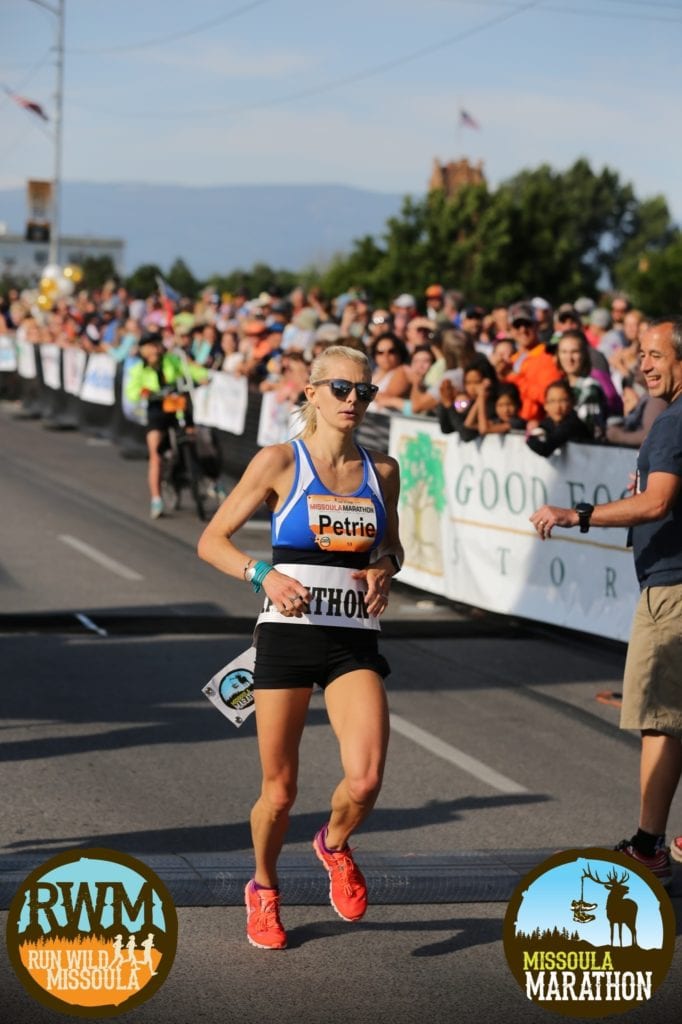 End Scene
I wanted that sub 2:50 so badly and I tried to see where I went wrong. Why didn't it happen? I trained so hard for this. I have decided not to let the joy of winning at a breakthrough race be stolen. I still ran one of the 4th fastest course times and was the 2017 champion. I took home some serious hardware and prize money. It felt good, but still a little piece of me felt like I lost.
Yes, that is FULL of beer and immensely heavy post race!! Sadly I don't drink beer, thus it was given & now is a trophy
I was interviewed by multiple sources, scored air time on the TV, was in the newspaper post race, and other print news. (my favorite article) It was fun and I felt like a celebrity post race, taking selfies with strangers and high-fiving strangers. Also, got to talk with many friends from back home and loved seeing my family. My grandparents even got to see me on TV, which they were so excited about!!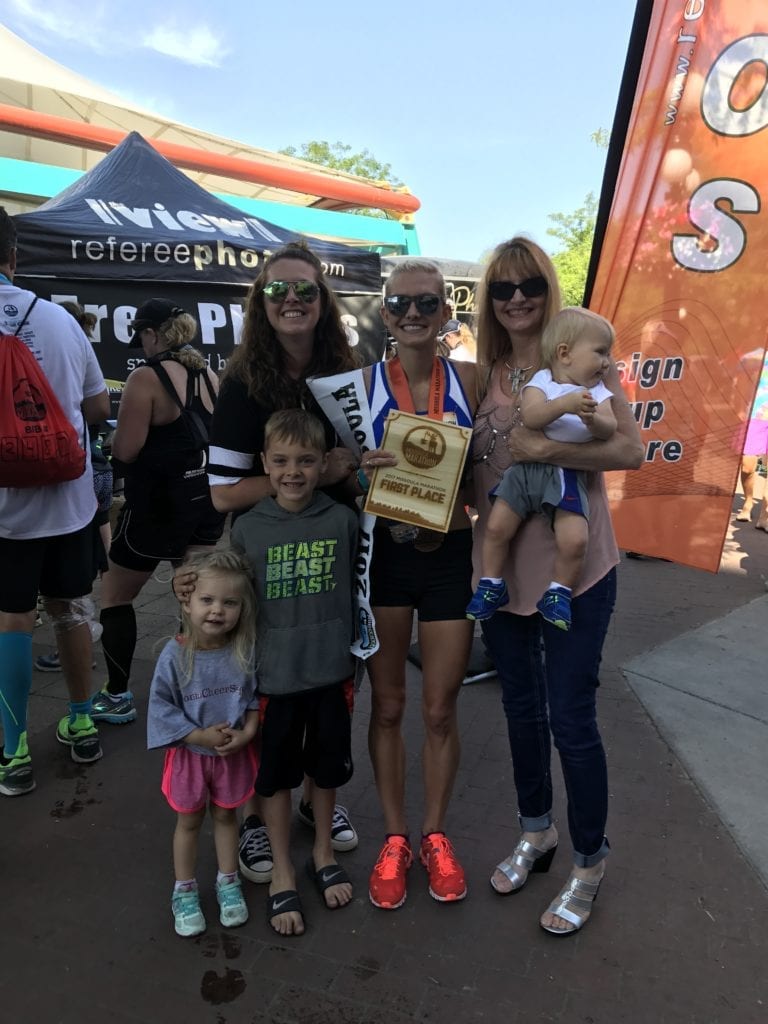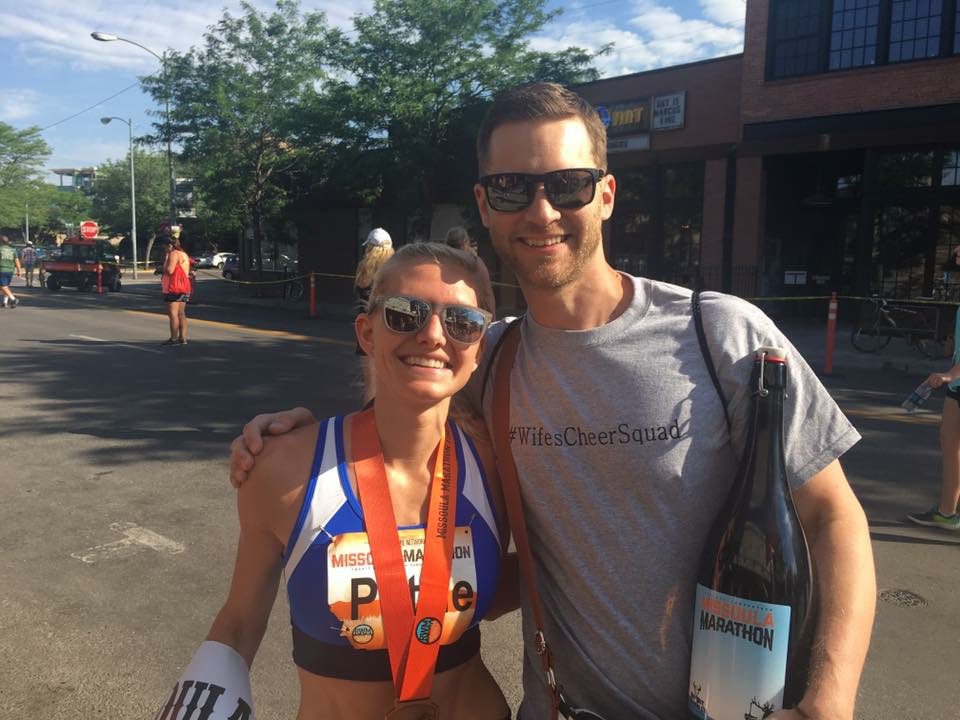 This GUY!! Is amazing and the best cheer squad manager there ever was!!
All and all, Missoula was a great race. A race I have always enjoyed. It was my 12th marathon, my fastest marathon, my first marathon victory and my first marathon back post baby number two. I couldn't be more thankful. This race won't break me, it will build me. I want it to taste more sweet than bitter, and to be thankful for the victory and the small PR, even if it wasn't my B or C goal, it was my A goal, and A is always better than B!!
Thank you all for cheering me on near and far and believing in me. I am going to continue chasing goals and dreams, and sub 2:50 I am coming for you…..it's not finished yet.
"Do you not know that in a race all the runners run, but only one gets the prize? Run in such a way as to get the prize." (or ."…So run to win!") – 1 Corinthians 9:24
Until Next Time Be Whole and Be Fit