It's that time of year…..all things festive and holiday cheer everywhere! I always love to bake and bake and bake during this time of year. In our small space it's not always easy or clean, but it's still fulfilling. The Christmas season is one of my favorite. It's the season of G I V I N G!
I spent most of Friday and Saturday in the kitchen, baking and cleaning. I baked cookies for our Servolution Sunday at church to hand out to those in need and got some dough ready for an event coming up. Then I decided we needed some donuts in our life! I have gotten a lot of use out of the new donut pan and have enjoyed trying some new recipes. Baking is something I used to do so much of and I shouldn't have stopped!
Since we had some leftover Apple Cider from Thanksgiving and of course eggnog, I decided what the heck. For weeks I had been saying wouldn't "apple cider and eggnog donuts be so good?" And I was right, "SO GOOD!"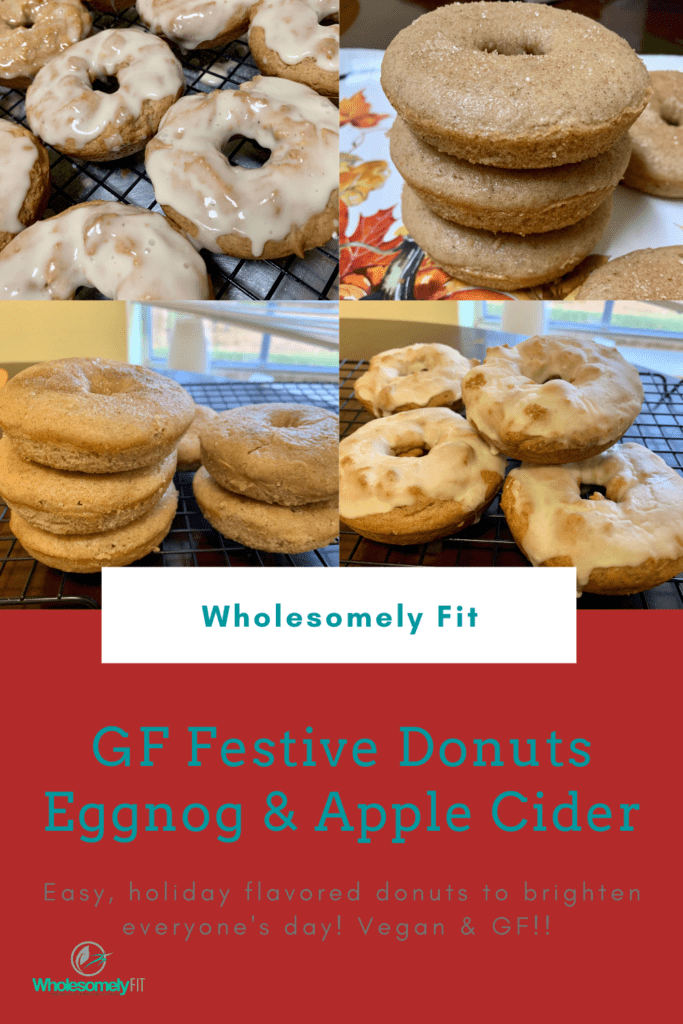 I had a few friends on instagram ask for the recipes so I decided I should document them here. I also needed to dust off the "blog" – my goodness it has been a while.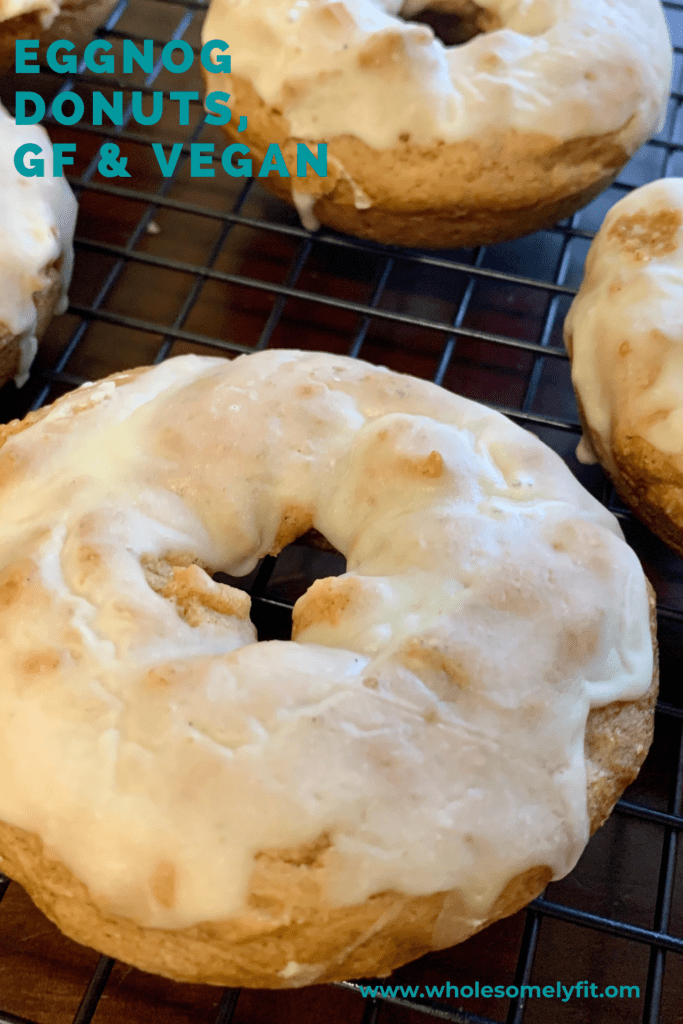 Recipe for GF Eggnog Donuts (w/ Vegan option)
Serves: 12
2 c GF Flour Blend (I used Bobs Red Mill)
4-6 Tbs raw can sugar or coconut sugar (depends on how sweet you like yours)
3 tsp baking powder
1/2 tsp baking soda
1/2 tsp salt
1 1/2 tsp cinnamon
1/2 tsp nutmeg
1 c + 2 Tbs Eggnogg (you can use vegan variety from So Delicious)
6 Tbs grapeseed oil
2 tsp white vinegar
1 tsp vanilla extract
Eggnog Glaze
2 cups powdered sugar
3-4 Tbs Eggnog
Directions: 1. Preheat oven to 400 degrees & grease donut pan. 2. Mix together flour, sugar, baking powder, baking soda, salt, cinnamon & nutmeg in medium mixing bowl. 3. In small bowl mix eggnog, oil, vinegar & vanilla extract until well combined. 4. Fill donut holes until 3/4 full. 5. Bake donuts for 15-18 minutes or until golden brown on top. Remove from pan and let cool before dipping in icing. *** These baked longer than my apple cider donuts.
To prepare Eggnog glaze, whisk together powdered sugar and eggnog. Dip tops of donuts into glaze to coat (once donuts have cooled).
** I stored my leftovers in the refrigerator.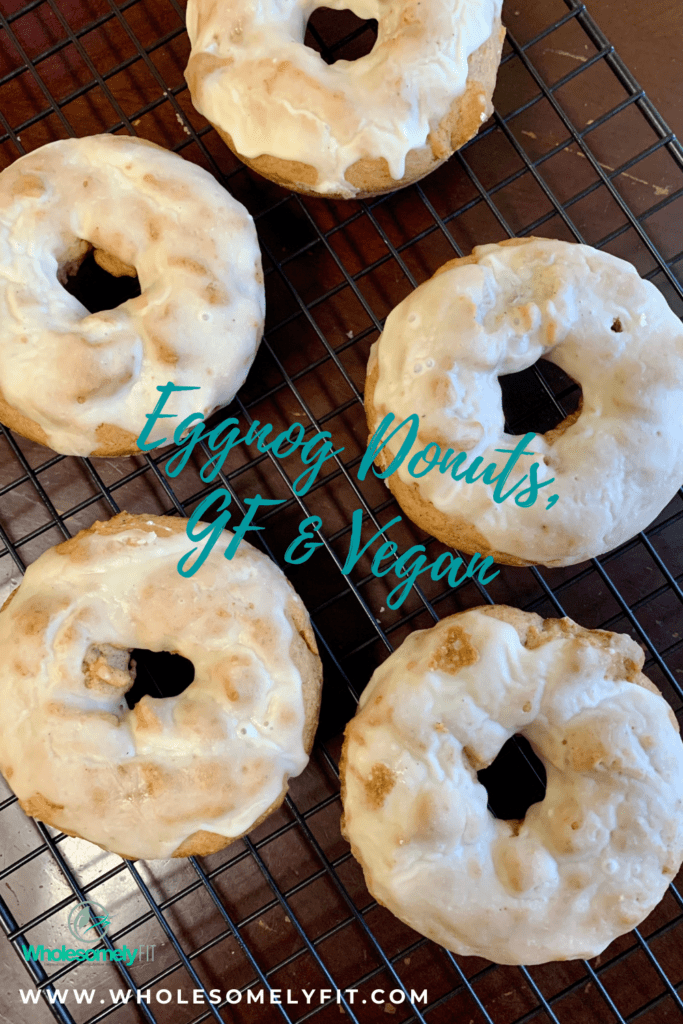 Recipe for GF Spiced Apple Cider Donuts
Serves: 24
3 cups GF flour Blend (I used Bob's Red Mill)
3 tsp baking powder
1/2 tsp baking soda
1/2 tsp salt
1/2 tsp cream of tartar
2 tsp Cinnamon
1/2 tsp Nutmeg
1 c raw cane sugar
12 Tbs butter (or 3/4 cup), softened (can use vegan butter or coconut oil)
1 1/2 c Apple Cider
2 eggs (or can use flax eggs 2 tbs ground flaxseed + 6 Tbs water)
For Topping mix the following ingredients in a shallow bowl: (optional)
1/2 c raw cane sugar
2 tsp cinnamon
Directions: 1. Preheat oven to 325 degrees. Grease a donut pan. 2. In large mixing bowl, place all dry ingredients (sugar, flour, salt, baking soda, baking powder & spices) and whisk together. 3. Add in the wet ingredients to middle of the bowl (eggs, butter & apple cider). 4. Spoon batter into prepared donut holes, until they are 3/4 full. Bake for about 10-12 minutes. Tops of donuts should spring back when touched. 5. Remove from pan and let cool slightly. 6. Then roll donuts gently around in cinnamon sugar topping until completely coated on all sides (optional).
Store leftovers in the refrigerator.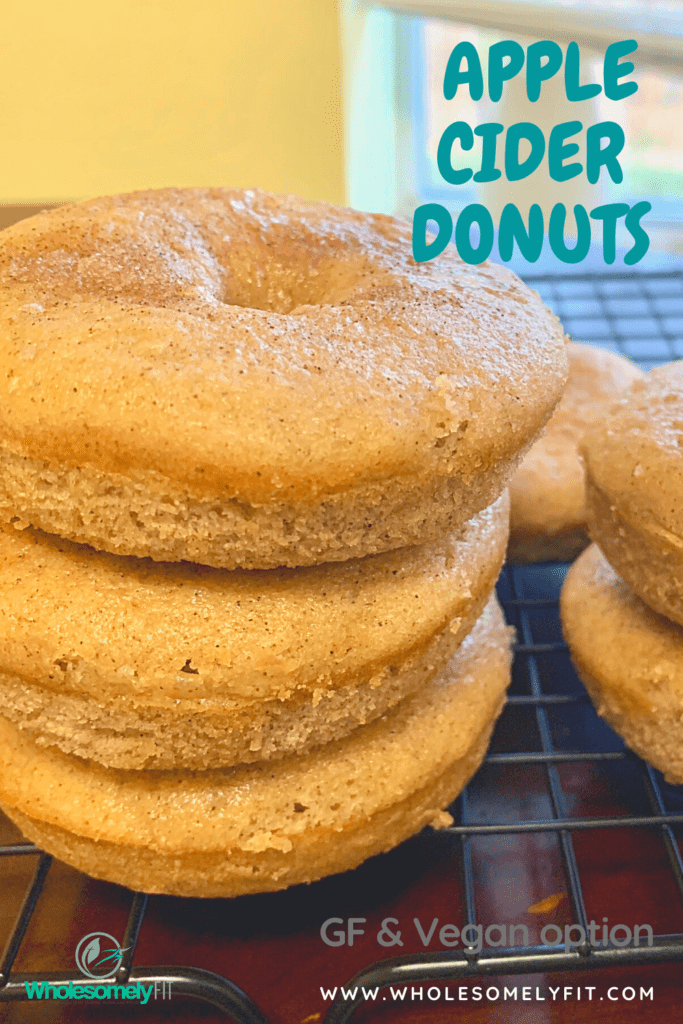 I hope you enjoy as much as we have. Surprisingly we still have some donuts left over. The kids like to reheat the apple cider donuts in the microwave for a few seconds. I let the eggnog donuts come to room temperature before enjoying.
I apologize, blogging hasn't been on my top priority, but I have been drafting many posts in my head…just never enough time to get them down on paper!
I hope you and your family enjoy the Christmas season! Please let me know what you thought of the donuts in the comments below. I would love to know!
Merry EARLY Christmas…..and I hope to be back soon!
Until Next Time Be Whole and Be Fit