Happy Friday Ya'll!!
I am so excited to share this recipe with you!! And also the chance to win some amazing Barleans products for yourself and family.
I love Barleans, and it has always been fun to use their products in my baking, cooking and smoothies, experimenting at times and enjoying old favorites. I wanted to share this great recipe using ground flaxseed.  I use flaxseed almost daily in my smoothies and oatmeal, and I love to use it in my baking to replace eggs, and now it's great in place of some of the flour in recipes, a recent trend.
Flaxseed adds nutritional power to your meals. You can stir it into sauces or casseroles, top your salads, yogurt or even oatmeal, and mix it into your smoothies or smoothie bowls. There's many possibilities. By adding a tablespoon of ground flaxseed you add in fiber, lignans (high in antioxidants) and omega-3 (essential fatty acid). You give your body some much needed nutritional love and care.
I love using Barleans Forti-Flax in my baking, smoothies, and oatmeal. Unlike the flax oil, you can heat the ground flaxseeds.  Flax Oil can be used to make dressings, almond or peanut butter, mixed into yogurts, oatmeal and smoothies as well, or just eat it straight from the spoon.
Barleans products are certified organic, non-GMO and gluten free. You don't have to worry about pesticides and other chemical contaminants.  You can try it yourself by entering my giveaway for some of your own Forti-Flax and Flax Oil. But first, lets talk about these Sweet Potato Coconut Breakfast Cookies.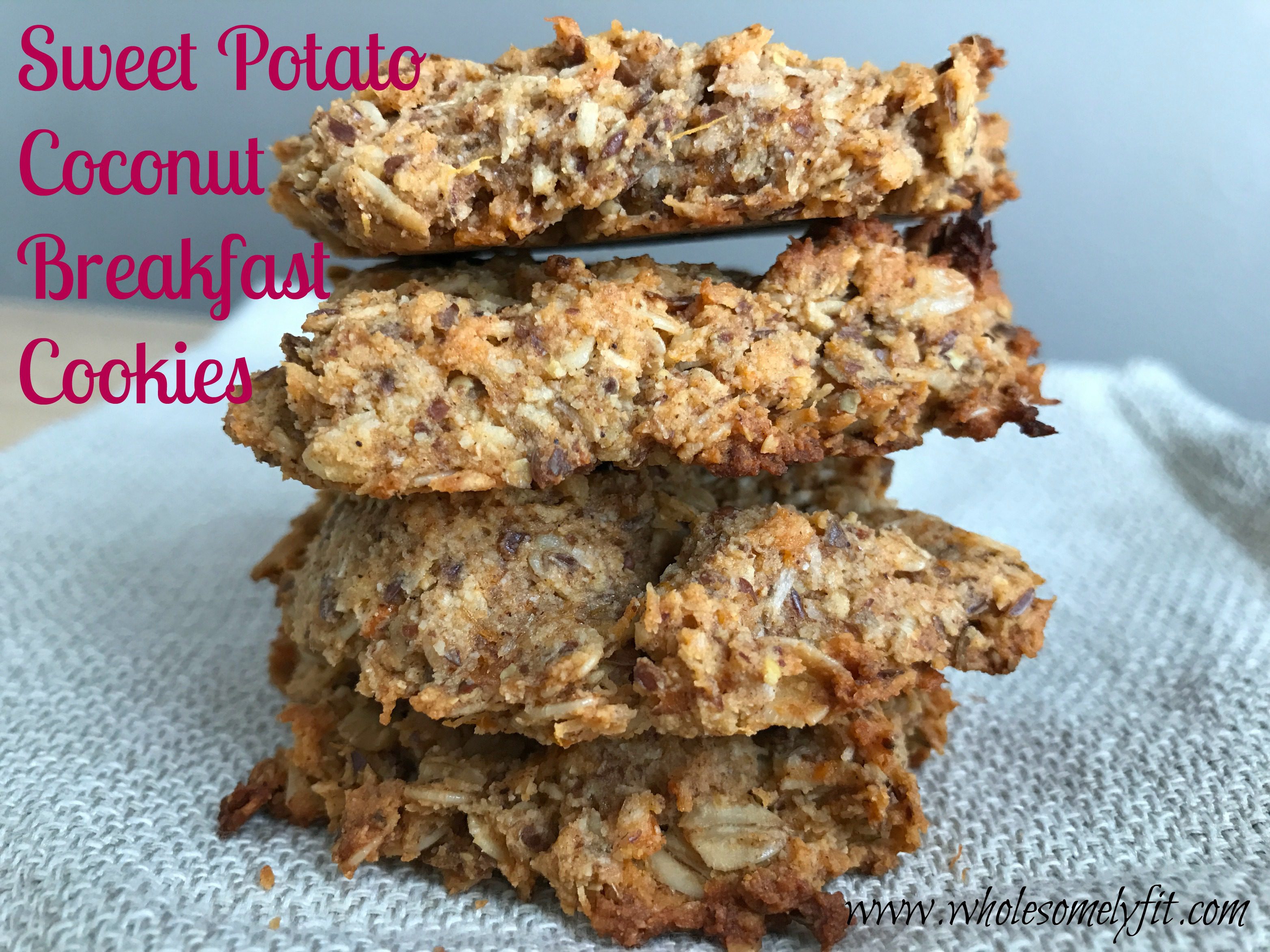 You just don't have to eat these for breakfast. I eat them all throughout the day, but I do love them with some matcha tea in the mornings or while I make my morning smoothie. They are versatile, by adding in dried fruit or chocolate chips, and even nuts. I personally like them with dried tart cherries and walnuts. I do a mixture of plain, dried tart cherries and then nuts, giving some options. My new favorite breakfast cookie and recipe, currently.
If you don't have sweet potato puree, it's easy to use pumpkin puree as well, or just bake a potato and mash. I rarely ever have the puree, but rather keep a stash of baked sweet potatoes in my fridge. I tend to always have sweet potatoes on hand,  because lately I have been using them in everything.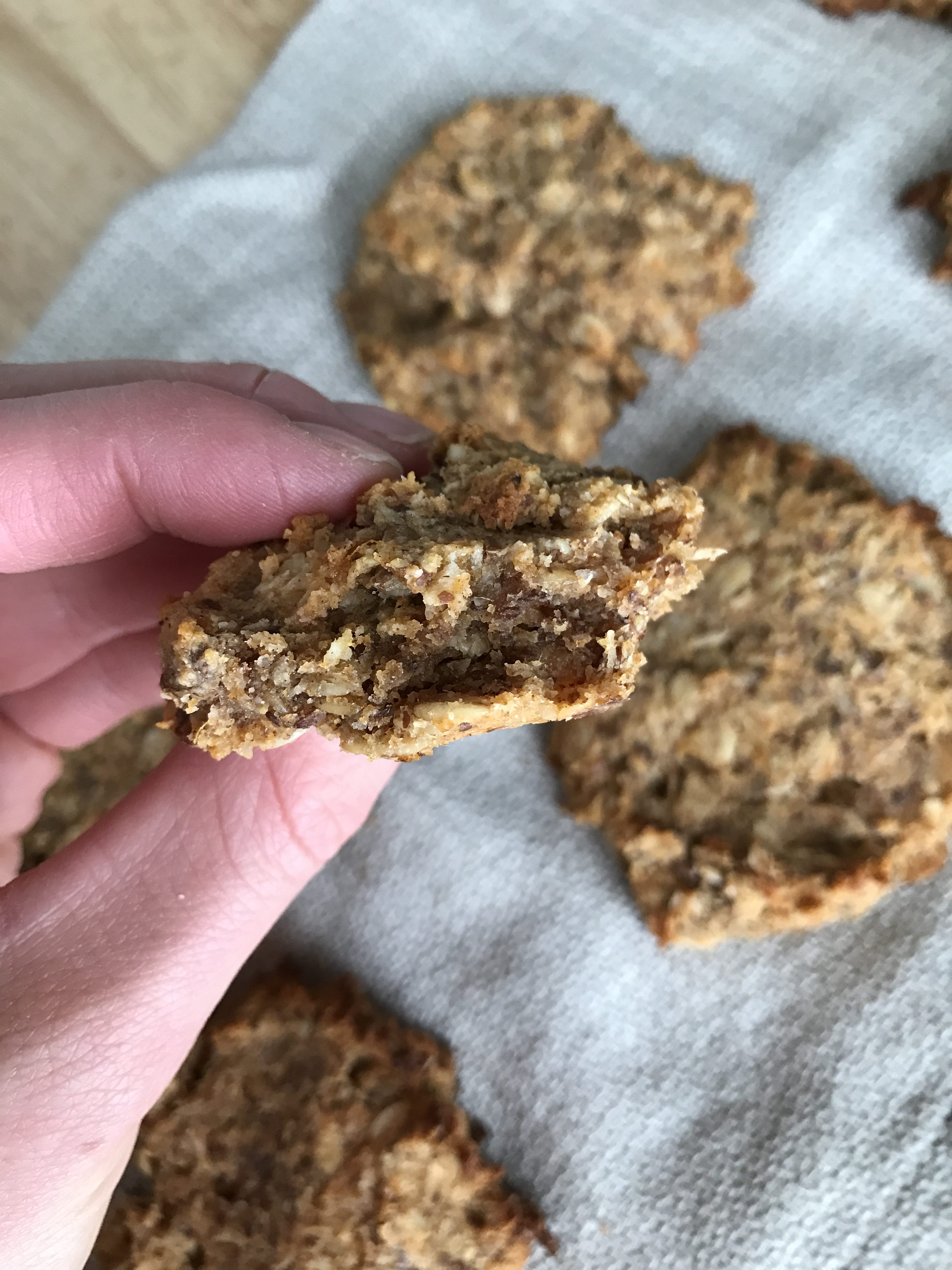 The ground flaxseed gave these cookies the nutritional boost they need with fiber and essential fatty acids, and also helped with texture. Don't try subbing in whole flaxseeds, the consistency is different and ground flaxseeds are better for you anyways. Ground flaxseed is easier for your body to digest, as whole seeds can pass through your intestines undigested. This means you won't absorb any of the vitamins, minerals, and amino acids in the flaxseeds. Ground flaxseeds better resemble flour as well, so it's easier to sub them in for some of the flour in recipes.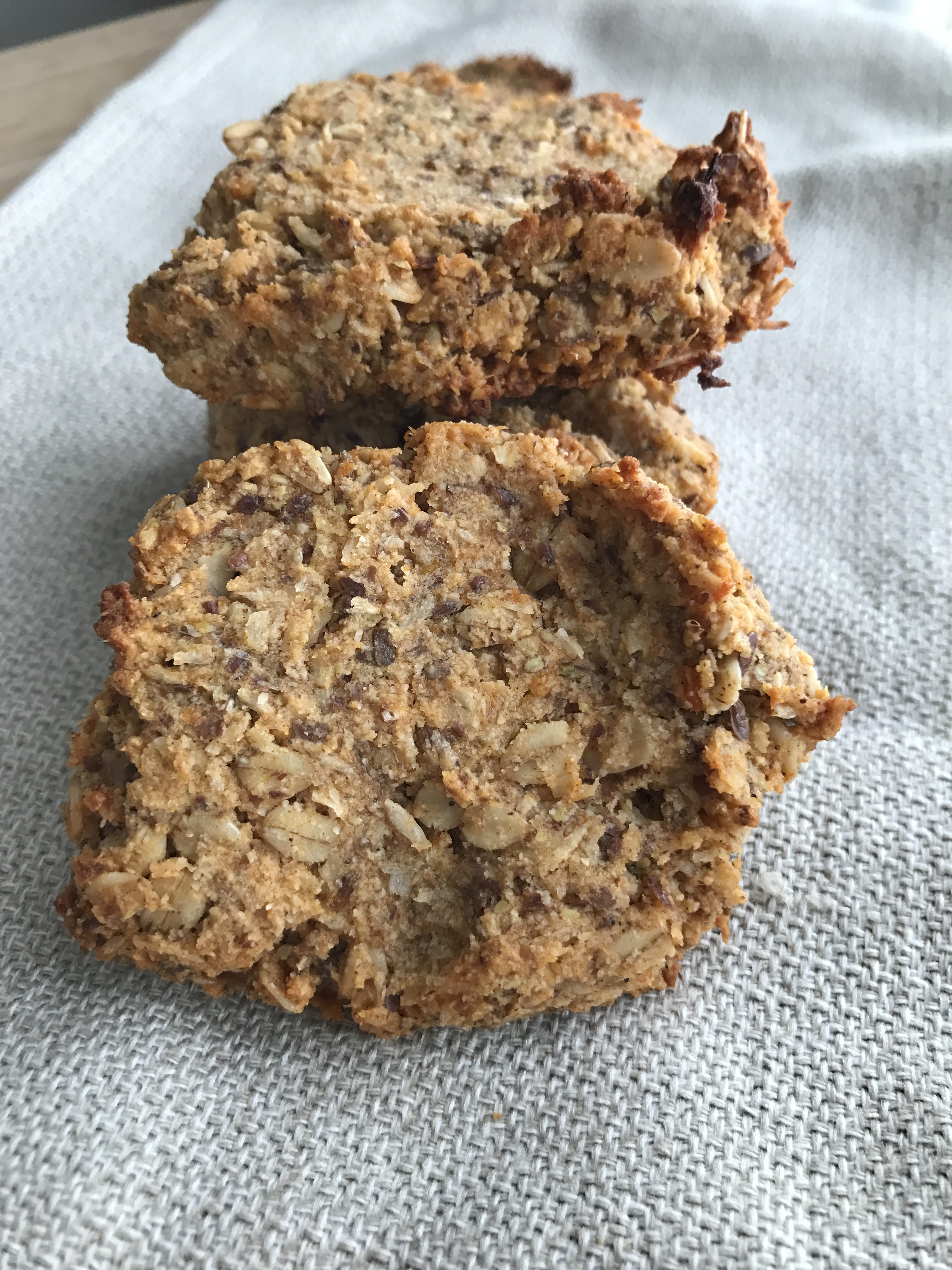 When I created this recipe, I used less flour than I would normally and compensated with the Fort-Flax. I sweetened them with maple syrup, and kept them completely gluten free, dairy free, egg free and sugar free. They remind me of a sweet potato pie with their taste, but a cookie with their texture. It's the perfect combination.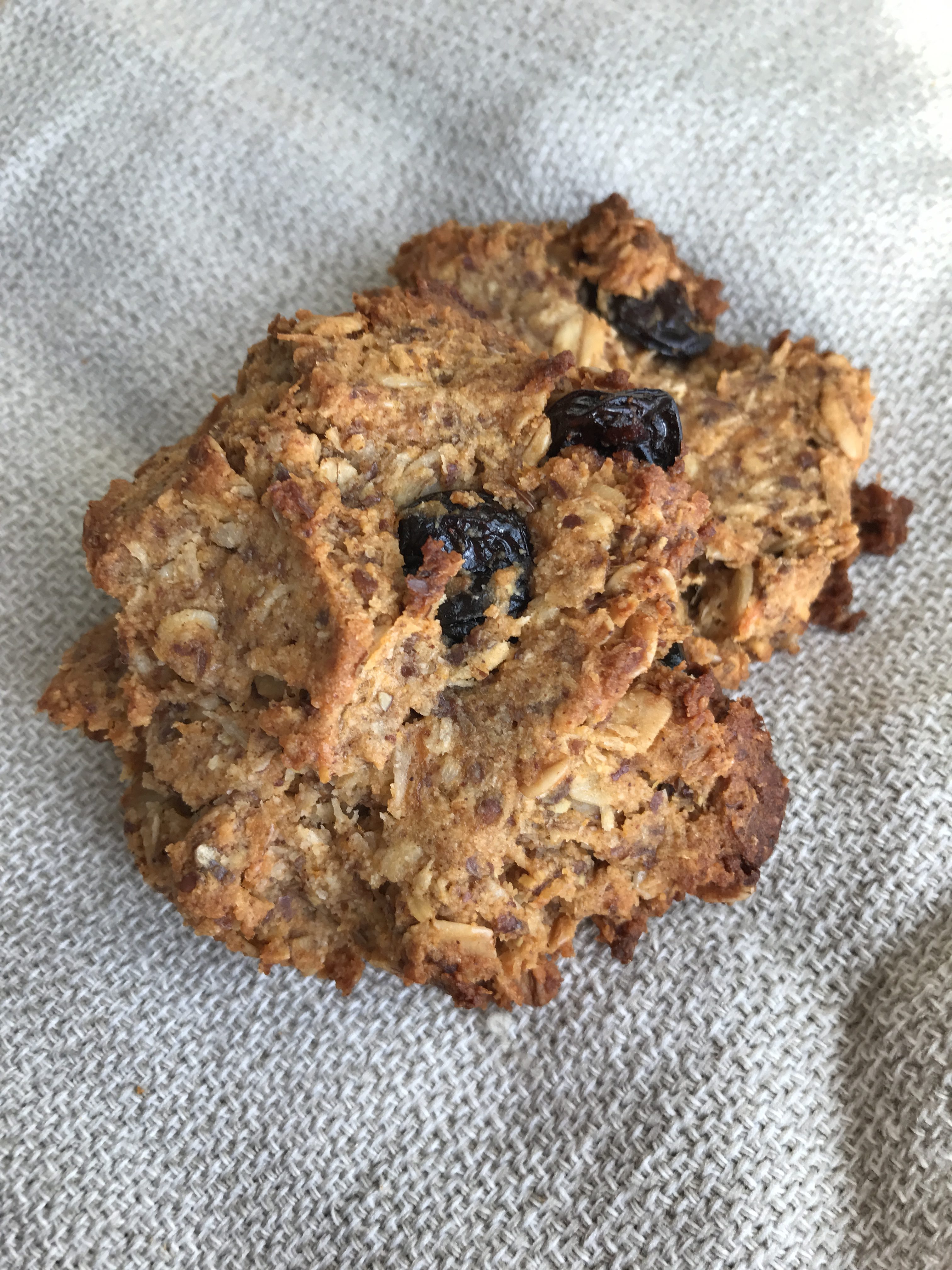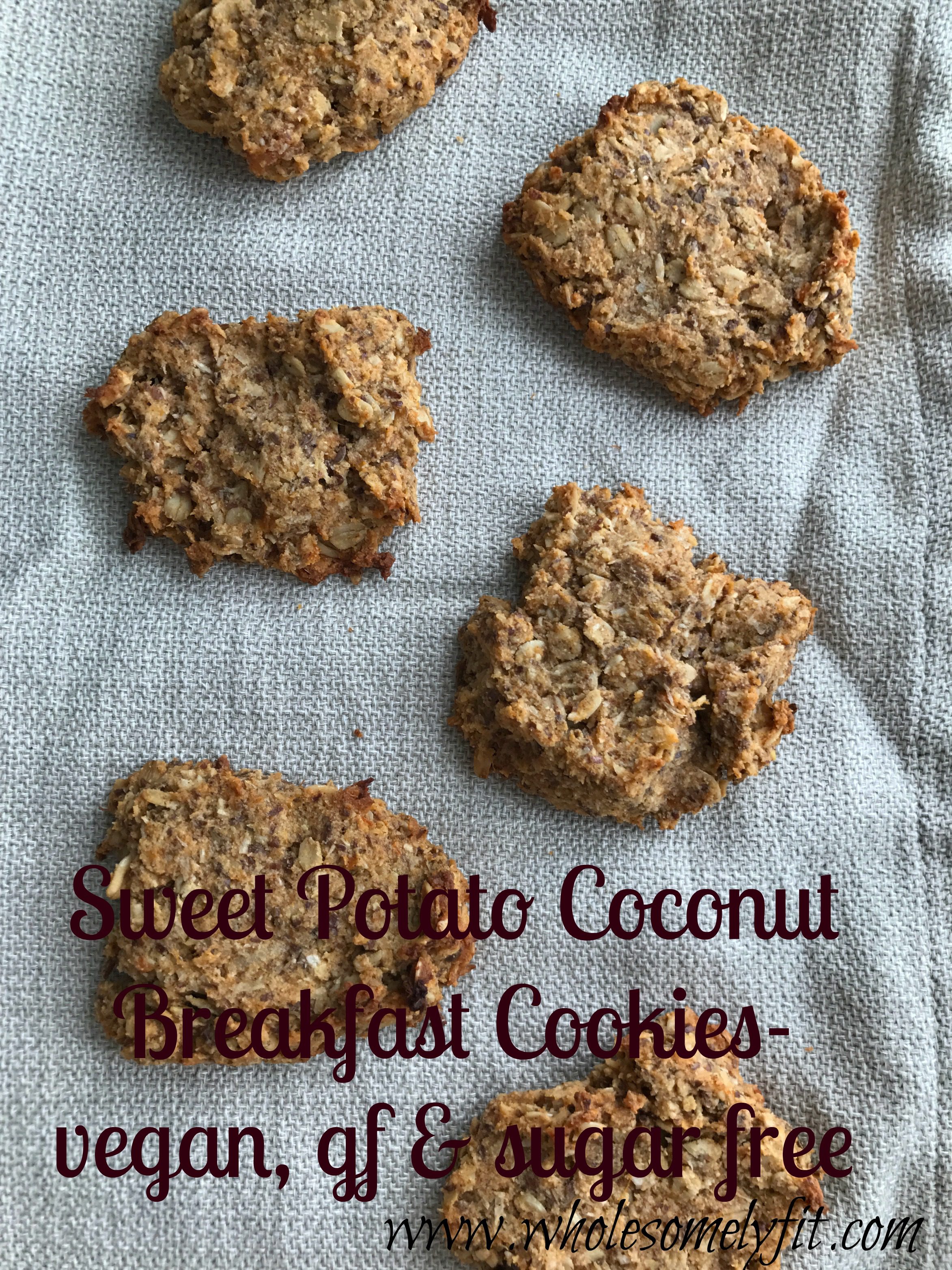 Sweet Potato Coconut Breakfast Cookies
Author:
Bryanna @ wholesomelyfit.com
Ingredients
1¼ c Almond Flour
1½ c rolled oats
¾ c ground flaxseeds (Barleans Forti-Flax)
1 c shredded unsweetened coconut
2 tsp cinnamon
½ tsp nutmeg
½ tsp salt
1 heaping c sweet potato puree (can sub pumpkin puree)
½ c maple syrup or honey
½ c coconut oil, melted
½ - ¾ c dried tart cherries or raisins or chocolate chips or nuts
Instructions
Preheat oven to 350 degrees. Line baking sheet with parchment paper.
In medium mixing bowl, combine all dry ingredients (oats, flour, flaxseeds, coconut, cinnamon, salt & nutmeg),
In small mixing bowl combine sweet potato puree, maple syrup and melted oil.
Add wet ingredients to dry ingredients and mix well with a spoon until well combined. Stir in optional dried fruit or nuts.
Spoon mixture onto prepared baking sheet & gently press to flatten a little.
Bake for 25-30 minutes until golden brown. Allow to cool & store in air tight container in fridge or at room temperature.
Disclaimer: I received compensation in exchange for writing this blog post. Although this post is sponsored, all opinions are my own.
Sweet Potato Coconut Breakfast Cookies with @barleans flaxseed #ad #sponsored #vegan #gf #sugarfree
Click To Tweet
Enter below for a chance to win some Barleans Flax Oil and ground flaxseed of your own, U.S. residents only (sorry). You can enter using the widget below. Make sure you answer the question to unlock more ways to win!! Come back tomorrow and the next day for may chances to win.
a Rafflecopter giveaway
Also, join in on a Twitter party with guest star Amie Valpone, from The Healthy Apple. She is a culinary nutritionist and chef and has a great cookbook or two. The Twitter party is hosted by Barleans, so don't forget to follow them and tune in on March 28th, 1 pm EST.
Enter to Win some ground Flaxseed & Flax Oil from @barleans
Click To Tweet
Until Next Time Be Whole and Be Fit
What's your favorite way to use flax oil or ground flaxseed?