I love the smell of our little herb garden walking up our front steps. It's the first thing I smell when I get home, and it's divine. Basil is one of my favorite scents!! Upon opening our front door, you'll smell peaches or cherries. Lately, we have been dehydrating them like crazy and freezing and canning. Sorry I am currently smelling all these lovely aromas.
A few days ago I was dehydrating our abundance of herbs from our balcony garden and the others from my sisters house. I froze some basil and cilantro as well, and then I thought of other ways to put the fresh herbs to use, so as not to waste any of them.
Pesto!! It's one of my favorites, and it's easy to make a vegan pesto. If you thought you needed dairy for pesto, you most certainly do not. It tastes the same vegan, promise. I couldn't stop eating the sides of the food processor it was so good. I am a fan of avocado pesto, but it doesn't freeze without turning brown; it just doesn't look pretty (still tastes amazing). I wanted a pesto that would freeze well, so I could make big batches of it to have for use when our basil plant is no longer producing as well.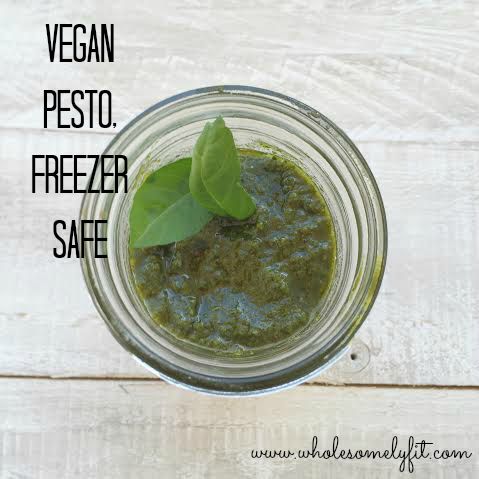 With a few simple ingredients, you can have a great vegan, creamy pesto that's freezer safe. All you need is:
walnuts or pine nuts
olive oil
garlic
nutritional yeast
a little salt
basil.
I told you it's simple. Nutritional yeast, is something all vegans should have on hand. It's a great alternative to many cheesy, dairy laden dishes, such as mac'n'cheese or creamy sauces. It's also a great topping for popcorn.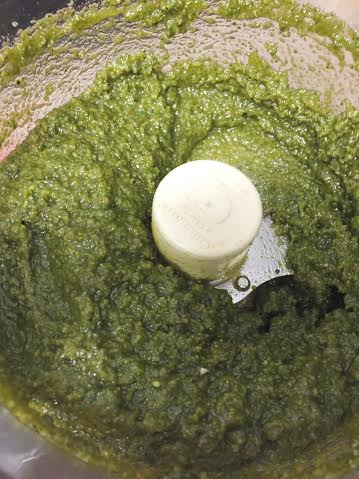 Pictures don't do this pesto justice!!
If you want, you can add sun dried tomatoes to your pesto as well. I made a few batches with and without the tomatoes. I am going to try the pesto with some zoodles (zucchini noodles). This recipe will make enough for about 3-4 pounds of pasta. Freeze in an air tight container. I divided it in little mason jars (4 or 8 ounce), so I don't have to unfreeze the whole lot of it at once.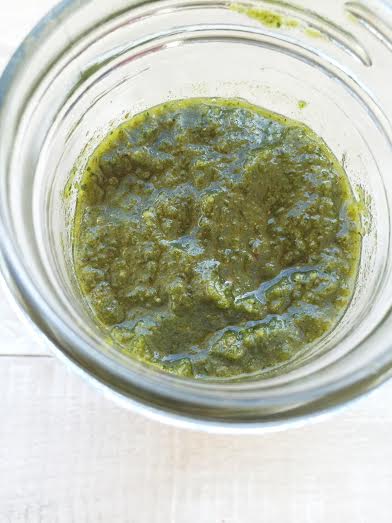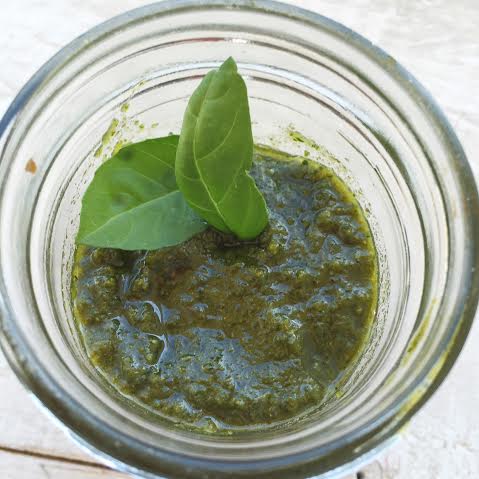 Who knew pesto could be so easy to make?! Okay, maybe you did, but for so long I thought it was too challenging so I would always buy mine. Now I make it like a boss. For some reason, homemade with your own herbs just tastes better.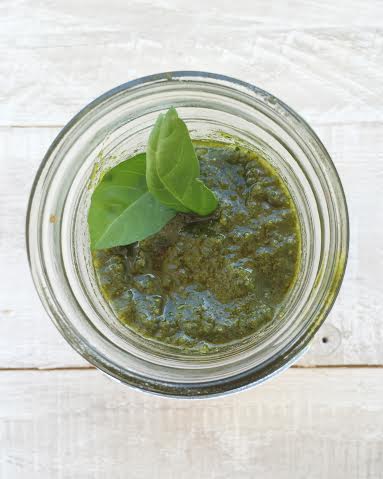 Vegan Pesto You Can Freeze
Author:
Bryanna @ wholesomelyfit.com
Serves:
Enough for 3-4 pounds of pasto
A simple vegan pesto that is freezer safe and takes only minutes to make.
Ingredients
1 cup walnuts (or pine nuts)
2 cups basil, packed
6 cloves of garlic
1 cup nutritional yeast
1 cup extra virgin olive oil
salt to taste
Instructions
In food processor, add the walnuts and garlic, and pulse until chopped into little pieces.
Add the remaining ingredients and puree until a creamy, pesto forms. May have to add a little more olive oil to create the perfect pesto.
Divide into freezer safe containers, or air tight containers. Keeps in freezer for 3-6 months, fridge for up 2 weeks in air tight container.
Hope you've been enjoying the last days of summer. Can't believe school will be starting soon. Although R's not in school, I feel I have a lot to accomplish before school starts. Lots more canning, freezing and dehydrating.
Until Next Time Be Whole and Be Fit
How do you make your pesto? How do you preserve your herbs?