Ever miss an old pair or running shoes? An old model you can't seem to find anywhere from your favorite brand? Or just wish there was an easier way to find the cheapest pair of kicks without searching every website possible that carries said running shoe?
I know I do. I hate having to have 7 tabs open on my web browser trying to compare prices at different retailers, to find the cheapest shoe in my size. It takes so much time. Then there have been times, where I really liked a model of shoe, better then the newest season release, but I can't find it anywhere. Runners have their go to shoe, the shoe they swear is the only one they can wear and they will find it at all costs, even if it means a 2 hour web search for it.
Until recently shoe shopping was tiresome and timely. Running shoe shopping just got easier with Shoe Kicker. A friend of a friend, just launched this amazing tool for runners. Shoe Kicker allows you to search for your favorite model and brand of shoe, in your size, bringing up all the retailers that sell said shoe, so you can chose the cheapest retailer without having to browse each retailers site. I know genius right?! Don't you wish you thought of it first? 😉
At first it sounded tricky, but I tried out the site once it launched last week (because I was uber excited about it when I first heard about it before it's release) and found it easy to operate.
I found my favorite shoe in the size I wanted, with a list of the different online retailers that sell said shoe. You then just pick which retailer you want, which I obviously chose the cheapest, and buy the shoe through said retailer. It's that simple. You REALLY have to try it. It's like every nerdy runners dream. I even feel special that I talked to the founder of ShoeKicker and thanked him for being a genius and making my shoe shopping effortless.
I think most of us runners love finding a good deal on running shoes, especially when we are running through 6 or so pairs a year. It can really add up, so finding the cheapest pair, and also the model I love (even if it's from 2 years ago), is important for me. Thank you ShoeKicker!! I encourage you to give it a try. Whatever running shoe is your favorite, you can find it on ShoeKicker. If I didn't think it was amazing, I wouldn't have shared it, but I wanted to help us running folk out. 😉
I had to share that tidbit before sharing this amazing protein bite recipe, that's double chocolatey, deliciousness. I have been missing my protein bites pre workout, and thought it was time to try a new flavor. Thankfully, the first time making these was a golden ticket, and well received by everyone.
Who doesn't like chocolate?! If you don't, we really need to have a talk. To give them the double, chocolatey taste, I used a plant based chocolate protein powder, some cocoa powder, and some mini chocolate chips. I also added in some Chocolate Brownie Sweet Spreads, but if you don't have this you can just use coconut oil or coconut butter. You should try Sweet Spreads though!! Amazing flavored coconut spread.
Even with all the chocolate goodness, they are low in sugar. The only sugar is found in the protein powder, mini chips, and the sweet spreads. I guess you could add a little honey or agave, but I didn't bother. These bites are gluten free and vegan.
The best part of protein bites, is they are almost effortless to make, but yet so darn tasty!! They keep well in the fridge for weeks, so you can make a big batch of them to get you through a couple weeks of training. Protein bites hit the spot to when I am craving something sweet.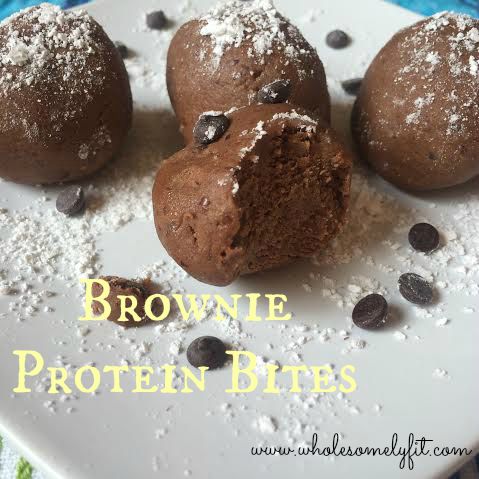 You'll need:
peanut butter / almond butter
ground flaxseed
coconut flour
coconut oil or sweet spreads
chocolate protein (I used Orgain)
cocoa powder
mini chocolate chips (I use EnjoyLife)
almond / coconut milk
Brownie Protein Bites
Author:
Bryanna @ wholesomelyfit.com
Double Chocolate, deliciousness without all the sugar or high fat. Perfect fuel for you next run.
Ingredients
1 c peanut butter or almond butter
1 Tbs coconut flour
1 Tbs cocoa powder
2 scoops chocolate protein powder (I used plant based)
2 Tbs ground flaxseed
1 Tbs chocolate brownie sweet spreads or coconut oil
2 Tbs mini chocolate chips
Splash of almond or coconut milk
Instructions
In a medium mixing bowl, combine all ingredients except mini chocolate chips and milk.
Stir until well combined and all ingredients are mixed in well.
Add the chocolate chips.
Use a splash of milk to help form balls.
Roll mixture into round balls, bite sized (adding more milk to get the mixture to stick if need be)
Store in air tight container in fridge.
Hope you enjoy trying out ShoeKicker while enjoying some brownie bites.
Until Next Time Be Whole and Be Fit
Have you heard of shoekicker? Do you online shop for running shoes? What's your favorite protein bite flavor?