There's something about Fall I just love. The coolness in the air, the crisp mornings, the changing colors, the boot and scarf wearing, and finally the food!! Some foods are best saved for the Fall in my opinion. Like apple cider, hot cocoa, pumpkin breads, soups, pancakes, and drinks, butternut squash, chili. Okay I am making myself hungry.
We had a couple weeks of cooler weather. The mid 60s, low seventies cool (now we are back in the 80s). It felt great. The cool mornings reminded me Fall was around the corner, and made me crave warmer breakfasts and holiday fare. I remembered my new favorite way to make French toast, and the fact I haven't made a big breakfast in months. I've been keeping myself cool with smoothies and overnight oats of chia.
I love French Toast. It's easy to make, even on mornings that aren't Sunday and Saturday (the usual make a big, yummy breakfast mornings in our house). Pancakes are always my breakfast of choice on the weekends when I have more time. Mostly because I didn't think it would be easy to make vegan french toast, until I tried making Egg Nog Pumpkin Cinnamon Swirl French Toast, a holiday favorite in our house for those rare sweet breakfast mornings (it makes me long for winter 🙂 ). Then I found the power of the banana…..
Banana is a great replacement for eggs in most recipes, and also a great sweetener in cookie, bread, and cake recipes. Why didn't I think of that before? Now French Toast is just as easy for a vegan. Substitute the banana in place of the egg, pour in some milk and sprinkle in some spices and there you have it: your French toast mixture.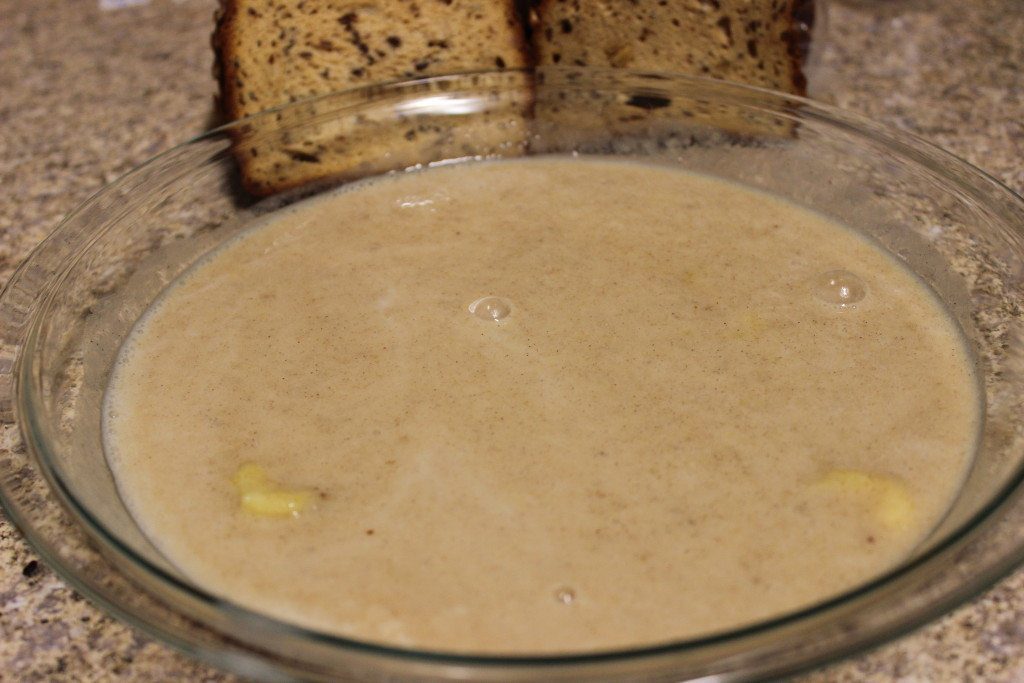 French Toast is easier than pancakes in my opinion, not to dis on my pancakes, because you know I love them, and it's a great way to spruce up the typical toast for breakfast. Just adding a nice cinnamon, banana coating and frying, makes this breakfast seem like more of a treat.
I found this GF bread at Costco that I am in love with!! You have to try it. It's especially great toasted, topped with peanut butter or coconut oil (great replacement for butter). GF bread is much better toasted in my opinion, because it's usually so dry, but this bread is great un-toasted because it's texture is more like breads soft texture. Love it!! It does contain egg whites though, so if you are vegan, you'll have to use a different bread. There are many great GF bread options.
All you'll need is :
GF Bread or the Bread of your choice
banana
almond milk
cinnamon
nutmeg
vanilla extract
We enjoyed these last fall and winter, and I thought it was a recipe worth sharing, just in case those with egg allergies have never enjoyed French toast!! Now you can!!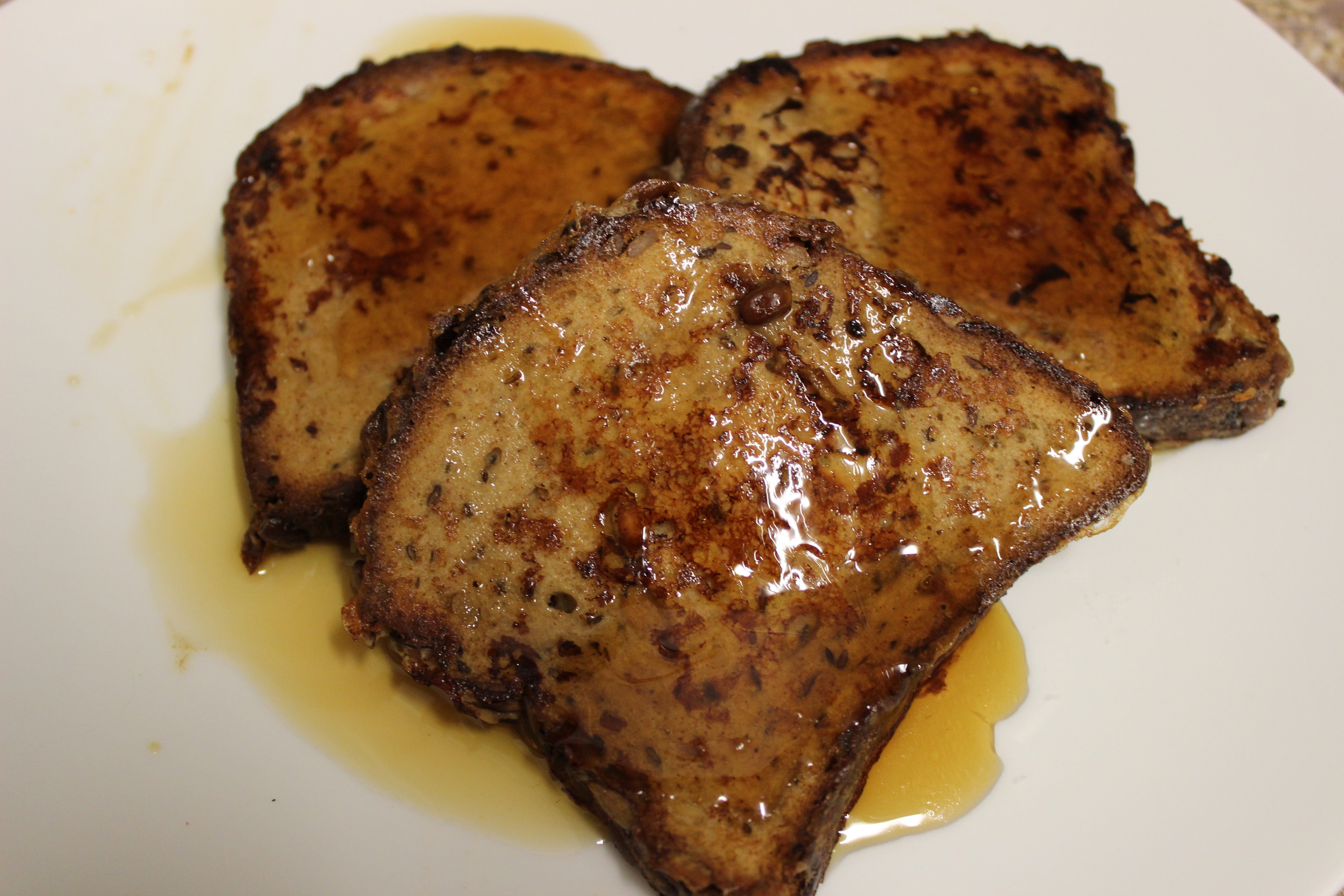 Vegan GF French Toast - now vegans can enjoy a breakfast classic - via @wholesomelybry #breakfast #vegan #GF Click To Tweet

Vegan & GF French Toast
Serves:
12-14 French Toast Slices
Vegan French Toast is simple to make substituting eggs with banana. One of Marc and I's new favorites.
Ingredients
1 ripe banana
¾ c almond milk
1 tsp vanilla extract
2 dashes of nutmeg
1 tsp cinnamon
12-14 slices of GF Bread of your choice
Instructions
In blender, puree all ingredients until smooth (except the bread of course). You want it to be a thicker mixture.
Pour mixture into a pie dish or flat dish big enough for dipping bread slices.
Dip slices of bread into the "egg" mixture, coating both sides of bread and place on a lightly greased griddle or in a greased skillet.**
Once browned on one side, flip bread and brown on the other side.
Enjoy topped with coconut oil, maple syrup or agave, with powdered sugar sprinkled on top (if you want to splurge a little).
**If using griddle turn temperature to 300-325 degrees. If using skillet cook over medium heat.
Store leftovers in the fridge and reheat in a toaster oven or oven, or if you use the microwave you can do that too. Marc and I had leftovers for breakfast the next day.
Hope you enjoy this recipe as much as we do. You'll kids will appreciate a nice breakfast before school, that's not time consuming. They store well in the refrigerator if you allow them to completely cool before storing in an air tight container. Just heat in the toaster oven or microwave, and top with your favorite toppings.
Until Next Time Be Whole and Be Fit
How do you like to top your French toast? What's your favorite part of Fall?