It's a sunny Friday today in the Inland Northwest and it's making my Spring fever only worse. We have lots planned for the weekend with a half marathon, my sisters birthday and we are helping my sister tear out her floor to prepare for new flooring. Thankfully I have kid duty 😉
My sister has been on my case about making cream cheese stuffed banana bread. She saw a picture on Facebook a few months ago, and she hasn't been able to stop talking since. I told her it would be easy to do. She asked if it was healthy, and I told her I doubt it. Really it's not the worst you could be eating, but there's definitely sugar, and cream cheese is in high in fat being a dairy.
My goal was to try to make a recipe with less sugar, for a least a lighter on the sugar treat. It's banana bread though, and every now and again you just need a little indulgence. After all, it's her Birthday Week. In our family we are all about the birthday week.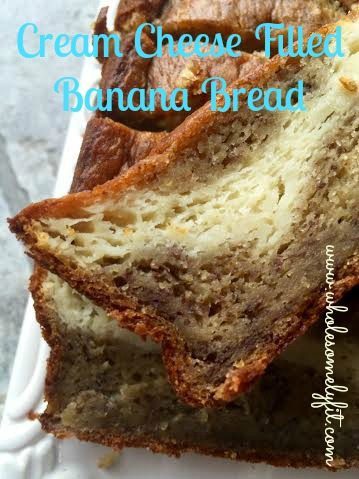 I didn't make this gluten free or vegan, as it was my first time attempting a cream cheese fill and it was for my sister to enjoy. I wanted to make sure it was going to work on the first attempt, and going gluten free is always hard to nail the first time around.
You could easily make it Gluten Free by using a GF flour blend and if you want to go vegan replace the egg with applesauce and the greek yogurt with a vegan based yogurt. Most recipes call for sour cream for a more moist bread. It helps so it's not dry. Greek yogurt is a healthier option, with less fat. It still has the good fats. Try to look for a plain variety with lower sugar. I like Chobani personally.
This recipe makes 2 loaves, and I used about half the sugar that would typically be used in most banana bread recipes. The banana adds some natural sugar. You could also use coconut sugar or honey for a healthier sugar option as well. The bread was a hit for everyone, and the cream cheese does add a great flavor boost. I actually enjoyed it. I like the cream cheese spin on it, so I am happy my sister requested some for her Birthday Week.
Cream Cheese Filled Banana Bread, a twist on the original version via @wholesomelybry #bananabread #baking Click To Tweet
I froze one loaf for taking home to Montana to share and tried to only have one piece of my sisters, but I will be honest it's too good for only one piece. It's the perfect moist bread, great warm out of the oven or cold. I like to store mine in the fridge, it keeps it more moist as well. Give it a try. I think it would make for a great french toast too!! May have to try that. Don't want or need two loaves? Just half the recipe.

Cream Cheese Filled Banana Bread
Author:
Bryanna @ wholesomelyfit.com
A moist, cream cheese bread with a great banana flavor.
Ingredients
2 eggs
¾ c brown sugar
⅓ c sugar in the raw (organic raw sugar)
½ c + 1 Tbs Greek yogurt
4 tsp Vanilla Extract
½ c grapeseed oil (or other oil)
4-5 bananas, mashed
2 c all purpose non bleached flour
1 tsp baking soda
1 tsp baking powder
Cream Cheese Filling
1 package cream cheese (8 ounce)
2 eggs
¼ c + 2 Tbs flour (unbleached) (or 6 Tbs)
¼ c raw sugar
Instructions
Preheat oven to 350 degrees.
In large bowl stir together sugars, eggs, yogurt and oil until well combined.
Add in the mashed bananas and vanilla, and stir together.
Finally stir in the flour, baking powder and baking soda. Set aside.
For the cream cheese filling, in a medium mixing bowl, mix together all ingredients until a somewhat fluffy and thinner then frosting mixture forms.
Divide the mixture between two pans and pour half the bread mixture into a prepared greased and flour bread pan.
Divide the cream cheese filling and pour on top in both bread pans and smooth into the corners. Cover with the remaining bread mixture, smoothing over.
Bake for 48-50 minutes. Cool for 30-45 minutes before cutting.
Enjoy.
Hope you all enjoy your weekend!! And make sure to tune back in next week for more on sugar (after you've enjoyed some of this bread 😉 )
Until Next Time Be Whole and Be Fit
What are your plans for the weekend?