I would like to think that banana bread can be a holiday treat. It's that bread that is welcomed any time of year. You can add in chocolate chips to give it the pizzazz it needs or to satisfy the chocolate lovers in your family, or you can add in peanut butter or a little nutmeg and cinnamon to create a more seasonal enjoyment.
It seems someone in our family or a neighbor loves to receive the traditional banana bread, and because I like to put a spin on anything traditional, I would try using some new ingredients and adding in some chocolate.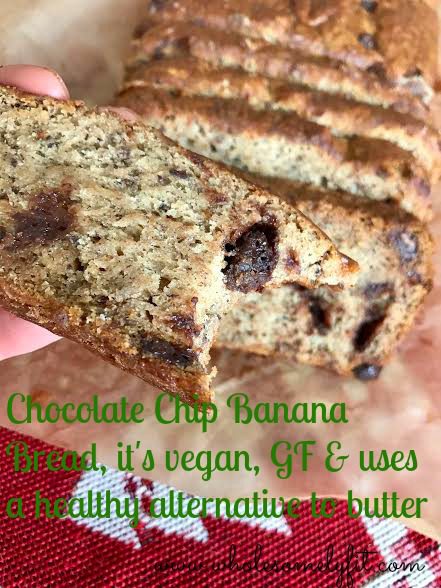 I remember my grandma's banana bread, it was sweet, moist but yet fluffy and unfortunately calorie laden. I didn't care though, because there was something about grandmas baking I couldn't resist, even my more health conscious, health educated self finds it hard to resist. She would use sour cream in it to give it a richness and loads of sugar. She still does. It's hard to find a more healthful version of banana bread that gives me the same satisfaction of my granny's. I have been trying for years and I think I finally nailed it, thanks to some great products from Barleans.
Disclaimer: I received compensation in exchange for writing this blog post. Although this post is sponsored, all opinions are my own.
As part of the A Barleans Holiday, I partnered with them for some fun challenges. It was easy to say yes to some new products, because I already use their products and love them. From their Omega Swirls and Fish Oil to their Coconut Oil and Chocolate Greens.
I wanted to try their new Coconut Butter. It's a butter flavored coconut oil that can be substituted cup for cup for butter, and you don't have to worry about flavor change in your baking or weird texture. Try it in brownies, cookies or this great Chocolate Chip Banana Bread.
Around here bananas are always going bad, but I love using them in my baking, and it was perfect timing for trying the new Barleans butter flavored coconut oil. Coconut oil is a great source of medium chain triglycerides (MCTs), a nutritionist's favorite saturated fatty acid, and only favorite saturated fat. Saturated fats are typically converted to fat, but MCT's are converted to energy, and who doesn't need more energy during the holiday season?! This busy mom does. You don't have to worry about a coconut flavor. Tastes like butter and smells buttery. It's great on popcorn!! I had to try it on popcorn.
It's perfect for dairy allergies, as it is dairy free, soy free and gluten free. You can melt it like butter or keep it solid. The only thing I found hard, was if adding cold ingredients to your baking mix, it can make it harder for the coconut oil to mix in, unless you have warmed it a bit. Although there were some chunks of oil in my mix it baked fine. There's not much I didn't like about this product. It was perfect. I liked not having to worry about altering my baking and other ingredients. I could trust it would work cup for cup, and it has.
Next I tried Barleans flax chia coconut blend. I used this for a substitution for eggs. This nutritional blend is high in omega-3's, with fiber, minerals and plant based protein. Again you can use the blend in baking, or for topping salads or blending in smoothies. It worked great for an egg substitution, without changing my banana bread flavor. The bread turned out moist, great texture, no crumbles and rich. Darn near close to my grandma's recipe, but with some health benefits.
Healthy baking is sometimes obtainable and I loved the butter flavored coconut oil. Coconut oil helps with weight loss, energy and supplies healthy fats. All of the above great for the Christmas season. And Barleans always uses the best sources for all their products. I don't have to question any of their ingredients, as they value quality!! I like to say "choosy moms chose Barleans!!" Always non-GMO and certified organic.
Chocolate Chip Banana Bread, Vegan & GF
Author:
Bryanna @ Wholesomelyfit.com
A recipe darn near close to grandma's banana bread.
Ingredients
3 ripe bananas
½ c Barleans buttered flavored Coconut OIl
½ c almond milk
¾ c organic raw sugar or coconut sugar
2 Tbs Flax Chia Coconut Blend from Barleans + 6 Tbs water
1 tsp vanilla extract
1½ c GF flour blend
1 tsp baking powder
1 tsp baking soda
½ tsp salt
½ c chocolate chips (optional)
Instructions
Preheat oven to 350 degrees & grease a 9x5 inch loaf pan or line with parchment paper.
In a large mixing bowl combine all the wet ingredients: coconut oil butter, vanilla extract, bananas, almond milk, flax chia coconut blend + water, and the sugar. Mix until well combined.
Next stir in the dry ingredients, except for the chocolate chips, and stir until well combined.
Stir in chocolate chips. Pour mixture into prepared loaf pan.
Bake for 50-55 minutes, or until done.
A Healthy Holiday -Vegan & GF Chocolate Chip Banana Bread #ABarleansHoliday #barleans #ad #sp
Click To Tweet
So try the butter flavored coconut oil on top of toast, in your mac'n'cheese, for sauteing or for baking those great holiday treats. Surprise some friends with some vegan baking without sacrificing taste and texture. Try it in brownies, pumpkin breads, frosting, etc.
I loved it in my sauteing. I don't mind coconut oil in my stir fry's, but the butter flavored coconut oil gave it a more traditional taste. So go ahead wow some friends and family this holiday season, when they ask for your secret ingredient. 😉 Give your holiday a fun healthy addition. And don't forget to try my vegan, gluten free Chocolate Chip Banana Bread. 
I am going to share a baked cauliflower recipes using the buttered flavored coconut oil. Cauliflower is great to use as a rice or as a potato alternative. I'll let you know how it goes.
Until Next Time Be Whole and Be Fit
Have you tried Barleans new butter flavored coconut oil?