What do you you do when you have tons of bananas to use up? If you are anything like me, you bake. I freeze bananas for smoothies and for ice cream, but I already had a stockpile in the freezer, so I thought I would try a flourless muffin and bread recipe. I also made my famous Chocolate Mini Cakes as well, adding a little mint to them because it is my husbands favorite.
And of course I put some in the freezer as well. The bread and muffins were more an experiment. I wanted something that was flourless, because sometimes gluten free flour just doesn't work, especially the first time around, and I wanted something with only a few ingredients. Sometimes you just don't want to have to have a long list of stuff in your baking. Mainly I didn't want to have to go make any special trips out of the house. It was a rainy day, and I thought it would be perfect for baking.
R made for a great help, and she loved it. She got to wake up to the fruits of her labor.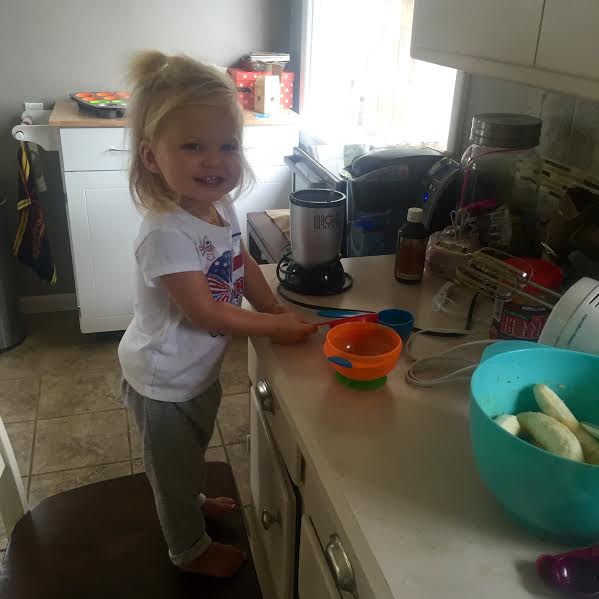 Flourless Banana Bread & Muffins
All you need is 7 ingredients to make both the bread and muffins. I used the same recipe for both, so feel free to make bread or muffins using this recipe. There were only a few changes with the oven temperature and time between the two.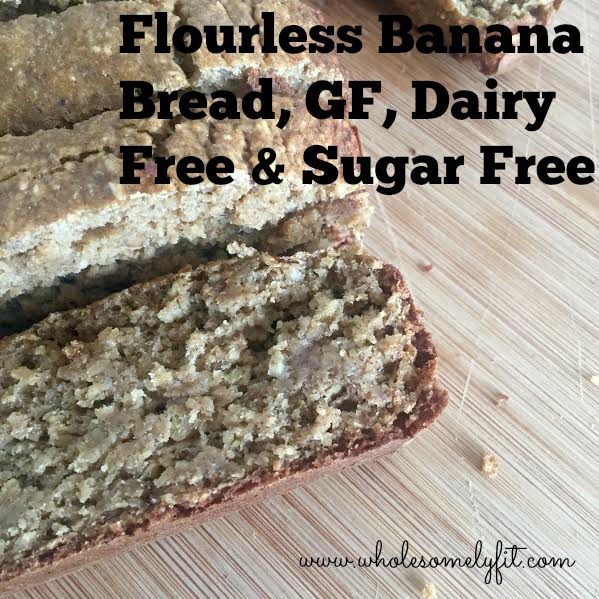 If you have 5-10 minutes to prep and 20 minutes to bake, you can make this recipe. The muffins are perfect for breakfast and as with nearly everything I make, easy to freeze. I didn't want anything high in sugar, since bananas already contain enough sugar, especially when ripe, so I only added 1/4 cup of coconut sugar. You can use maple syrup or honey.
The bread and muffins are gluten free, dairy free and sugar free (besides the coconut sugar, a better form), but they are not vegan. I did use eggs for this recipe. I am sure you could try applesauce, replacing 1/4 cup applesauce for every egg or you could do flax eggs.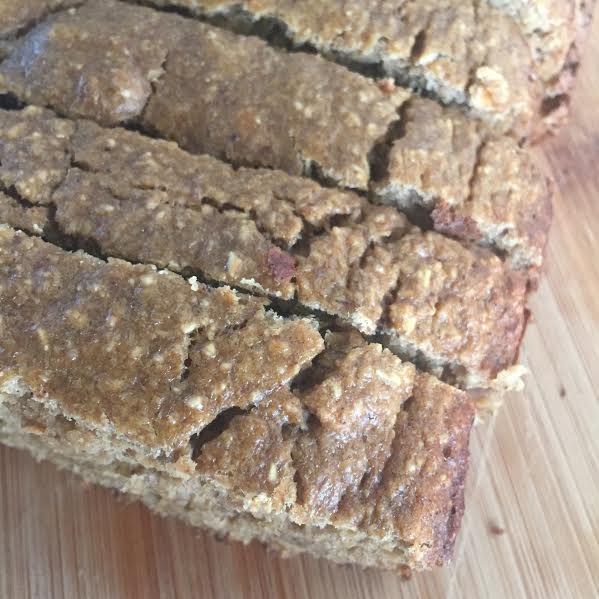 Here are the yummy muffins!! I topped a few with mini chocolate chips, which would be great in the bread as well or as a topping on the bread, but you know me and my love for chocolate. The bread and muffins are light and fluffy, and not so sweet it makes you sick. I love the subtle sweetness.
Flourless Banana Bread & Muffins
Author:
Bryanna @ wholesomelyfit.com
Serves:
1 loaf or 12 muffins
A 7 ingredient easy banana bread and muffin recipe, that's not dry.
Ingredients
3 ripe bananas
1½ c oats
2 eggs
1 tsp baking soda
¼ c coconut sugar, maple syrup or honey
½ tsp vanilla extract
¾ tsp cinnamon (optional)
Instructions
For bread preheat oven to 350 degrees, for muffins preheat to 375 degrees.
Line 9x13 inch bread pan with parchment paper or grease well. For muffins, grease muffin pan or line with muffin cups.
Place all ingredients in a blender and process until smooth and the oats are broken up and well blended.
Pour mixture into prepared bread pan. For muffins pour mixture into individual cups, about ⅔ full. Top with mini chocolate chips (optional)
Bake bread for 20-25 minutes (until toothpick comes out clean). For muffins bake for 10-12 minutes.
Store bread and muffins in air tight container in the fridge once cooled.
Enjoy Friends!!
Until Next Time Be Whole and Be Fit
What's your favorite way to use ripe bananas?