I am finally back into my baking kick!! 😉 It's been awhile for me. I haven't been in the kitchen creating new meals and treats for quite some time. With my grad school and new baby, I stuck to easy, already been done before recipes.
I thought I should make use of all my grain free flours and gluten free flours, so I decided to bake. I had some banana that needed to be utilized and was craving a muffin with less sugar, that was vegan and gluten free and still moist.
These would be great for a Mothers Day breakfast in bed, paired with moms favorite morning meal. Or a great addition to Mothers Day brunch. Even if moms not gluten free or vegan, these will still be a hit. You can freeze any left overs for a quick snack or breakfast, or store in an air tight container in the fridge.
I kept the ingredients simple and only used one bowl in the process for less clean up and quick prep. It was busy this past weekend, and these muffins came in handy for tiding us over while running errands and working. I tested them on my picky nephew, my sister, and a friend who was in town working the Bloomsday expo. They couldn't believe they were gluten free and still moist. It's hard not to compromise taste when going grain free and gluten free, so I was thankful these turned out.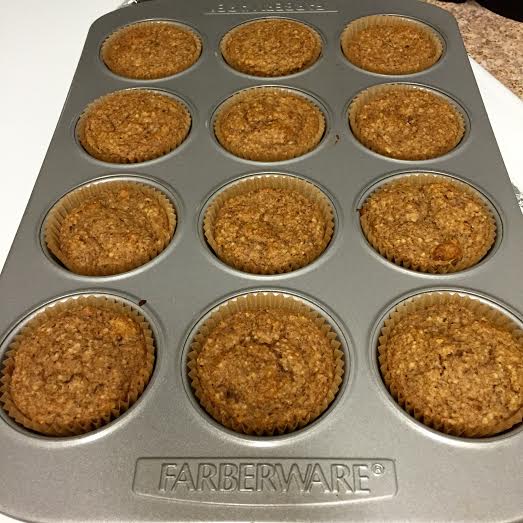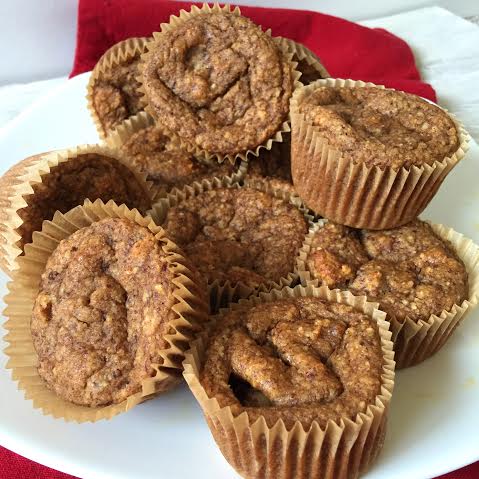 My secret is a little unsweetened applesauce!! I kept the sugar low, using honey to sweeten them. I find that with the applesauce and banana you don't need to add much sugar. Bananas are naturally sweet and so is applesauce. These muffins are packed with healthy fats from the ground flaxseed and walnuts.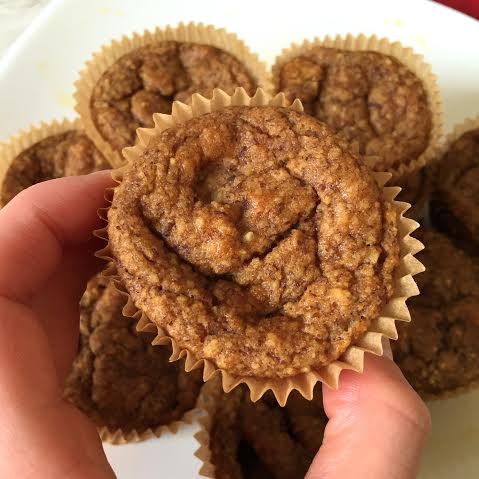 I think I found my new favorite banana muffin recipe. It was a while in the making. They are great right out of the oven with coconut butter or peanut butter and great served cold. Hope you and your family enjoy them as much as we have!!

Banana Nut Muffins
Author:
Bryanna @ wholesomelyfit.com
A grain free muffin, and also vegan, sweetened with sugar. Great for a post workout snack or paired with brunch.
Ingredients
3 ripe bananas
3 flax eggs (3 Tbs ground flaxseed + 9 Tbs water)
½ c unsweetened organic applesauce
½ c almond milk
2 tsp vanilla
⅓ c honey
1½ tsp baking powder
1 tsp baking soda
½ tsp salt
2 tsp cinnamon
2 c almond meal (or flour)
1 c oat flour
1 c walnut pieces
Instructions
Preheat oven to 350 degrees. Line a muffin tin with liners or spray with nonstick oil.
In a large bowl add the flax eggs and let stand for a few minutes. Beat in bananas.
Add in the almond milk, vanilla, applesauce and honey, and mix until well combined.
Next add all the dry ingredients, except for the walnuts, adding the almond meal and oat flour one cup at a time. Mix well (make sure flour is well mixed in).
Stir in the walnut pieces.
Pour muffin mix into individually lined muffin tins, filling each tin about ½-2/3's full.
Bake for 25-30 minutes.
Allow to cool for 5 minutes before removing from the pan. Store in an air tight container in the fridge.
Have a great Mothers Day weekend and Happy Mothers Day to all the amazing moms!!
Until Next Time Be Whole and Be Fit
What's your favorite muffin? Any plans for Mothers Day weekend?