2021 is now well underway. I haven't even written my post on what my word for the New Year is, even though I have my word. It seems life has shifted in many ways for me, where priorities have changed.
I have had to focus my attention and time to other areas as I have stepped into a new season of my life, Maybe it's four kids or the various job titles I hold, but a definite shift has occurred.
Those who know me, know that I love planners. They give my days structure, which is needed when you manage a few part time jobs, your own business and home schooling. Mainly they provide me with my "to do list" so I don't forget all my tasks. I am constantly forgetting things…including to finish my lunch!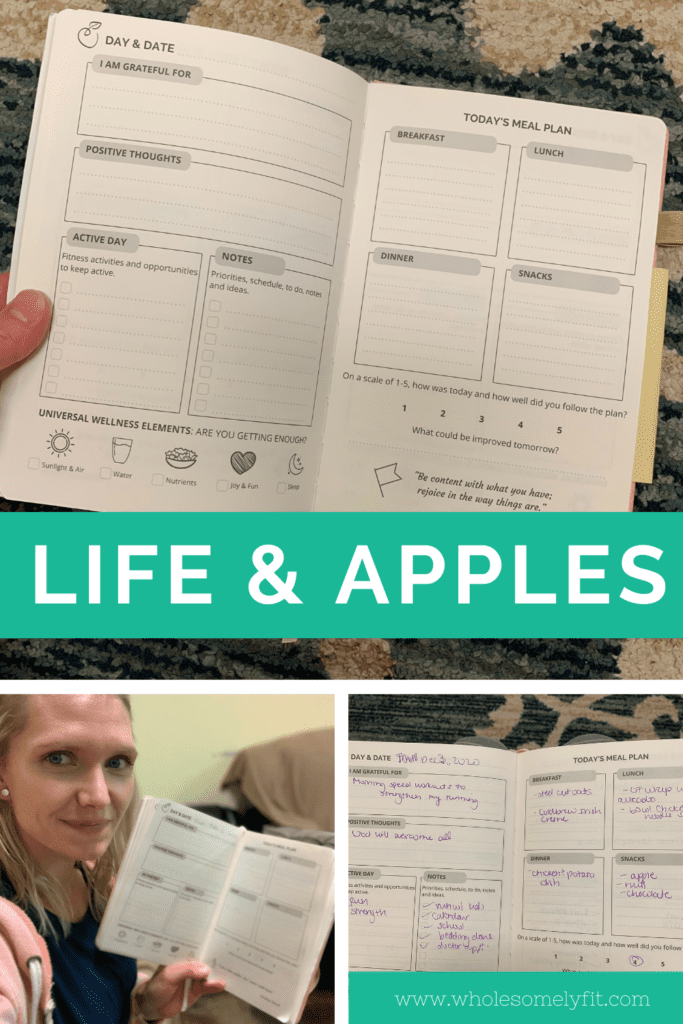 That is where Life & Apples came in. I was very excited to try "Life & Apples" wellness planner. It's a planner dedicated to living well. A self-care journal, meal planner & food journal all in one!! A place to list your health goals, to provide a place for recording my eating habits and meals. This was especially helpful in navigating my post-partum journey.
As I have mentioned on my social media, our 4th child has had digestive issues. I have had to change my diet drastically to help ease his symptoms and distress. I am happy to report he is doing much better, now being 6 months. This is in part due to my change in diet, as well as his "growing up" and improving his digestion system.
This wellness planner from Life & Apples provides me a place to record my meals everyday. I can then pinpoint the foods that were culprits to his fussy nights/days or his constant throw up. I have found that gluten, dairy, coffee, spicy foods, cruciferous veggies, some berries, oranges, tomatoes and eggs cause him distress. Thankfully as he gets older, I can add some of these back in small doses.
You don't have to use the planner for post-partum feedings. I also use it to record goals for the week, month and my important tasks. It also provides a place for monitoring my "calories." As a nursing mom, who runs high mileage, making sure my calories are up is important. Life & Apples provides a place to check-in on my hydration and food choices.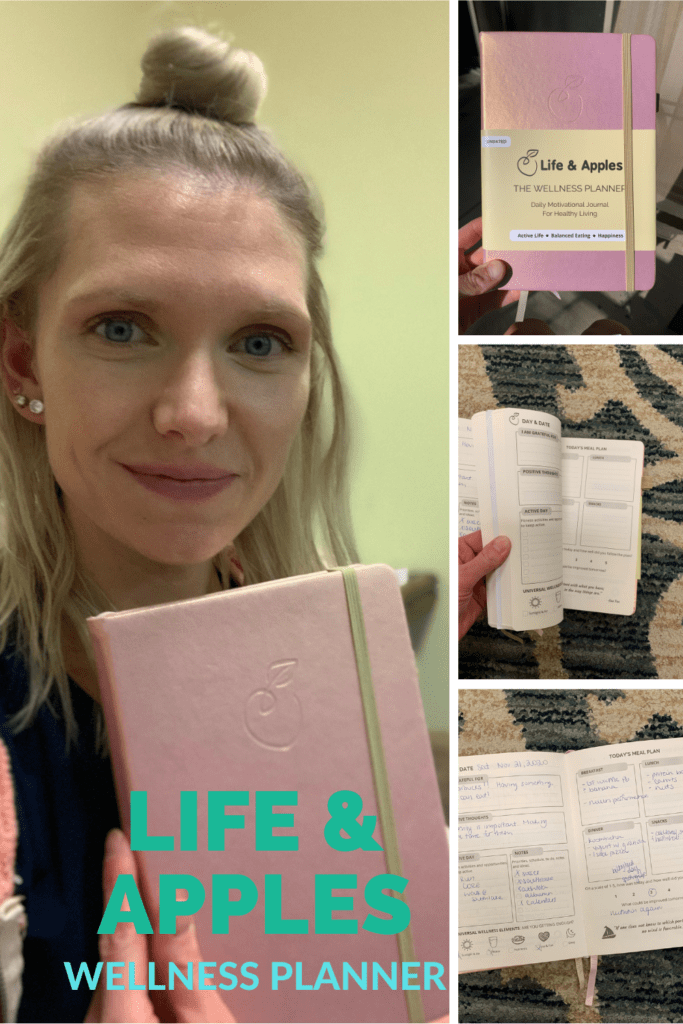 You can use it how it best fits your life. Maybe you are looking to change your lifestyle and create healthy habits. Use it to tract your new goals and to help provide accountable, a food journal. Or maybe you need to have a way to "check-in." You can track habits and find what you need less of or more of.
I also love writing the daily affirmations and what I am grateful for. Having this provides a healthy mindset. I find it helps me start my day with an attitude of gratitude.
It's undated, so you can check-in for a few weeks, writing in your dates, and take a few weeks off. I do it like this to give me a breather if I need it. After every week you can check-in to see where you made your goals, and where you may have missed them. This helps in preparing for the next week and provides areas that need more work.
If you are looking to get your health back on track or maybe just need some accountability and stability, you should definitely try Life & Apples. Find them on amazon here. There are options to fit your needs.
Use code "WHOLESOME" for 15% off your order at Life & Apples now.
Until Next Time Be Whole and Be Fit