This is one of my favorite summer salads. Who would have thought that watermelon on greens would be so tasty. Watermelon is one of those great summer finds, and it's finally in season here in the Inland Northwest. Watermelon isn't actually in season until later summer, and at it's best late August. Most individuals think it's in season during the 4th of July, but it actually isn't in the Northern climates.
I was happy to find one in season finally a bit early, and it helped to quench some pregnancy cravings of something refreshing and cold. Watermelon does just the trick, and is actually great frozen as well. Since watermelon is in season, it's been a staple around my house. Fresh watermelon juice is great, watermelon added to fruit salads, just plain watermelon, and surprisingly adding watermelon to salad is appetizing and refreshing.
Did you know watermelon is high in lycopene, a phytonutrient with cancer fighting properties and anti-inflammatory properties? It is high in antioxidants and high in vitamin C, B6 and A. Perfect for boosting the immune system and fighting free radial damage, which is abundant in the summer with excessive sun exposure. You get 25-30% of your recommended daily amount of vitamin A and C in 2 cups of watermelon. It also has some iron as well. This makes it great during pregnancy.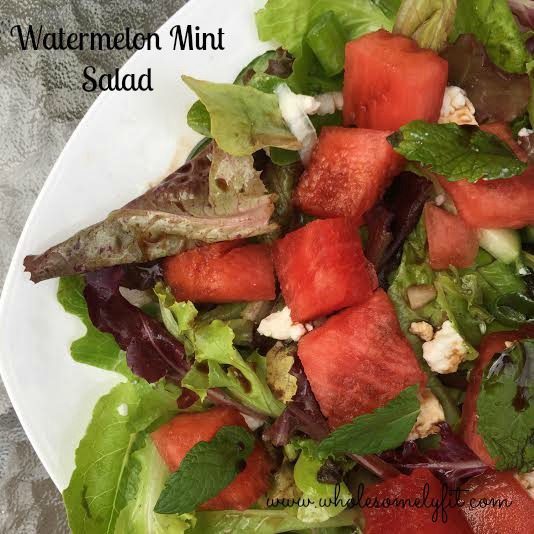 So give this salad a whirl!! 15 minutes and you have a mouthwatering salad that won't leave you hungry. Place cut watermelon on top of mixed baby greens or fresh lettuce from the garden and top with your favorite toppings. Mine are mint, feta and some cucumbers and green onions. All from the garden.
Drizzle over some homemade dressing. Presto!! I personally think it's great with just balsamic vinegar drizzled on top. There's so much flavor from the watermelon and mint, you almost don't need any dressing at all. The lemon olive oil dressing I shared below is fantastic as well. This is a salad I have been eating for the past few years and decided to update the recipe. I hope you enjoy.
Watermelon Mint Salad
Author:
Bryanna @ wholesomelyfit.com
A refreshing summer salad mixed with greens, mint and watermelon. Perfect for those hot summer days.
Ingredients
3-4 cups watermelon, cut into chunks (organic)
⅛ cup mint leaves, torn or whole
⅓ c feta cheese
2-3 cups mixed baby greens (organic) or fresh garden salad
Sliced Cucumber
1 green onion sliced
Honey glazed sliced almonds (optional)
Dressing:
¼ cup olive oil
1-2 tbs lemon juice
Salt and pepper to taste
Or:
Balsamic Vinegar
Instructions
Divide greens between 2 plates.
Top mixed greens with watermelon, green onions, cucumbers, mint and feta (divided between the two plates).
Sprinkle some honey glazed sliced almonds on top. Drizzle the homemade dressing over top of each plate (depending on how much dressing you like, you should have some left over. It will keep in the fridge for 3 days).
To make dressing: Add olive oil and salt and pepper to glass jar and shake well. Add in the lemon juice and shake well. (Also great with Balsamic Vinegar)
Watermelon Mint Salad #summersalds #nutritiouseats #healthyrecipes #salads
Click To Tweet
A little running update: It's not happening. My pain is still too severe. The chiropractor found a lot wrong with my pelivs, pubic bone and sacrum. And we discovered some other issues as well. It was a little more serious than I had anticipated, all really starting after my first pregnancy and the issues only worsened. Hoping to get everything in alignment so I have enough strength to deliver and my chiropractor is very surprised I am doing anything. It was so fun to learn at the visit, but a bit overwhelming.
I just want to wake up pain free so I can sleep, move normally again and run again. I forgot what it's like to walk with out a limp and hip lean, or hobble/wobble.
Have a great weekend friends and family and I hope you take the time to give your body rest and relaxation, because we all need it!!
Until Next Time Be Whole and Be Fit