Happy Monday Ya'll!!
I hope daylight savings didn't leave you an hour short on sleep. It always messes us up. I have the kiddos on a schedule and then we have to get back into our routine. I just tried to put the kids down for bed an hour earlier on Saturday night and it took about an hour to get R to fall asleep, so t the same time ;).
A little update, little man ate some solids without gagging himself and screaming yesterday morning before church. He had a rough night, but when he woke up I didn't nurse him as long, kind of keeping him hungry, so he ate solids!! It worked and it wasn't a fight. Also, let him suck on some sweet potato fries while out to lunch and he made some faces, but didn't mind it. We may be making progress finally. Praise Jesus!!
I am often asked if I am vegan or vegetarian. The answer is yes and no, both/and. Being raised on a ranch, I was blessed with great meat. Beef from grass fed cows, that roamed pasture and weren't pumped with hormones. My father and brothers butchered the beef themselves. They also hunted deer, antelope and elk, and butchered chickens and pigs. So we never had a shortage of meet and never bought meat from the stores.
Honestly, growing up this way left me a meat snob in a sense. I went vegetarian in late high school on a dare, and then vegan on another dare. While in this process I begun my passion for nutrition and learned more than I needed on our food system in America, and the way food was processed, namely meat. Starting my food revolution in a sense. With this I swore off meat in the grocery stores and restaurants, because of how it was raised and sourced.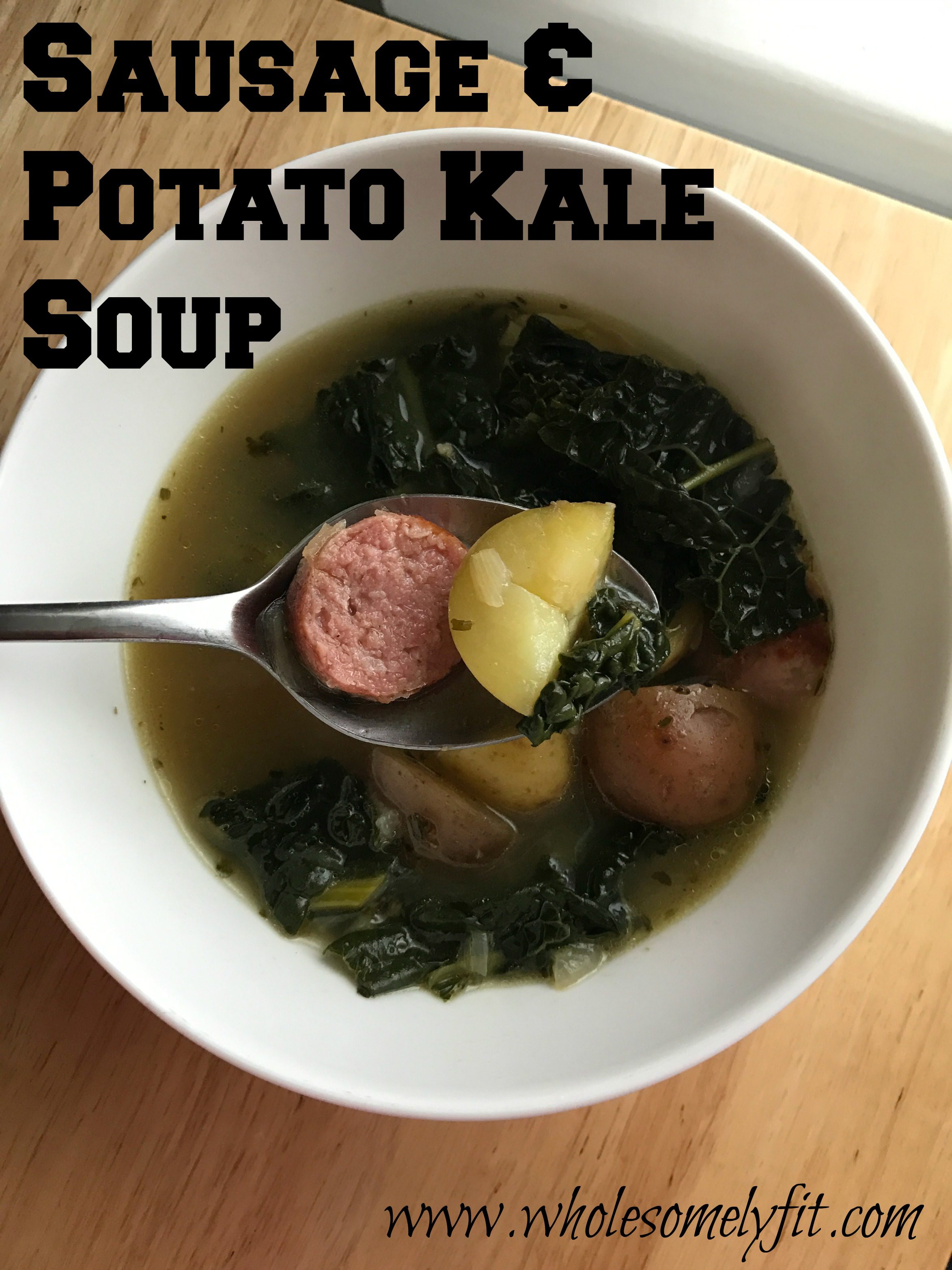 Til this day, I only eat my father's beef, elk and sausage. He makes his own sausage using elk, beef and pork at times. He flavors it himself and packages it himself. It's amazing. So in short I am a vegetarian, while being a meatarian. I eat meat, but only my family's raised meat. I am choosy about my beef. Ours looks different, tastes different and sits different with my digestive system.
I am blessed to be able to take my father's meat and sausage home with me when I go home. I have never bought meat from the grocery store and don't plan to. I support my local rancher. Occasionally Marc and I have meat on the menu for dinner, from homemade spaghetti & meatballs, to meatloaf or a pot roast, occasional sausage with breakfast. It's rare, but when we do it's supplied by the family ranch. This soup was inspired by a recent trip to Montana, and a little homesickness.
Sausage & Potato Kale Soup
I was feeling homesick a few weeks back and missing the wide open spaces of Montana, the great big sky and the good home cooked meals. I visited the basement freezer and found some Polish and German Sausage made by yours truly, my dad. I was wanting a warm soup, had some kale and potatoes, and thought a sausage type stew would be perfect.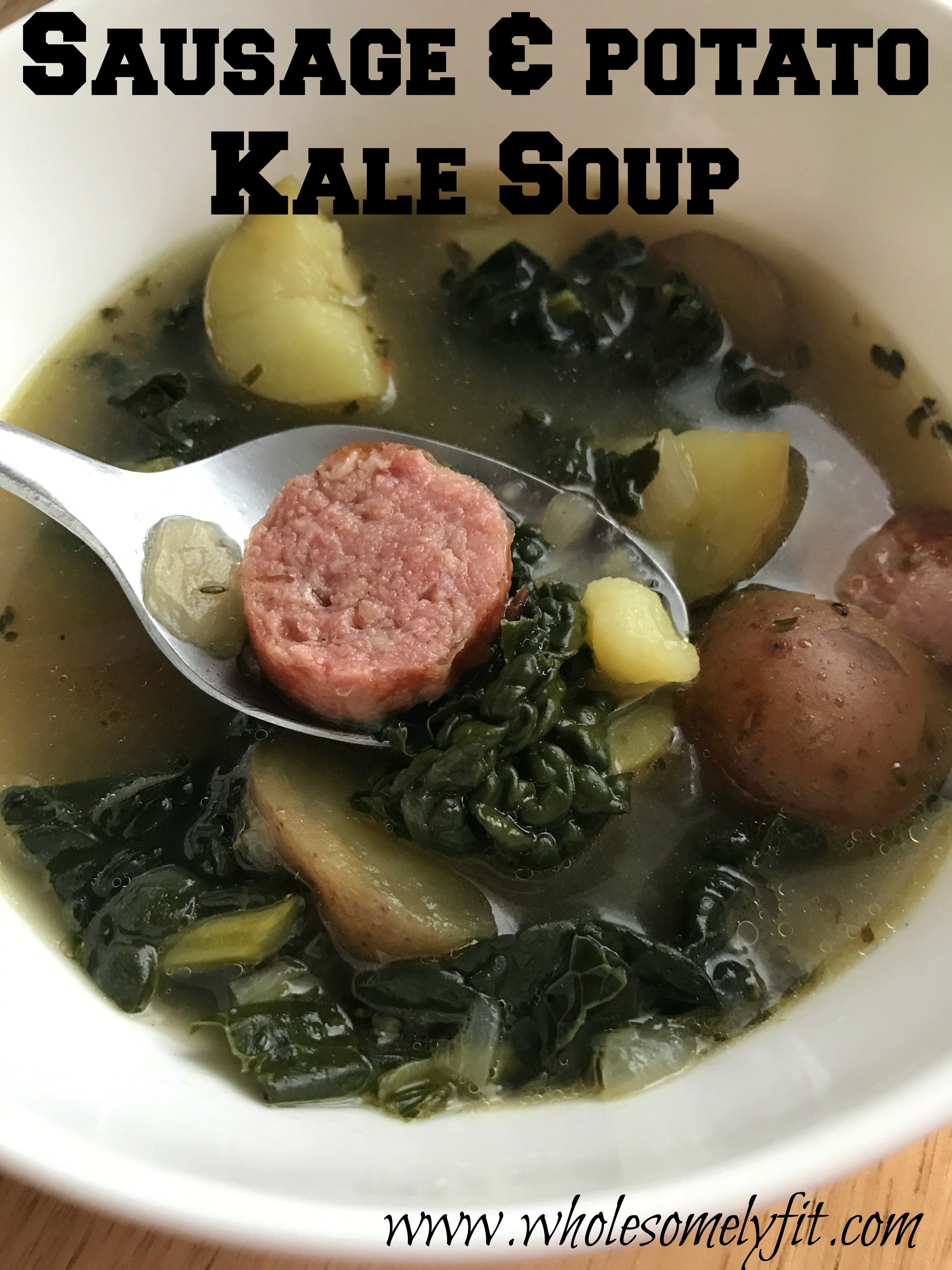 I love the simplicity of this soup. A few simple ingredients, makes a wholesome meal. You get your green vegetables, your meat group and some carbs. The flavoring of the sausage is what makes it. I have an unfair advantage, being that I get my father's homemade german and polish sausage. The flavor is already there and the sausage is what makes the soup. I suggest getting an organic german or polish sausage for this soup, the bigger the better.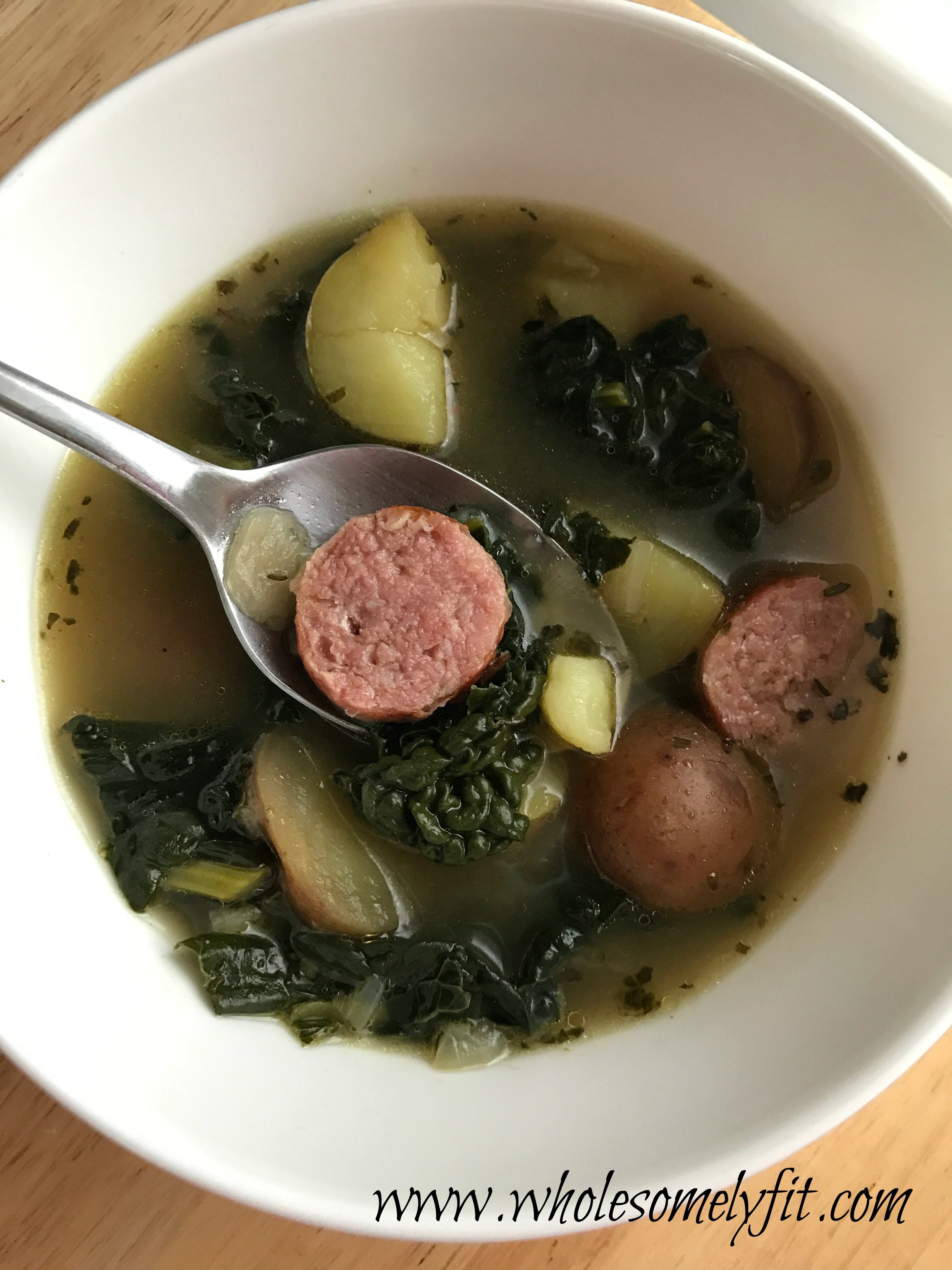 This stew is hearty and warming, perfect for a rainy day and even enjoyed in the sunshine. If you feel you need a trip to the big sky state, just make this soup, it comes close 😉

Sausage & Potato Kale Soup
Author:
Bryanna @ wholesomelyfit.com
A Montana ranch inspired stew with hearty flavor.
Ingredients
4 c organic chicken stock/broth
2 c water
6 c shredded kale (or cut kale), organic & washed
5 c yukon, baby red potatoes, and/or golden potatoes, quartered into bite size rounds (skins on)
2 Tbs oil
½ sweet or yellow onion
2 cloves garlic, chopped
4 German or Polish Sausage
¾ - 1 tsp Basil
1 tsp Thyme
Salt & Pepper to taste
Instructions
In a skillet or frying pan, cook the sausage, until light browned and cooked through. Once cooked, slice into bite size pieces.
Meanwhile, saute the onion with oil in a stock pan or large sauce pan, over medium heat for about 5 minutes, adding in the garlic after a few minutes.
Once onions are done (clear and lightly golden), add in the kale and potatoes and saute for another 2 minutes.
Poor in the chicken stock/broth and water, with the spices. Bring soup to a boil.
Reduce heat to low, add in sliced sausage, cover and simmer until kale and potatoes are tender. About 20-30 minutes.
Enjoy
Sausage & Potato Kale Soup - A hearty, savory ranch inspired soup
Click To Tweet
You can almost have a taste of Montana with this soup, you just might be missing the heart of the recipe, some good'ole Montana meat, made by the best rancher around, my DAD!! Honestly, you haven't lived until you've experience Montana and grass fed Montana raised beef.
Until Next Time Be Whole and Be Fit