Unfortunately some athletes are plagued with food allergies or intolerance's. This can be hard to battle if training for endurance events or living an active lifestyle. There's already a science behind race day nutrition, before and during the event, and adding a food allergy into the mix can make the gut all sorts of unhappy.
Thankfully, nutrition doesn't have to be hard for those suffering with a dairy or wheat allergy, or really any allergy. Even those who are vegetarian and vegan have more options than ever. Proper nutrition doesn't have to be skimped if trying to sustain energy. We sometimes think we can't keep our energy reserves filled if we have diet restrictions. It may take a more time in planning, but it's definitely doable.
We have more options available now in grocery aisles that can help with sustaining an active lifestyle while maintaining a strict diet. I still chose organic and nutrition over junk, even if it's less convenient. I know it's hard not to reach for the doughnuts after a long run, or just wanting good'ole pancakes after the weekends long run, but nutrition and diet restrictions can leave us feeling left out.
I compiled a list of my favorite food products and hydration products for sustaining energy before, during and after our workouts, while still being healthy, nutritious and in most cases gluten free, dairy free, soy free, non-gmo. Whatever it is you can't have, I guarantee you'll find an option that will work for you. I helped narrow down a few options to make your research easier. Obviously there's many more.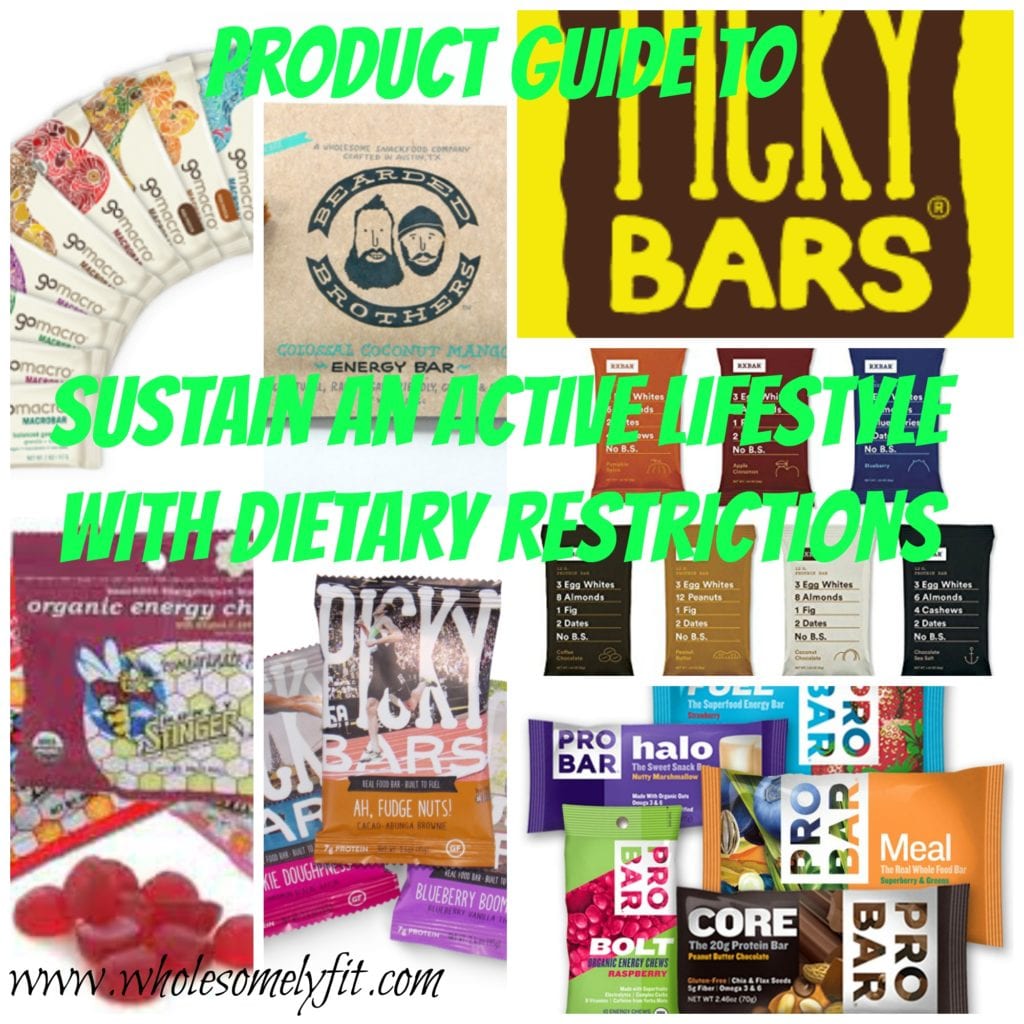 Fueling Before
Picky Bars – Founded and made by athletes/runners for runners and other athletes. A variety of fun flavors, great pick me up. They are gluten, dairy, and soy free. Non-GMO and Vegan. Great for those with dietary restrictions. Real food, 94% organic and 7 grams of protein and enough carbohydrates for before and after working out.
Pro Bars – They just made a new Fuel bar that is organic, Non-GMO and gluten free. ProBar offers a variety of products perfect for those with dietary restrictions, using whole ingredients you can pronounce and no additives.
Honey Stinger Waffles – These are great if you have a weak GI system. They have organic and gluten free options and many fun flavors to choose from. The waffles contain the sugar needed to sustain a workout, but a natural sugar. Fun flavors like gingersnap and lemon, and of course chocolate and chocolate mint.
Go Macro– A vegan, organic, raw and Non-GMO bar. They are a variety of products to chose from and you know you'll always be choosing clean. Packed with protein and flavor. They use a plant based protein blend in their bars. I love the simple ingredients and the perfect ratio of carb to protein for replenishing after working out.
Go Raw Bars – These are completely raw, whole ingredients.
Rx Bars – A clean bar with whole food ingredients. Egg whites used for protein and dried fruit to sweeten, non-GMO, gluten free, dairy free & soy free. 12 grams of protein!!
Bearded Brothers – Non-GMO, vegan, low glycemic, Paleo, Organic, Soy & Gluten Free. Perfect for providing energy before workouts with fun flavors like bodacious blueberry, ginger peach & maca chocolate.
Fueling During
Honey Stinger Gels – Most of their products are organic and gluten free. Perfect for those with sensitivities. Also, they don't have any additives or preservatives. The gels are organic and gluten free, but they do contain honey so they aren't vegan.
Honey Stinger Chews – Again, there are organic and gluten free chews with many flavors to choose from. Easy on the digestive system and great for those longer duration exercises, supplying the electrolytes the body needs to sustain energy.
Cliff Blocks & Shots – These are similar to honey stinger chews, providing electrolytes. They also make gels as well. They are certified Organic, but not certified gluten free. No harmful additives.
Pro Bar Energy Bolt / Chews – These are great for during race day or morning workouts if you didn't have time to eat. They contain the B vitamins and electrolytes needed for sustaining energy. Some of the bolts contain yerba matte, for natural caffeine.
Dates – They are a great source of the minerals you need and have the sugar you will need to sustain longer efforts.
Product Guide to Sustain an Active Lifestyle with Dietary Restrictions #nutrition #fitness
Click To Tweet
Fueling After
Picky Bar – see above
Honey Stinger Protein Bars – They do have gluten free protein bars, as well as energy bars too. They are not 100% organic, but most of the ingredients are, and there are no harmful additives. Again fun flavors to chose from. 20 grams of protein in each bar, and my favorite is Dark Chocolate Coconut.
ProBar Base Bars – I like their base bars best for after working out, but they have other bars to chose from as well. Flavors like coffee crunch, cookie dough and frosted coconut will keep you satisfied, or go with the traditional chocolate  and chocolate peanut butter. GF, Non-GMO and real whole products, with some being organic. 20 grams of protein in each bar.
Go Macro Bars – See above
Clif Bars – Clif makes protein and energy bars and organic bars, that have the protein and carbohydrates needed after working out. There's many flavors to chose from. They are not 100% organic, but most of the ingredients used are organic. They just made an organic Energy Bar.
Rx Bars – see above
Dates & Peanut Butter – Yes it's great!! Just stuff peanut butter in dates and store in the fridge. Have on hand for post workout.
Square Bar – Vegan, Non-GMO and Organic. And they are yummy for a vegan protein bar.
Larabar – I like the simplicity of these bars, using dates to sweeten and only natural whole ingredients. The ingredient list is short, and contains food products such as dates, almonds, cashews, cinnamon, and dried fruit. Very simple, vegan and gluten free.
Check here for my favorite bite recipes.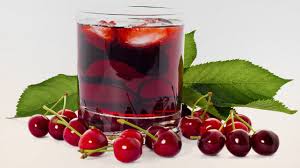 Hydration
Nuun – This is my favorite hydration product. They just created the first non-GMO certified gluten free and vegan recovery sports drink, Nuun Performance. It's used during longer intense workouts over 1.5 hour, mixing carbs and electrolytes. It's been formulated in a way that you won't risk gastric distress. Nuun also carries Nuun Active for shorter workouts and recovery, and Nuun Vitamins for everyday health. They use clean ingredients, no preservatives or simple sugars.
Tart Cherry Juice – Studies have shown the benefits of consuming tart cherry juice before a race, and it's benefits to race performance. Tart cherries contain anthocyanins, a antioxidant phytochemical that encourages healthy circulation, ensures proper nerve function, among other properties.  I have drank tart cherry juice within an hour or race time with no stomach distress and no bonk mid way through my half or full marathon. Tart cherries are also antioxidants and anti-inflammatory, so great post race or workout recovery as they aid in reducing muscle soreness and breakdown / damage, and less pain. They also help with sleep.
Beet Juice – Beet juice has much the same effect as tart cherries on race performance. Beets contain nitrates that reduce oxygen consumption, helping to aid oxygen delivery to working muscles. I personally like it best the night before a race. Beet juice boosts energy & stamina to help you exercise longer.
Coconut Water – Great to use during your runs. Tends to be easy on the GI tract and contains the electrolytes your muscles and body need to sustain a longer, intense workout. In fact, it contains more potassium than any sports drink, in the 11 ounce serving. The only downfall, is it doesn't contain enough sodium for longer stints of running or working out, but enough carbs.  This was what I used first when training for marathons. Choose the unsweetened varieties.
Iced Green Tea – Green tea contains catechins that are antioxidants, and they reduce muscle damage caused by exercise and speed recovery.
Dietary Restrictions gotcha? Try these healthy products for sustaining energy #fitness #nutritiontips
Click To Tweet
As with anything, always try your fueling options during training runs to see what works best for you. Never try anything new on race day. This is a recipe for disaster, especially if you have a sensitive GI system. Race day nerves already make the GI tract more sensitive, so choosing options that are easily digestible is key.
*These statements have not been evaluated by the Food and Drug Administration. This post is not intended to diagnose, treat, cure or prevent any disease.
Stay tuned, next week I am going to supply some tips for sustaining energy, with my favorite nutritional powerhouses and some recipe ideas.
Until Next Time Be Whole and Be Fit
What's your favorite fueling product?