If you missed my product guide for those with dietary restrictions to help sustain energy before, during and after working out, you can read it here. It's perfect for those with food allergies or intolerance's. Sometimes time is hard to come by, so when you're in a crunch I understand the need for energy bars or protein bars.
However, if you've been around the blog long enough, you know that whole food is where it is at!! Or you know that I am always pushing whole foods. It's easier and better to just make your own energy bites or bars and protein snacks. I have many great recipes for bites and bars for post workout or before working out, and you don't have to go any further than pinterest to find even more healthy, nutritious and whole snacks for an active lifestyle.
Store bought foods are not my go-to items, but I understand we all live busy lives at times and sometimes making our own isn't an option, which is why I created the product guide so you can have a well stocked pantry and healthier products. With healthy food on hand, you're less likely to reach for the sugary junk. Carry the bars with you for those emergency moments. Now with that being said, there's more healthy products than I could list, so when choosing a bar use these quick tips:
5 Tips When Picking A Bar
The fewer the ingredients the better
Look for natural sugars like dates, dried fruits and honey and steer clear of sugars like: brown rice syrup, agave, evaporated cane juice, cane sugar, dextrin, glucose, coconut sugar, raw sugar, especially if the bar lists 2 or more of these (Just fancy ways of saying sugar)
Look for bars with fiber & protein. Fiber helps to keep you full onto your next meal, and protein aids in recovery.
Chose whole food ingredients. If you can't pronounce an ingredient, don't buy it or if you don't recognize an ingredient, in most cases it's just an another word for sugar
Whenever possible buy organic, non-GMO bars.  GMO's (genetically modified organisms) are not recognized by the body, therefore they are hard to digest. Organic products are easier on digestion and healthier in most cases
Now for the nitty and gritty. Since I always recommend to eat food, not too much and mostly plants (Michael Pollen for ya), and I add whole food that would be recognized 100 years ago, I'm talking to you frozen dinners, pizza bites or pop-tarts, I have provided a list of whole foods for sustaining energy and an active lifestyle. These tips will help those who have dietary restrictions to keep there energy up, body fueled and nutrients met while trying to remain healthy.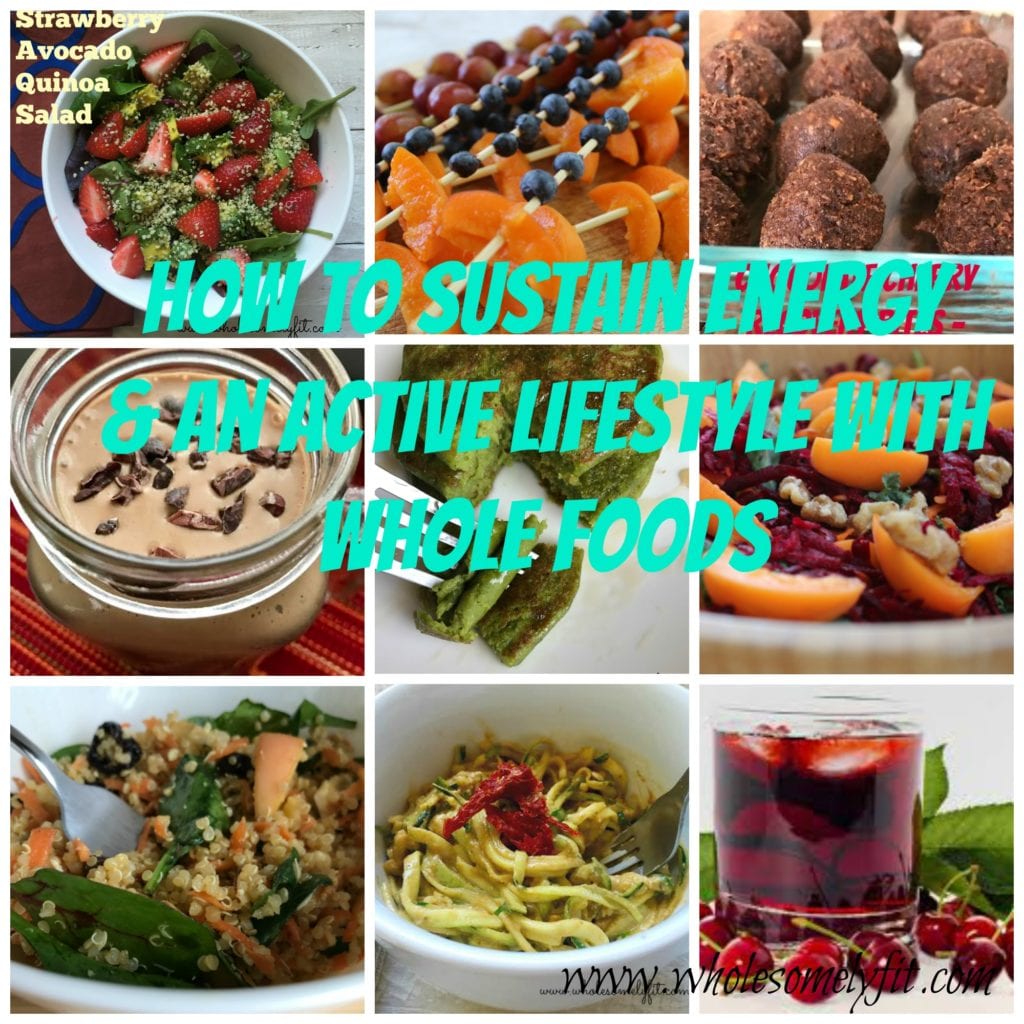 Sleep – Okay so this first tip isn't a food, but it's significantly just as important. Sleep is when our body is doing most of the work of repairing, and sadly it's the first thing we will skimp on. The body repairs and recovers during sleep, so when you are shorting your sleep, your body doesn't fully recover for the next days tasks and workout. Aim for 7-9 hours a night.
Maca Root – Maca has been used for thousands of years as a health ingredient. It has been used as a nutritional supplement and boosts amino acids and carbohydrates, as well as vitamin B1, B2, and B12 and vitamins C and E. Maca also is high in calcium, zinc, magnesium and iron. It has been shown to boost energy, increases stamina and athletic performance, and balances hormones, all important to a healthy active lifestyle. It works much the same way as steroids, but without any of the chemicals and it's natural. Mix in smoothies, oatmeal or protein bites.
Matcha Green Tea – Matcha is high in antioxidants, as it contains catechins which help to reduce muscle damage and post exercise soreness. Green tea does have caffeine to help with an energy boost, but the boost more comes from its unique combination of other nutrients. Matcha contains L-Theanine (an amino acid), which can increase endurance that can last up to 6 hours, but without all the usual side-effects of stimulants such as nervousness and hypertension. Matcha also detoxifies the body and enhances the immune system. You don't just have to drink it either, enjoy in puddings, smoothies, baking or even protein bites.
Dietary Restrictions gotcha, Try these tips to Sustain Energy in An Active Lifestyle #health #fitness
Click To Tweet
Fruits – Fruits will provide the natural sugar needed to replace glucose stores, which powers our runs and workouts as glucose is a quick energy source to our muscles. Fruits also have the antioxidants needed to repair muscle damage and oxidative damage, as well as fiber. Stick with the berries, apples, pears and cherries, as they boost the most nutrient benefits, with less sugar than other fruits. Frozen grapes are a great snack in the hot months though, and great in smoothies.
Vegetables – The more colorful your salad the better. Most our diet should be comprised of healthy vegetables. My favorite are bell peppers, peas, greens, carrots and broccoli. Raw veggies are the best, because the cooking process can cause a loss of vitamins and minerals. You'll find a variety of vitamin and minerals with antioxidants in your veggies.
Tart Cherry Juice – I mentioned this in my previous post, but studies have shown the benefits of consuming tart cherry juice before a race, and it's benefits to race performance. Tart cherries contain anthocyanins, a antioxidant phytochemical that encourages healthy circulation, ensures proper nerve function, among other properties. Tart cherries are also antioxidants and anti-inflammatory, so great post race or workout recovery as they aid in reducing muscle soreness and breakdown / damage, and less pain. They also help promote healthy sleep.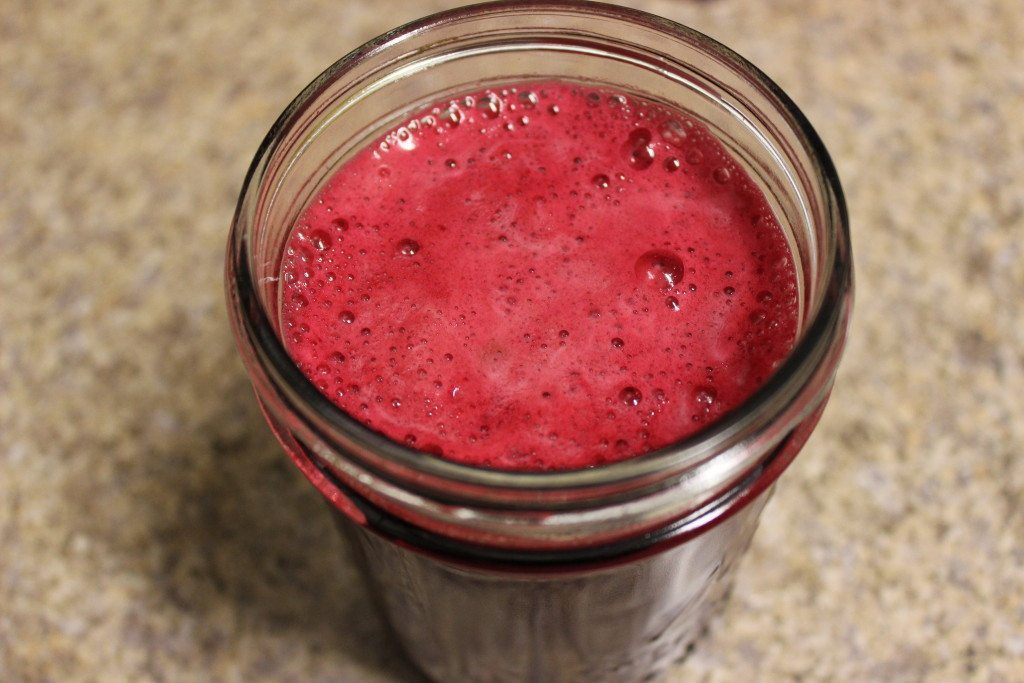 Beet Juice –  Beet juice has much the same effect as tart cherries on race performance. Beets contain nitrates that reduce oxygen consumption, helping to aid oxygen delivery to working muscles. Beet juice boosts energy & stamina to help you exercise longer. Beets are high in minerals, and the nitrates help to reduce the oxygen cost.
Quinoa – Quinoa is a complete protein (all 9 essential amino acids), so it's great for those who are vegetarians or vegan, and those trying to avoid the simple carbohydrates, as it contains a dose of healthy carbs as well. It has fiber and a healthy dose of minerals like iron and magnesium. Iron is needed to supply oxygen to muscles and magnesium needed for healthy muscular function.
Sweet Potatoes –  One of my favorite foods. It's so versatile. Stir into oatmeal, use in baking or smoothies or just eat loaded with peanut butter,  maple syrup or cinnamon quinoa. It's full of potassium, vitamin A, your B vitamins (so vegetarians and vegans should have these in their diet), vitamin C (perfect for boosting your immune system), and fiber. Runners doing long distances should eat immune boosting foods, because the high mileage will suppress your immune system due to the intensity and duration. A great post run or workout recipe using sweet potatoes are these sweet potato muffin pancakes, they are vegan, gluten free and sugar free.
Yerba Mate – Yerba also has caffeine and is a tea made from the leaves and stems of the yerba mate plant. It also contains antioxidants, amino acids, polyphenols, vitamins and minerals. It can boost energy levels and is great post workout as well, as it contains 7 of the 9 essential amino acids. Sip it with a little honey or enjoy a yerba mate latte with almond milk.
How to Sustain Energy in An Active Lifestyle - #healthchat #fitness #nutrition
Click To Tweet
Kale & Spinach – Both are a great source of minerals, like iron, calcium and magnesium. They are both powerful antioxidants and both contain a good amount of vitamin A and K. Kale is one of the most nutrient dense foods, because of it's nutritional content and the pure amount of vitamins and minerals it contains in one serving. Throw both in smoothies and use it in your salads. Make kale chips or even spinach pancakes.
Ground Flaxseed – Flaxseeds are great for supplying fiber and essential fatty acids to our diet. Sprinkle in oatmeal or smoothies, use in baking in place of eggs or add some for part of the flour in baking recipes. It's an awesome anti-inflammatory.
Hemp Seeds – Hemp seeds contain all 9 essential amino acids, therefore are a great source of protein. They have 6x more omega-3's then raw tuna and are a healthy dietary fiber.  They help with digestion and are a great source of plant-based protein, which is why you will see it listed in most plant based proteins.
Nuts – Known for their healthy essential fatty acids and protein. I like to have mixed nuts on hand at all times for a healthy snack to tide me over before dinner. Great anti-inflammatories and helpful in weight loss. Stick with almonds cashews, walnuts and pecans. Cashews are great for making vegan cheese's, dressings and dips.
Chia Seeds – High in fiber, essential fatty acids and protein. You'll find 4 grams of protein in 2 Tbsp of chia seeds, with 9 grams of healthy fat, 12 grams of carbohydrates, and 11 grams of fiber. A great addition to anyone's diet. Enjoy as a pudding, in your oatmeal, protein bites or smoothies, and even used to replace eggs in baking. Great recovery food with it's anti-inflammatory properties.
*These statements have not been evaluated by the Food and Drug Administration. This post is not intended to diagnose, treat, cure or prevent any disease.
Happy Monday Ya'll!!
Until Next Time Be Whole and Be fit
What's your favorite food to boost energy?