There's a season of baking in my house. For some reason it comes in waves. I am either baking a few times a week, or I am not baking for almost months on end. The season of baking has begun in the Wholesomely Fit kitchen, which means you may be awarded many new recipes to try for yourself. Some of the baking will just be the same old recipes that are favorites.
In our house we love muffins. My favorite are good, ole' hearty muffins. Don't get me wrong I love the light and fluffy muffins most common in bakeries, that are sweet. But sometimes you must want a more dense, protein packed, fiber rich, power burst muffin. One that doesn't leave you still hungry and high on sugar. If  you're the same way, then I know you'll love these muffins.
What's even better about these Blueberry Lavender Muffins, is that there is no added sugar. Any sugar occurs naturally from the unsweetened applesauce and bananas I used, oh and of course the blueberries. That's it. No other sweeteners. Sometimes the best sweeteners are the natural sweeteners. These muffins are perfect for breakfast for this reason. No need to start your day already on a sugar high.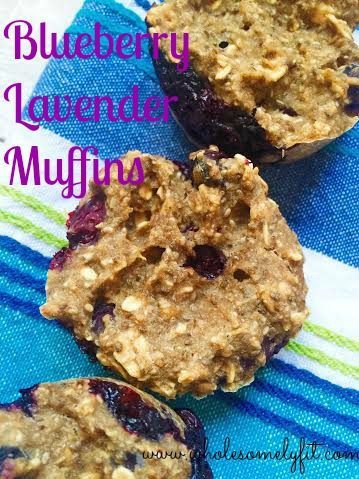 In addition, each ingredient brings it's own to the party. There's no gluten in these muffins and they are vegan. Perfect for all diets!! The rolled oats have protein and are a great source of complex carbs and fiber (and we often don't get enough fiber in our diets. The chia seeds are high in fiber and essential fatty acids. The maca powder is for endurance and stamina, thus if you are an athlete, runner, swimmer, yoga junkie, whatever "it" is you are, these muffins are your friends. Blueberries pack a fiber punch as well as an antioxidant punch. Bananas are rich in potassium.
In place of dairy I have used coconut milk and almond milk, but you can use one or the other. And the applesauce gives a little more sweetness and is used instead of eggs or oil. Last but not least, the lavender. You know me and my love of lavender.  I have a lavender plant and needed to use some sprigs, so I threw some in the mix too. Lavender gives that refreshing flavor and is perfect for relaxing and has anti-inflammatory properties. The lavender is subtle, so if you want more (which I do, but toned it down for my hubby) add more sprigs. Each ingredient meant to aid your workouts, performance and diet.
R enjoyed these, to the point I had to hide them because I didn't want her to spoil her dinner. She even enjoyed one for breakfast yesterday morning as well. It's nice to have something to throw at her so I can finish getting ready in the morning and buy time before having to feed her a true breakfast. Okay, I didn't really throw them at her. 😉
These muffins are easily freezable, and you can eat them cold or warmed with a little coconut oil. I keep mine in the fridge to keep them fresh. Muffins are great for freezing and taking out to thaw before you want to enjoy them. Have these for the kids snack, part of breakfast or for dessert. There's nothing to feel guilty about eating in these calorie dense muffins (the healthy calories, because a calorie isn't a calorie).
Blueberry Lavender Muffins
Author:
Bryanna @ Wholesomelyfit.com
A perfect breakfast muffin for athletes, moms, kids, you name it.
Ingredients
3 c rolled oats
½ c chia seeds
2-3 Tbs maca powder
2 tsp baking powder
1 tsp cinnamon
2 tsp Lavender sprigs/leaves
3 bananas (ripe)
½ c unsweetened applesauce
1 cup coconut milk, unsweetened
1 cup unsweetened almond milk (Or you can use 2 cups coconut milk or almond milk)
1½ c fresh blueberries, washed
Instructions
Preheat oven to 350 degrees and line muffin tins or grease.
Combine 2 cups oats, chia seeds, maca powder, baking powder, cinnamon and lavender in a food processor and pulse until mixture resembles flour.
Add bananas and pulse for a minute, until well mashed.
Add in almond milk and applesauce and pulse again until well combined.
Transfer to a medium mixing bowl and stir in the remaining 1 cup of oats and blueberries.
Scoop batter into prepared muffin pan, filing tins to almost full (about ⅔'s).
Bake for 30-35 minutes, until centers are fully cooked.
Enjoy
Try these protein, fiber rich Blueberry Lavender Muffins via @wholesomelybry #vegan #glutenfree #nutrition #sugarfree
Click To Tweet
Don't know where you can find maca powder? Most natural grocers have it, or you can find it online through Vitacost, Thrive Market and other health inspired online stores.
Until Next Time Be Whole and Be Fit