Kids ready to eat and yelling "I eat", a diaper needs to be changed and a baby ready to be nursed, a dog that want's his breakfast, a husband trying to find his wallet and car keys, and a mom thinking, "is it nap time yet." Oh nope the day is just beginning.
Mornings around my house can look sort of crazy. I am trying to get my workout done before the kids wake and my hubby is trying to get ready for work. I also try to get into the shower before he leaves, while getting his lunch and sometimes dinner packed if it's a long day for him, and my breakfast in and the kids breakfast started……and the list goes on.
It seems it's the busiest time of day for us, and I don't think this is going to change anytime soon. Before too long, we'll have school to prepare for and get the kids off to, add a few more kids into the mix and well you can paint your own picture.
This is why prepare ahead breakfasts are my friend!! My very best friend. I don't have time to always cook a breakfast, and sometimes having to prepare 3 meals a day, and at least 3 snacks is tiresome. I just don't want to. Even as a nutritionist it's not always high on my priorities. I can cave at times, overwhelmed with so many other tasks, and R gets a bowl of cereal. It's not Lucky Charms or Coco Puffs by any means, but it's still cereal, organic or not, it's not my number one choice for breakfast. I get it though, sometimes it's necessary and sometimes it's what R gets.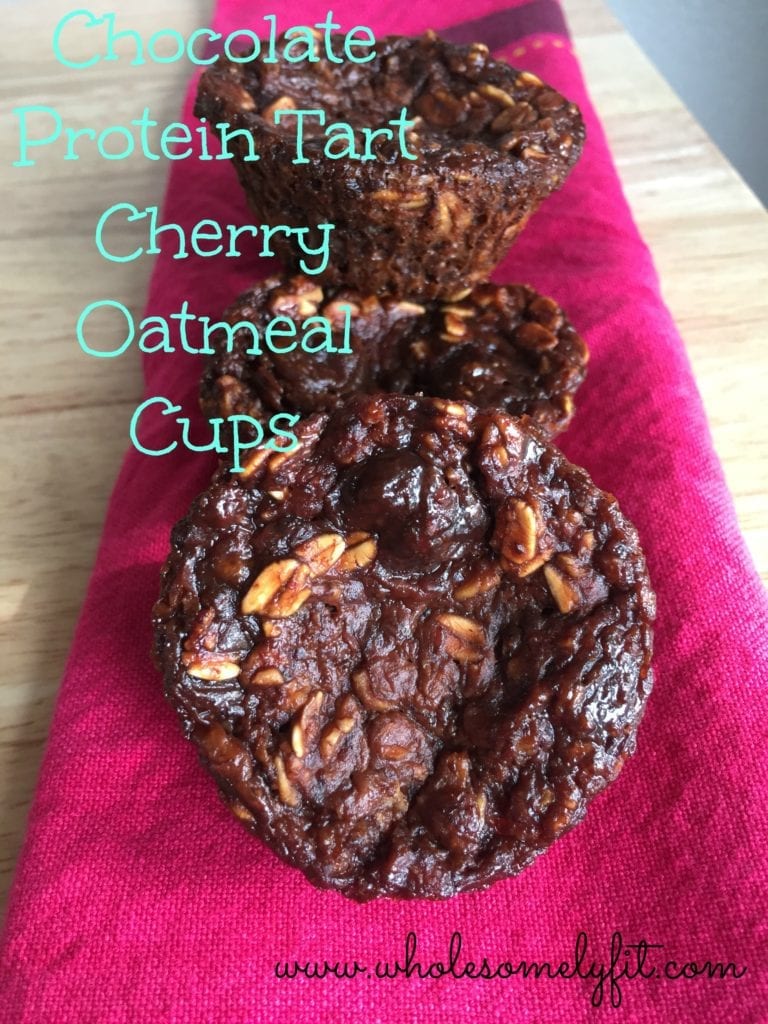 Then there's other mornings when I come prepared, with something already made and only needs to be heated or just thrown on a plate. And I don't mean freezer waffles, but yes we have done those before organic multi-grain waffles. Homemade frozen waffles though are great and kids love them, another make ahead breakfast.
Breakfast cookies and oatmeal cups, are some of my favorite breakfasts and they can last for weeks!! Kids love cookies so they are bound to love them if you just mention "cookie for breakfast". These Chocolate Protein Tart Cherry Oatmeal Cups (a mouth full) are a close second.
I used my favorite Orgain chocolate protein and some dried tart cherries mixed with oats and banana. That's basically it. No added sugars, all the sugar is natural from the tart cherries and ripe bananas, not flours, no oils, dairy or eggs. Perfect breakfast for the stressful, chaotic mornings and I found they worked great to take along when traveling or for a snack. I have been traveling more the past few weeks and these were my go to when on the road.
Yes, you guessed it they are gluten free, sugar free, dairy free, egg free, soy free, nut free, but not yummy free!! Just whip up a bowl, throw in a muffin tin and bake for a few minutes and you have breakfast for the next few days. I like to pop them in the toaster oven for a few minutes and serve with milk, just as you would oatmeal. Or just eat plain or cold.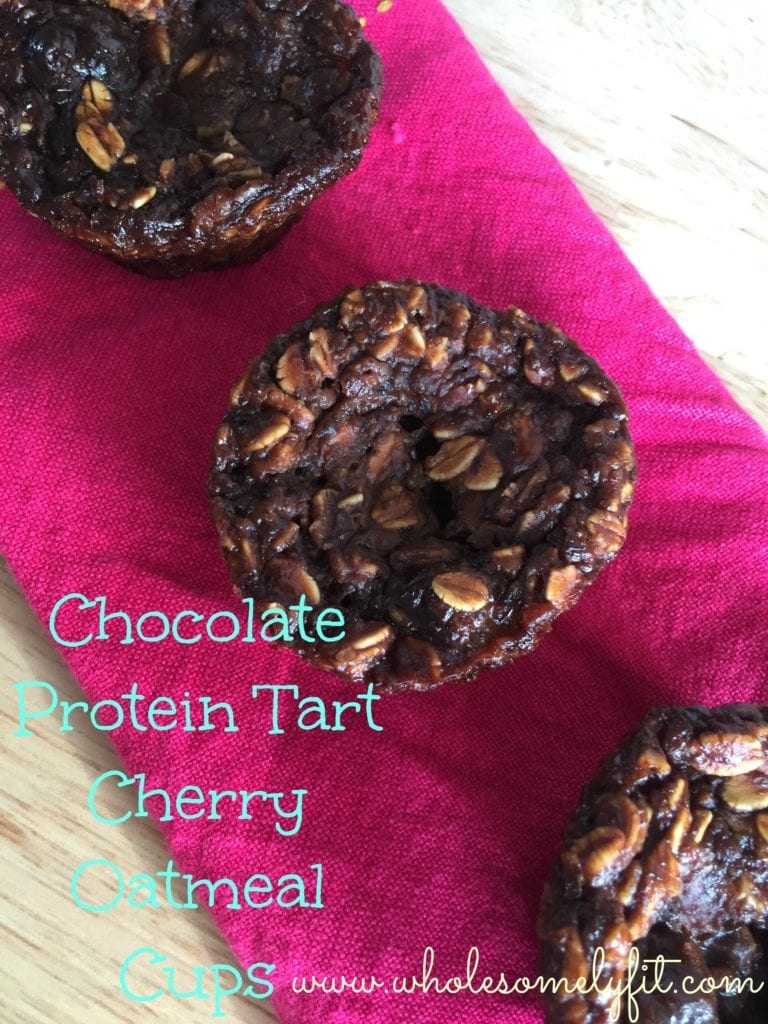 Chocolate Protein Tart Cherry Oatmeal Cups
Author:
Bryanna @ wholesomelyfit.com
The perfect remedy for those chaotic mornings.
Ingredients
3 ripe bananas
3 scoops of chocolate protein (I like Orgain)
2 Tbs ground flaxseed + 6 Tbs water
1 c oats
1 c milk
1 tsp baking soda
½ tsp salt
1 tsp vanilla extract
1 c dried tart cherries
Instructions
Preheat oven to 350 degrees and line a muffin tin with individual muffin liners or grease well.
In a large bowl beat the bananas, chocolate protein and ground flaxseed + water.
Add in the milk, baking soda, salt and vanilla extract.
Stir in the oats and tart cherries.
Scoop mixture into prepared muffin tins, about ⅔'s full and bake for 20 minutes.
Let cool, and store in air tight container in the fridge for up to a few weeks. Great served warm or cold, and topped with cream or milk.
Chocolate Protein Tart Cherry Oatmeal Cups, the perfect breakfast for those chaotic mornings #breakfast #sugarfree
Click To Tweet
The perfect remedy for those chaotic mornings or just for those I need something sweet and protein packed, without all the additives days.
Until Next Time Be Whole and Be Fit